Latest B-town Leaks
Well Bharat star cast is getting bigger day by day, few days back we came across news that Disha Patani
Read More >>
B town Chit chat
Some of may not aware of Akshay Kumar 's tweet regarding fuel hiek in 2012 when UPA government was in
Read More >>
B town's Today's Hot
Few days back maker of Race3 released first song "Heeriye" which has become house hold of Salman's fans.
Read More >>
Latest Celebrity Gossip
Bollywood newcomer Tisca will make audience stand on their feets with her outstanding performance in Bioscopewala which is releasing today
Read More >>
General News
As we all know Salman Khan's upcoming production venture "Loveratri" is all set to release on 5th October this year. According to latest development "Loveratri" is in trouble as VHP (Vishwa Hindu Parishad) yesterday disclosed that they will not let movie to release as movie title is hurting feelings of Hindu as title of flick […]
Bollywood New Gossips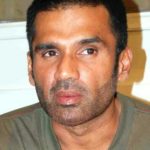 Well some of us may not be aware of the fact that Sunil Shetty's mother tongue is kannada, some of us may think he is Maharashtrin.
We have watched Sunil in number of time playing  power-packed action scenes and doing comic role in number of Bollywood flicks, but we haven't watched him acting in Kannada flick. According to latest reports Sunil is all set to make his Kannada debut.
According to sources actor is going to join hand with his favorite movie director Priyadarshan for upcoming Kannada project Marrakar-The Lion Of Arabian Sea.
According to sources upcoming project is inspired from Hollywood hit "Pirates of Caribbean". Reports also suggest that it is also inspired from Kunjali Marakkar IV based on Muslim Naval Chief Mohammad Ali.
Well it's. Going to be delight for Kannada fans to watch Sunil working in Kannada flick.
Comments: 0
Add Comments
advertisement
Subscribe Newsletter
Recent Posts
Tags