Latest B-town Leaks
Bollywood mega project "Thugs of Hindostan" is becoming house hold item of Bollywood fans prior to release, due to its star cast
Read More >>
B town Chit chat
As we all know Ranveer Singh is going to ease a role of Rapper in upcoming flick "Gully Boy". Well
Read More >>
B town's Today's Hot
Recently one video of Deepika and Vicky Kaushal got viral on social media, viral video is creating excitement
Read More >>
Latest Celebrity Gossip
Good news for Anushka Sharma's fans, yes its good news as actress received Smita Patil award for her outstanding performance
Read More >>
General News
Well when it comes to Charity in Bollywood only one name comes in our mind is Being Human Salman Khan. Salman is kind of person who has helping nature, till date he has done number of charity works. Recently actor inaugurated "Umang Centre" in Jaipur which work for welfare of special children by selling product made by […]
Bollywood New Gossips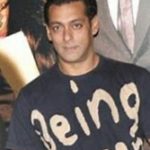 OMG despite changing title from loverati to Love Yatri, movie get stuck in legal trouble.
According to latest report FIR has been lodged against Salman Khan and entire team of Love Yatri at District court Muzaffarpur.
Recently district court passed an order giving direction to Mithanpur police station to register case against Love Yatri producer Salman and entire team of Love Yatri.
According to sources complainant was filled by Advocate Sudhir Kumar Ojha in his complaint he disclosed that title of flick and promos is hurting sentiments of Hindu, he further said promos of flick are full of indecent and full of vulgarity which will surely hurt Hindu sentiments.
Recently Salman changed title of flick considering controversy.
Advocate Sudhir Kumar Ojha thanked Court for registering case against Love Yatri team.
Love Yatri is all set to release on 5th October.
Comments: 0
Add Comments
advertisement
Subscribe Newsletter
Recent Posts
Tags