Aamir Khan Feeling Excited To Visit Punjab
Bollywood actor Aamir Khan is all set to start shot for his upcoming most awaited project "Laal Singh Chaddha", well best thing about shot of upcoming project is that it's going to be shot in lucky state of actor "Punjab", well actors super duper hit projects "Rand De Basanti" and "Dangal" were also shot in Punjab.
According to reports actor will start shooting for his upcoming project very soon in Punjab, for shot actor has finalized three popular cities Amritsar, Jalandhar and Ludhiana.
While interacting with media actor disclosed he is feeling excited to start shot of his upcoming project in his favorite state Punjab.
Best thing about upcoming project is Aamir Khan collaborating with Kareena Kapoor after decades before they collaborated in super duper project 3 Idots, for the same they received great applause for their outstanding chemistry and their fans were eagerly waiting to watch them together and now their wait seems to be over.
Upcoming project will release by the end of 2020.
Related Posts
Few months back we came across news that Aamir Khan is going to do remake of Vijay Sethupathi and R Madhavan's super duper project Vikram Vedha with Saif Ali Khan, however latest reports suggest that it's not Saif Ali Khan it's going to be Vijay Sethupathi original star of Vikram Vedha who is going to collaborate with Aamir for upcoming remake.
According to latest reports Aamir recently met with Vijay  on sets of upcoming project Sanga Thamizhan in Pollachi.
According to latest development Vijay has come forward and confirmed his collaboration with Aamir Khan for upcoming remake, however Aamir has not yet confirmed his collaboration with actor.
On work front Aamir is all set with Hindi remake of Hollywood block buster project Forrest Gump titled Laal Singh Chadha. For getting into skin of character is going to transform by reducing 20 kg weight for the same he is right now on special diet.
Well if above news is seems to be true than its going to be delight for South and Bollywood fans to watch their superstar collaborating first time.

As we all know Bollywood superstar Aamir Khan is all set with Lal Singh Chaddha remake of Hollywood blockbuster project Forrest Gump in which lead role was played by Tom Hanks released way back in 1994.
According to sources till date Hollywood filmmaker received number of call from number of Bollywood filmmaker for copyright, well filmmaker gave copyright to Aamir Khan considering he will do full justice to remake.
Well Forrest Gump has managed to win six Oscars making Forrrest Gump blockbuster hit.
According to sources taking copyright of Forrest Gump was not easy task as it took around five years to obtain copyright and finalize the remake.
Well Aamir is first Bollywood actor who went through transformation number of times to justify role he is always provided, according to sources for giving full justice to his upcoming project "Lal Singh Chaddha actor is going to transform himself by losing 20 Kgs weight, for the same actor is right now on strict diet plan.
According to sources upcoming project will go on floor by the beginning of November this year.

OMG Aamir gives green signal to Nitesh Tiwari upcoming directorial venture "Chhichhore". Well actor share great bounding with filmmaker as they both worked together in blockbuster hit "Dangal".
Recently filmmaker Nitesh made special arrangement for special screening of trailer of flick for Aamri Khan in New Delhi to get approval.
While interacting with media filmmaker disclosed when Aamir arrived I felt bit nervous, as I was looking forward to get appreciated for my work. It was happiest moment for me to watch Bollywood superstar and great friend of mine watching trailer, actor appreciated trailer. Well actor was seen enjoying every bit of trailer.
I want to thanks him for taking sometime of from his busy schedule to come and watch first trailer of Chhichhore. Well actor gave green signal to my project I am feeling relaxed and positive.
Lead star cast of Chhichhore have Shraddha Kapoor, Sushant Singh Rajput and Varun Sharma.
Movie is all set to release on 9th September.

Few months back we came across news that filmmaker Rajkumar Santoshi is looking forward to create sequel of 90's super duper hit Aamir and Salman Khan starrer comedy flick Andaz Apna Apna.
And there were reports doing around the corner that maker of flick will sign new star cast and names of Ranveer Singh and Varun were on card .However latest reports suggest that Andaz Apna Apna writer Dlip Shukla recently came forward and disclosed that original stars Aamir and Salman are going to collaborate for upcoming sequel. Taking into consideration without real star cast sequel will not be able to capture heart of viewers we are looking forward to move forward with old star cast of Andaz Apna Apna.
According to sources writer further disclosed that in upcoming sequel we are going to introduce three new members who will be joining sequel.
Well we hope after going through above news fans of Andaz Apna Apna will be feeling delighted to watch Aamir and Salman once again collaborating in sequel.

Bollywood versatile actor Aamir Khan was on cloud nine when he saw his favorite actor Chiranjeevi on Kyoto airport without wasting any time he immediately ran into his favorite South actor Chiranjeevi.
According to sources Aamir was found excited while interacting with his favorite actor at Kyoto Airport Japan.
Actor shared his excitement with fans on Twitter and tweeted "Ran into one of my favorite actors discussed his new project about freedom fighter Uyyalawada Narasimha Reddy". Well this is called real fan moment when you meet your favorite star surprisingly.
However it is not clear whether actor met Chiranjeevi on Airport while travelling or he is still in Japan.
Well actor is well known for transformation for giving justice to his role, once again actor is all set to go for transformation for his upcoming project Lal Singh Chaddha which is remake of Hollywood actor Tom Hanks super duper hit "Forest Gump".
Bollywood Mr.Perfectionist Aamir Khan on his 54th Birthday revealed about his upcoming project which is going to be Hindi remake of Hollywood actor Tom Hanks classic blockbuster hit "Forrest Gump".
According to sources upcoming Hindi remake will be titled "Lal Singh chaddha".
According to sources upcoming project will be directed by Advait Chandani who collaborated before with Aamir in Secret Superstar.
For producing upcoming project Aamir Khan's Productions house is going collaborate with Viacom 18 Motion Pictures.
Forrest Gump was released way back in 1994, movie managed to win six Oscar awards. Forrest Gump was inspired from popular novel with same name written by Winston Grooms.
According to sources maker of flick is right now working on script, once script and starcast get ready film will go on floor.
According to sources for upcoming project  actor is once again going for transformation, as actor is on a regime on weight loss, he have to lose 20kg weight to get into skin of character.
We wish actor good luck for his upcoming project.
Good news for Aamir Khan fans who were eagerly waiting for the debut of his son Junaid Khan, yes it's going to be great news as his son is all set to make his bollywood debut.
Recently actor came forward and disclosed he is looking forward to launch his son, right now actor is looking forward for a right script
There is buzz doing around the corner that actor has asked his son to go for screen test before making his entry into bollywood, as he want his son to be perfectionist like him.
While interacting with media Aamir disclosed he has watched his son number of plays and every time he has proved his skill, right now I am looking for good script once script comes in my hand I will start working on it, and I have asked my son to go through screen test, as I want him to get project on his ability, as don't want people saying being son of Aamir he managed to make his Bollywood debut.
Some us may not be aware of fact that Junaid is trained actor he took training from American Academy of Dramatic Arts.
Actor further disclosed he want his son to play lead role which viewers remember for decades like I have played some characters.
Thugs of Hindostan Star Aamir Khan is on good move. Recently actor came forward and urged his fans and people to come forward and help victims of Cyclone Gaza that hit coastal area of Tamil Nadu and Nagapatnam which.  took life of 60 individuals on 16th November.
Recently Aamir Khan took social platform twitter and requested his fans and people to come forward and donate clothes, medicine and money to help cyclone victims.
According to sources South actor Kamal Hassan appreciated actor for taking concern, actor said I thanks Aamir for coming forward to help  cyclone victims.
Recently government of Tamil Nadu anounced that one lakh homes will be built for people who have lost their house due to cyclone Gaza.
We appreciate actor for coming forward and taking inciative in his hands for helping cyclone victims by requesting his fans and followers to come forward and help victims.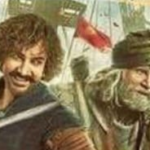 Well we are all ready to witness Aamir Khan and Amitabh Bachchan starrer Big Budget Bollywood project "Thugs Of Hindostan" which is all set to release in theater during this festive season on 8th November.
According to sources number of trade analyst came forward and predicted about opening of most anticipated and most awaited project "Thugs Of Hindostan" according analysts movie is going to have great opening across in India and it will cross 160 crore mark in weekend. According to sources advance booking of flick is 100 percent almost every theater is showing unavailability of tickets.
According to sources upcoming project is going to release across 5000 screen in India.
According to experts there are chances that "Thugs Of Hindostan" might break record of Salman starrer Sultan which is highest grossing flick of year earning 160 crore in weekend.
Well from past few months we were going through number of reports stating Aamir is going to ease a role of astronaut in upcoming project "Salute" based on life story of India's first astronaut Rakesh Sharma.
Well according to latest development filmmaker of flick has changed movie title "Salute" to "Saare Jahan Se Achcha". And reports also suggest Aamir has dropped idea and recommend SRK for the project.
Reports suggest Aamir has recommended SRK's name to director and himself quit from project.
According to sources Aamir Khan disclosed however script was great but I have dropped idea of doing, however I believed SRK would do justice to project therefore called Shah Rukh Khan and asked him to meet filmmaker and go through script, well he went through script and showed interest.
According to sources after going through script actor gave node to project.
advertisement
Subscribe Newsletter
Recent Posts
Tags