Akhil Kapoor Making His Debut In "Desi Kattey"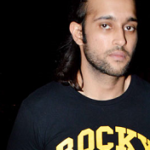 Akhil Kapoor Nephew of bollywood legendry actor Vinod Khanna is making his debut in bollywood.  He will be seen in Anand Kumar's upcoming movie Desi Kattey and you will also see TV actor cum Anchor Jay Bhanushali sharing screen with Akhil Kapoor.
According to reports this movie is all about two boys both working in factor of desi guns "Katta" and the shooting of this movie is being done in small town near Kanpur.
The story of this movie revolves around two friends who work in gun factory, and they are sharp shooter too. They get shooting training from Sunil Shetty who is playing a role of shooting coach. As story progress one of them becomes criminal and another one becomes sharp shooter.
According to reports the shooting of this movie is going on in Mumbai, Delhi and Kanpur. Other stars of this movie are Suniel Shetty, Shasha Agha Khan and Tia Bajpai.
Related Posts
No related posts found!
advertisement
Subscribe Newsletter
Recent Posts
Tags