Akshay Getting Bald
OMG Akshay Kumar got bald to save himself from scorching heat, few days back when actor left for Cape Town for a family vacation he was spotted with bald look, making everyone shocked.
Recently actor was on promotional spare of his upcoming real time flick "Padman", during this event he was asked about his bald avatar, actor gave a surprising answer which stunned everyone, actor disclosed as right now he is shooting for a biopic "Kesari", in this flick he is supposed to wear heavy and huge turban, which is somehow hot and uncomfortable, therefore he decided to go bald.
Well we all know when it comes to acting Akshay always try to give his hundred percent, no matter to what existent he have to go.
We wish him good luck for his upcoming most awaited real time project "Padman".
Related Posts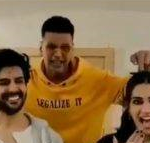 Well these days making remake of bollywood blockbuster songs is becoming trend these days.
Get ready to witness Kartik Aaryan and Kriti Sanon shaking leg on super-duper song "Poster Lagwa Do" in upcoming project "Luka Chuppi".
New generation might not be aware of this song, well let us tell you guys "Poster Lagwa Do" is super-duper song of Akshay and Urmila Matondkar's "Aflatoon". Both the stars have received great applause for the dance movies for the same.
It was happiest moment for Kartik and Kriti when Aflatoon actor Akshay joined entire team of "Luka Chuppi" on promo release event. While interacting with media both Kartik and Kriti showcased their excitement they said we have no words, we thanks Akshay sir for being part of Song release event.
According to sources "Poster Lagwa Do" will be available online on 29th January.
According to latest development Bollywood actor Akshay Kumar is all set to do historical project Prithviraj Chauhan in this project he will be seen playing role of Prithviraj Chauhan.
According to sources filmmaker Chandraprakash Dwivedi who is well known for his project Mohalla Assi is looking forward to make historical project for the same he has signed Akshay. According to sources filmmaker has shared script with actor and actor has given node to project.
However neither filmmaker nor actor has confirmed any such news , well it seems we have to wait for sometime till filmmaker and actor come forward and confirm it officially.
On work front actor is going through busy schedule as right now he is working back to back on four projects. Apart from this actor is all set with second outing in South Cinema with upcoming project Badla opposite Kamal Hassan, recently actor appeared in 2.0 opposite South superstar Rajnikanth movie managed to become blockbuster hit.

Bollywood actor Akshay Kumar having outstanding opening with south superstar Rajnikanth in 2.0 is all set to share screen space with another south superstar Kamal Hassan for Indian sequel.
According to latest development Akki is going to be part of Indian 2 opposite Kamal Hassan.
Well once again Akshay is going to play villain role recently he played villain role in opposite Rajnikanth in  2.0 and know he is set to villian role in Indian 2 opposite Kamal Hassan.
Indian 2 is a sequel of Indian released way back in 1996, for the same Kamal Hassan has received National Award.
According to sources before considering Akshay for Indian 2 filmmaker contacted Ajay Devgn anyhow due to buy schedule actor rejected offer.
According to sources Kajal Aggarwal is going to share screen space with Kamal Hassan and Akshay Kumar first time.
Movie will go on floor next month.
Upcoming most awaited historic project of Akshay Kumar and Praneeti Chopra Kesari " Battle of Saragarhi get a releasing date which is going to be 21st March 2019.
In upcoming project actor is going to share screen space with Parineeti Chopra.
Upcoming project will be produced by Bollywood most versatile filmmaker  Karan Johar's Dharma Productions in collaboration with Cape of Good Hope Films. Movie is going to be directed Bollywood versatile filmmaker by Anurag Singh.
It's happening first time when Akshay Kumar is doing any Historic project based on real battle.
Well it's going to be delightfull moment for of Akshay Kumar fans who were eagerly waiting for the release date.
Right now project is on last stage and shooting is going in  Pink City Jaipur.
Actor's recently released project science fiction 2.0 opposite Rajnikanth has managed to do good business at the box-office by creating history.
Recent release of Akshay Kumar starer 2.0 managed to become blockbuster hit at the box, making Akki first Bollywood actor to cross 100 crore mark on opening day.
Well 2.0 got released across 10,500 screens globally. Movie created new record by earning 80 Crore in India only. Apart from India movie did good business in United Kingdom, US, Australia and New Zealand.
According to trade anaylists in coming day movie is expected to cross 200 crore mark.
Well 2.0 is a remake of Tamil blockbuster hit Enthiran in this movie lead role was played by Rajnikant, this movie is made on whopping budget of 560 crore, making it most expensive movie of South.
According to latest reports movie has managed to break Bahubali 2 record, movie is heading toward making new records in South cinema history.
Well viewers has appreciated Akshay Kumar's negative role, actor is receiving great applause from critics and viewers.
Bollywood actor Akshay Kumar sign another project opposite Kamal Hassan, well recently actor completed "2.0" opposite Kamal Hassan, according to report maker of "2.0" Shankar is too impressed with Akki that he signed actor for sequel of Indian 2.
According to sources however Ajay Devgn was supposed to share screen space with Kamal Hassan in "Indian 2", but due to some reason actor was unable to give node to project, due to which maker signed Akshay Kumar in place of Ajay Devgn.
According to some reports however there is no official announcement made by filmmaker regarding replacement.
According to report upcoming project is going to be 3D and it will release in Tamil, Telugu and Hindi version.
According to sources shooting of Indian 2 will commence by the end of 2018.
Well if news of Akshay Kumar replacing Ajay Devgn in Indian 2 is believed to be true than its going to be delight for Akshay fans to watch him once again opposite Kamal Hassan.
OMG Gold actor Akshay Kumar is in legal trouble, yes you heard right SIT (Special Investigation Team) has send summon to actor to appear in front of SIT
according to sources separate summons has been send to  former Punjab chief minister Parkash Singh Badal including his son Sukhbir Singh Badal for their participation in Bargari sacrilege case that took place in 2015.
SIT has send summon stating Akshay has to appear before SIT on 21st November, however separate summons has been send to Parkash Singh Badal and Sukhbir Singh Badal  to appear on 16th and 19th November at Circuit House Amritsar for explanation on their involvement.
According to sources Akshay received summon under Section 160 of CrPc, Summon were issued by Kunwar Vijay Pratap Singh acting member of SIT.
According to sources SIT has alleged Akshay Kumar for playing a role of mediator between Badals and Ram Rahim in Bargari Sacrilege case.
However recently actor took social platform twitter and denied any such incident adding that he has never met Ram Rahim in past.
Well recently maker of 2.0 released first trailer of much anticipated project.
For this project Akshay Kumar went extra miles to justify his role.
While interacting with media actor disclosed "2.0 is my first ever challenging project, for the same it took tool on my body, well I am playing very powerful and challenging character in this movie, for getting into skin of role I went through 4 hour sitting for getting prosthetic make-up.
Actor further disclosed sharing screen with Rajini sir is great experience what an energetic actor he is, he is down to earth and hard working actor, I am feeling blessed that I got chance to share screen space with him. Well guys it's happening first time when I am working in science fiction movie, I thanks filmmaker for having faith in me and giving me chance to play different avatar.
Upcoming project is sequel of 2010 super duper hit Robot.
Well from the very first day making of Akshay Kumar and Rajinikanth starrer "2.0" came into existence viewers and fans of Akshay Kumar were eagerly waiting to watch his looks.
Recently Akshay Kumar came forward and revealed latest poster of flick on social media and shared his first look and he also disclosed when first trailer of flick will launch with caption "The FIFTH FORCE is coming…Humansbeware!!!#2Point0Traile!@2Point0movie@DharmaMovies@LycaProductions#2Point0 #2Point0TrailerOnNov3".
In upcoming flick Akshay Kumar is easing a role of contender opposite South superstar Rajinikanth and Amy Jackson, movie showcase story of scientist who becomes wired when his experiment goes off beam and he start getting hyper and start harming society.
Movie is direct by S. Shankar movie is sequel of Rajinikanth's blockbuster hit "Enthiran"
Movie is all set to release on 29th November 2018.
Akshay once again proved if you have strong script, no one can stop you from crossing 100 crore mark at box-office collection, well we all know Akshay Kumar's recent release had a tough opening due to clash with John starrer "Satyameva Jayeta" as both the movies released on same date, but still movie managed to enter 100 crore club.
Positive aspect behind Gold becoming blockbuster hit is storyline, which was based on true story of Hockey legend Tapan Das who had a dream of winning first Olympic Gold medal for India after Independence, and he proved his dream on 12th August 1948 by defeating Britisher's on their home ground.
Akshay Kumar and entire member of Gold including Mouni Roy, Kunal Kupoor are receiving great applause from audience and critics for justifying Gold.
Gold was directed by Reema Kagit and produced by Farhan Akhtar and Ritiesh Sidhwani.
We congratulate Akshay for Gold entering into 100 crore club.
advertisement
Subscribe Newsletter
Recent Posts
Tags