Akshay Getting Political

Some of may not aware of Akshay Kumar
's tweet regarding fuel hiek in 2012 when UPA government was in power. During that time actor in his tweet wrote " Guys I think it's time to clean up your bicycle and hit the road! Well recently actor deleted that tweet from twitter when petrol and diesel price touching new heights.
However some of Twitter followers are not happy with actors act of deleting tweet. For the same actor became victim of troll as some of followers  wrote he is foreigner and some wrote ABVP supporter.
One of his follower wrote "Sir please can you lend me. Your bicycle, I will get it cleaned!! And another follower trolled actor adding Sir why you have deleted tweet, what you think, you have done right action, it seems in coming days you will delete  all tweet regarding politics that you wrote before new government came into existence.
Well we also don't understand why actor did so, however it's his personal account, he has all right to delete comments, but somehow it raise question why he did so.
Related Posts
Well some of us may not be aware of Akshay Kumar's upcoming comedy project which has unique title "Laxmmi Bomb" is on floor, recently actor shared first poster of flick and revealed releasing date of project.
Recently actor took social platform twitter and tweeted first poster of flick with caption "Bringing you one bomb of a story,#LaxmmiBomb starring @Advani_Kiara & yours truly!Bursting in cinemas on 5th June,2020 Fox Star Studios Presents A Cape of Good Films Production in association with Shabinaa Entertainment & Tusshar Entertainment House Directed by Raghava Lawrence."
In upcoming project Akshay is going to share screen space with bollywood most happening actress Kaira Advani.
Upcoming project is being directed by Raghava Lawrence and produced in collaboration with A Cape of Goof Films along with Shabinaa Entertainment and Tusshar Entertainment House.
Well there are some reports doing around the corner that Raghava Lawrence has quit the project due to fight with producer as he released first look of flick without consulting him.
Well guys get ready to witness your favorite actor once again in unique avatar next year on 5th June.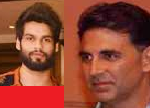 Bollyood actor Akshay Kumar recently did special song for his brother-in-law Karan Kapadia's debut project "Blank".
Well Karan Kapadia cousin of Twinkle Khanna is all set with his acting debut, he is playing lead role opposite Sunny Deol in his debut project "Blank"
While interacting with media Akshay was found praising his brother-in-law he said Karan is perfect actor, I have watched his outstanding performance in short flick which managed to make it to Cannes for the same Karan received positive reviews and applause. I am feeling happy that he is making his debut opposite Bollywood superstar Sunny Deol. Well I have done special song for him in term of wishing him "All the Best".
According to sources upcoming project is going to be action thriller showcasing story of suicide bomber for the same role is played by Karan Kapadia.
Upcoming project is directed by Behzad Khambata.
After receiving great applause for his outstanding performance in Historical war project Kesari Akshay Kumar is all set with web series titled "The End", you want believe for up web series actor has charged huge amount which amounts to 90 crore, it's happening first time when anyone has charged such a huge fees.
Taking into consideration that his Bollywood projects don't suffer due to his upcoming web series, actor has created time table. According to sources upcoming web series are divided into three season for each session actor will devote one month every year. Each series will have eight episodes.
On work front actor is right now busy with his upcoming project Housefull 4, Good News and Sooryavanshi.
Well if news is believed to be true than its going to be delight full moment for small screen viewers who are great fans of actor and fascinated toward web series to watch favorite star in action.
Few days back we came across news that maker of Akshay Kumar starer Sooryavanshi Rohit Shetty is searching for a leading lady who will be seen opposite Akshsy Kumar, well it seems search is over as filmmaker has signed Jacqueline Fernandez as a leading lady for his upcoming project.
In upcoming project Akshay is going to ease role of ATS Chief. It's happening first time when Rohit is going to collaborate with Akshay Kumar.
In upcoming project Jacqueline Fernandez is once again all set to play love interest of Akshay.
Before both stars shared screen together in Housefull 3 and Brothers.
Well some of us may not be aware of fact that in beginning maker of flick was in talk with Katrina Kaif to play leading lady, however later Rohit denied any such reports adding it's buzz I am still in search of leading lady for my upcoming project. Well there were speculations doing around the corner that upcoming project is inspired from Theeran Adhigaaram Ondru, but if we go by latest reports  it suggest upcoming project is going to be original one not a copy.
Well if news of Jacqueline Fernandez sharing screen with Akshay is true than its going to be delight for their fans to watch their onscereen chemistry once again.
Sooryavanshi is all set to release in 2020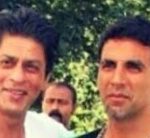 Wow it's going to be delightfull moment  for viewers  to watch super duper pairing of Akshay and SRK  once again,tbey were last seen together in Dil Toh Pagal Hai.
According to sources upcoming project is going to be remake of  South superstar Dileep's super duper hit Malayalam flick "Kodathi Samaksham Balan Vakeel".
According to sources filmmaker Unni Krishnan recently had meeting with SRK and Akshay and he also shared script after which both stars has shown their  interest to collaborate once again.
According to sources upcoming project showcase story of a Advocate who has stemmring problem.
However this news still seems to be buzz as no was has come forward and officially announced the making of upcoming remake and collaboration of SRK and Akshay Kumar.
Well if news is believed to be true than its going to be delight for viewers to watch SRK and Akshay collaborating again.

Recently most awaited trailer of Akshay Kumar's historical project "Kesaria" got released,  after which viewers are feeling eager to watch project.
In trailer one can witness Akshay Kumar leading a company of 20 army soldiers to fight against 10,000 Afghani invaders, which is full of patriotism and courage.
Kesaria is first battle which is one of the bravest battles ever fought on Indian Soil.
It's for sure after watching trailer you will feel patriotic and courageous.
Well Kesaria is based on real story of famous battle Saragarhi that took place in 1987.
Number of bollywood celebrities praised Kesaria trailer, trailer has managed to cross 20 million views on social media and that to in 24 hours.
Upcoming historical project is directed by Anurag Singh and produced by Dharma production in collaboration with  Cape of Good Films and Azure Entertainment.
Kesaria is all set to release on 21st March 2019.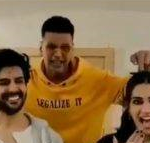 Well these days making remake of bollywood blockbuster songs is becoming trend these days.
Get ready to witness Kartik Aaryan and Kriti Sanon shaking leg on super-duper song "Poster Lagwa Do" in upcoming project "Luka Chuppi".
New generation might not be aware of this song, well let us tell you guys "Poster Lagwa Do" is super-duper song of Akshay and Urmila Matondkar's "Aflatoon". Both the stars have received great applause for the dance movies for the same.
It was happiest moment for Kartik and Kriti when Aflatoon actor Akshay joined entire team of "Luka Chuppi" on promo release event. While interacting with media both Kartik and Kriti showcased their excitement they said we have no words, we thanks Akshay sir for being part of Song release event.
According to sources "Poster Lagwa Do" will be available online on 29th January.
According to latest development Bollywood actor Akshay Kumar is all set to do historical project Prithviraj Chauhan in this project he will be seen playing role of Prithviraj Chauhan.
According to sources filmmaker Chandraprakash Dwivedi who is well known for his project Mohalla Assi is looking forward to make historical project for the same he has signed Akshay. According to sources filmmaker has shared script with actor and actor has given node to project.
However neither filmmaker nor actor has confirmed any such news , well it seems we have to wait for sometime till filmmaker and actor come forward and confirm it officially.
On work front actor is going through busy schedule as right now he is working back to back on four projects. Apart from this actor is all set with second outing in South Cinema with upcoming project Badla opposite Kamal Hassan, recently actor appeared in 2.0 opposite South superstar Rajnikanth movie managed to become blockbuster hit.

Bollywood actor Akshay Kumar having outstanding opening with south superstar Rajnikanth in 2.0 is all set to share screen space with another south superstar Kamal Hassan for Indian sequel.
According to latest development Akki is going to be part of Indian 2 opposite Kamal Hassan.
Well once again Akshay is going to play villain role recently he played villain role in opposite Rajnikanth in  2.0 and know he is set to villian role in Indian 2 opposite Kamal Hassan.
Indian 2 is a sequel of Indian released way back in 1996, for the same Kamal Hassan has received National Award.
According to sources before considering Akshay for Indian 2 filmmaker contacted Ajay Devgn anyhow due to buy schedule actor rejected offer.
According to sources Kajal Aggarwal is going to share screen space with Kamal Hassan and Akshay Kumar first time.
Movie will go on floor next month.
Upcoming most awaited historic project of Akshay Kumar and Praneeti Chopra Kesari " Battle of Saragarhi get a releasing date which is going to be 21st March 2019.
In upcoming project actor is going to share screen space with Parineeti Chopra.
Upcoming project will be produced by Bollywood most versatile filmmaker  Karan Johar's Dharma Productions in collaboration with Cape of Good Hope Films. Movie is going to be directed Bollywood versatile filmmaker by Anurag Singh.
It's happening first time when Akshay Kumar is doing any Historic project based on real battle.
Well it's going to be delightfull moment for of Akshay Kumar fans who were eagerly waiting for the release date.
Right now project is on last stage and shooting is going in  Pink City Jaipur.
Actor's recently released project science fiction 2.0 opposite Rajnikanth has managed to do good business at the box-office by creating history.
advertisement
Subscribe Newsletter
Recent Posts
Tags