Akshay Gold Man
Bollywood actor Akshay Kumar is all set for his upcoming project "Gold" for this actor is in London, recently actor took social platform twitter for sharing first look of movie.
Actor captioned first look , "Set out on a brand new journey, aiming for nothing less than #GOLD! Day 1 of Gold, need your love and best wishes as always :)"
In first look of flick you will witnees actor in mustache look carrying a hang bag, wearing a vintage waistcoat.
Movie will showcase story of India's first Olympic Gold medal win by India after Indian Independence in 1948 at London.
In Gold newcomer Mouni Roy is making debut, movie is going to be directed by Reema Kagti, and will be produced by Excel Entertainment run by Ritesh Sidhwani and Farhan Aktar, its a same come that produced Akshay starrer "Rustom".
Movie is all set to release next year on Independence Day.
Related Posts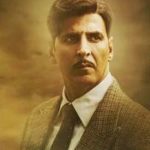 Well there are few Bollywood stars who usually sign flicks which have some positive message for nation. Well we are talking about Akshay Kumar, we have watched him playing role of soldier in number of flicks and we have watched actor in movies based on Swach Bharat Abhayan.
Actors upcoming project "Gold" is also a patriotic one, which will showcase true story of independent India winning its first gold medal in hockey at the 1948 Summer Olympics.
Recently Akki came forward and disclosed that trailer of upcoming project "Gold" will be revealed very soon.
Actor took social platform twitter and tweeted"The dream that united our nation,
The dream that began in 1936,The dream that took 12 years to become a reality. Get ready to witness… #GoldTrailer releasing on the 25th of June.
In Gold actor is going to share screen space with Kunal Kapoor, Mouni Roy, Amit Sadh, Vineet Kumar Singh and Sunny Kaushal.
Movie is directed by Reema Kagti and produced by Ritesh Sidhwani and Farhan Akhtar's home production.
Gold is all set glitter on 15th August.
I

Some of may not aware of Akshay Kumar
's tweet regarding fuel hiek in 2012 when UPA government was in power. During that time actor in his tweet wrote " Guys I think it's time to clean up your bicycle and hit the road! Well recently actor deleted that tweet from twitter when petrol and diesel price touching new heights.
However some of Twitter followers are not happy with actors act of deleting tweet. For the same actor became victim of troll as some of followers  wrote he is foreigner and some wrote ABVP supporter.
One of his follower wrote "Sir please can you lend me. Your bicycle, I will get it cleaned!! And another follower trolled actor adding Sir why you have deleted tweet, what you think, you have done right action, it seems in coming days you will delete  all tweet regarding politics that you wrote before new government came into existence.
Well we also don't understand why actor did so, however it's his personal account, he has all right to delete comments, but somehow it raise question why he did so.
Few days back we came across news in which it was  disclosed that Lt. colonel Sandeep Ahlawat slammed Akshay and Twinkle for hurting sentiments of armed services and he said he will take legal action against couple for auctioning Naval uniform that Akshay wore in Rustom.
According to latest development legal notice has been served to couple and auction house SaltScout.
According to sources Uniform of Naval Officer has been displayed for bidding by auction house SaltScout. And latest bidding offer Rs 2,35,000.
It's happening first time in Indian history that original Navy uniform has been auctioned by any celebrity.
Taking into consideration of hurting sentiments of Armed Forces, lawyer Smita Dikshit has sent legal notice to couple.
In a notice lawyer wrote "Celebrities get to wear the uniform for a three-hour movie and then they think they are owner of uniform and they have all right to auction uniform.
While interacting with media lawyer said" Through notice we have informed them that auctioning uniform is not right action. According to law you cannot auction anything related to the armed forces with taking concent of higher officials Despite receiving notice auction is still on. We have given them seven days time to stop auction otherwise we will be moving to court for further action.
It all started when on 26th April Twinkle took social media and wrote we are going to auction uniform wore my hubby in Rustom for raising funds for social cause.

We all know few months back Akshay came forward with a project "Toilet : Ek Prem Katha" which was based on concept of "Swach Bharat".
Taking into consideration of Twinkle's Tweet from the sequel of "Toilet: Ek Prem Katha" for the same actress became victim of troll, however actor taking her Tweet into consideration has decided to construct  bio-toilets worth Rs 10 lakh at Juhu beach for the public.
In her tweet actress disclosed how one day she was out for her morning walk and her walk got effected due to people defecating in open.
According to sources Akshay in collaboration with Shiv Sena leader, Aditya Thackeray has installed bio-toiled to resolve the defecation problem at Juhu Beach.
According to sources Assitant Muncipal commissioner of BMC came forward and thanked actor for taking defecating problem into consideration by installing bio-toilet at Jhu, commissioner further disclosed this type of toilets are required in Versova and other such places for keeping area clean and hygiene.
We salute actor for constructing bio-toilet.
Good news for Akshay Kumar fans who were waiting for his most awaited flick Gold teaser from past few months, recently actor revealed first teaser of flick on social media with caption.
Recently Akshay took twitter for sharing latest teaser of Gold with caption "Abhishek India Chuptha. Ab hum log bolegaaurduniyasunega. #GoldTeaser Out Now.."
You can watch Akki in retro look which will give you feel of pre-independence era, actor is looking justifying character.
This is happening first time when Akki is  collaborating with Farhan Akhtar's Excel Entertainment. Best thing about this project is that popular TV actress Mouni Roy is going to make her bollywood debut with Gold.
Shooting of flick took place in India and United Kingdom. Movie showcase story of Indian hockey player who won first Gold medal in XIV Olympiad took place in London in 1964.
OMG Akshay Kumar got bald to save himself from scorching heat, few days back when actor left for Cape Town for a family vacation he was spotted with bald look, making everyone shocked.
Recently actor was on promotional spare of his upcoming real time flick "Padman", during this event he was asked about his bald avatar, actor gave a surprising answer which stunned everyone, actor disclosed as right now he is shooting for a biopic "Kesari", in this flick he is supposed to wear heavy and huge turban, which is somehow hot and uncomfortable, therefore he decided to go bald.
Well we all know when it comes to acting Akshay always try to give his hundred percent, no matter to what existent he have to go.
We wish him good luck for his upcoming most awaited real time project "Padman".
We have watched Akshay playing a role of Sikh number of time, while donning Sikh avatar he has always justified his character, this is the reason his all flicks become block buster hits. Once again he is all set ease Sikh character in upcoming project "Kesari" which is based on real story of famous Battle of Saragarhi which took place 120 years back in mountain area of North-West Frontier Province.
Upcoming project is an epic which show case bravery of 21 Sikh soldiers of 36th Sikhs battalion and now its 4th Battalion of Sikh regiment.
Recently maker of flick released first look of flick and for sure his latest avatar will make you excited and you will feel eager to watch flick.
In upcoming project Akshay is going to ease character of Havildar Ishar Singh.
Kesari is being produced in collaboration with Dharma Production and Akshay Kumars home production Cape of Good Films and directed by Anurag Singh.
Movie is all set to release on Holi eve in 2019.
Recently Pad Man Akshay Kumar revealed that his upcoming project with release on 25th January instead of 26th January.
However it was surprising moment for his fans as they are well aware like actor that SLB's most awaited project will be released between 26th January  and 9th February.
It seems Akshay has given straight challenge to SLB by clashing release date of his most awaited flick Pad Man. Well you can say actor has given open challenge.
Well it seems actor is well aware of the fact that he is coming up with solid project so therefore he need not to worry.
According to sources SLB will very soon announce official released date of Padmavati.
Well now all eyes are on SLB in terms of reaction regarding date clash.
Well we hope both movies manage to do well at the box office..
Great news for Housefull franchise fans, according to latest reports Sajid Nadiadwala and Akshay has started working on 4th Installment of Houseull franchise.
According to report 4th part of project will go on floor next year, and will be released on Diwali eve 2019.
According to source maker of flick and Akshay has managed to engage most happening comedy script writer Farhan Samji who wrote script for Judwaa and Golmaal.
According to report writer is right now working on title of flick as he want unique title. According to report Farhad before in collaboration with sajid Samji directed Housefull 3, however due to some conflict Farhad started working independently. Therefore maker of flick personally met Farhad and requested him to write dialogue for fourth installment of Housefull.
So it's going to delight for Akshay Kumar fans to come across news of upcoming fourth installment of Housefull4.
Recently Akshay Kumar showed his excitement and happiness after wrapping up his most awaited project "Gold".
Recently actor took social platform to express his happiness, actor uploaded video in which you can watch him standing on chair with open arms on a beach with white dhoti and Kurta. Video has a caption "A good beginning makes a good ending.. True story. It's a wrap for GOLD, an incredible journey with a great crew. See you at the movies #ItsAWrap #Gold."
Gold is dedicated to first Olympic Gold medal won by India after independence, it's a historical venture which is all set to releases 15 August 2018.
Well it's going to be great news for Akshay fans who are eagerly waiting for the release of Gold as maker of biopic has revealed releasing date of flick.
Right now actor is busy with her upcoming project "Padman".
advertisement
Subscribe Newsletter
Recent Posts
Tags