Akshay Kumar's Retro Teaser Is Out
Good news for Akshay Kumar fans who were waiting for his most awaited flick Gold teaser from past few months, recently actor revealed first teaser of flick on social media with caption.
Recently Akshay took twitter for sharing latest teaser of Gold with caption "Abhishek India Chuptha. Ab hum log bolegaaurduniyasunega. #GoldTeaser Out Now.."
You can watch Akki in retro look which will give you feel of pre-independence era, actor is looking justifying character.
This is happening first time when Akki is  collaborating with Farhan Akhtar's Excel Entertainment. Best thing about this project is that popular TV actress Mouni Roy is going to make her bollywood debut with Gold.
Shooting of flick took place in India and United Kingdom. Movie showcase story of Indian hockey player who won first Gold medal in XIV Olympiad took place in London in 1964.
Related Posts
Bollywood actor Akshay Kumar sign another project opposite Kamal Hassan, well recently actor completed "2.0" opposite Kamal Hassan, according to report maker of "2.0" Shankar is too impressed with Akki that he signed actor for sequel of Indian 2.
According to sources however Ajay Devgn was supposed to share screen space with Kamal Hassan in "Indian 2", but due to some reason actor was unable to give node to project, due to which maker signed Akshay Kumar in place of Ajay Devgn.
According to some reports however there is no official announcement made by filmmaker regarding replacement.
According to report upcoming project is going to be 3D and it will release in Tamil, Telugu and Hindi version.
According to sources shooting of Indian 2 will commence by the end of 2018.
Well if news of Akshay Kumar replacing Ajay Devgn in Indian 2 is believed to be true than its going to be delight for Akshay fans to watch him once again opposite Kamal Hassan.
OMG Gold actor Akshay Kumar is in legal trouble, yes you heard right SIT (Special Investigation Team) has send summon to actor to appear in front of SIT
according to sources separate summons has been send to  former Punjab chief minister Parkash Singh Badal including his son Sukhbir Singh Badal for their participation in Bargari sacrilege case that took place in 2015.
SIT has send summon stating Akshay has to appear before SIT on 21st November, however separate summons has been send to Parkash Singh Badal and Sukhbir Singh Badal  to appear on 16th and 19th November at Circuit House Amritsar for explanation on their involvement.
According to sources Akshay received summon under Section 160 of CrPc, Summon were issued by Kunwar Vijay Pratap Singh acting member of SIT.
According to sources SIT has alleged Akshay Kumar for playing a role of mediator between Badals and Ram Rahim in Bargari Sacrilege case.
However recently actor took social platform twitter and denied any such incident adding that he has never met Ram Rahim in past.
Well recently maker of 2.0 released first trailer of much anticipated project.
For this project Akshay Kumar went extra miles to justify his role.
While interacting with media actor disclosed "2.0 is my first ever challenging project, for the same it took tool on my body, well I am playing very powerful and challenging character in this movie, for getting into skin of role I went through 4 hour sitting for getting prosthetic make-up.
Actor further disclosed sharing screen with Rajini sir is great experience what an energetic actor he is, he is down to earth and hard working actor, I am feeling blessed that I got chance to share screen space with him. Well guys it's happening first time when I am working in science fiction movie, I thanks filmmaker for having faith in me and giving me chance to play different avatar.
Upcoming project is sequel of 2010 super duper hit Robot.
Well from the very first day making of Akshay Kumar and Rajinikanth starrer "2.0" came into existence viewers and fans of Akshay Kumar were eagerly waiting to watch his looks.
Recently Akshay Kumar came forward and revealed latest poster of flick on social media and shared his first look and he also disclosed when first trailer of flick will launch with caption "The FIFTH FORCE is coming…Humansbeware!!!#2Point0Traile!@2Point0movie@DharmaMovies@LycaProductions#2Point0 #2Point0TrailerOnNov3".
In upcoming flick Akshay Kumar is easing a role of contender opposite South superstar Rajinikanth and Amy Jackson, movie showcase story of scientist who becomes wired when his experiment goes off beam and he start getting hyper and start harming society.
Movie is direct by S. Shankar movie is sequel of Rajinikanth's blockbuster hit "Enthiran"
Movie is all set to release on 29th November 2018.
Akshay once again proved if you have strong script, no one can stop you from crossing 100 crore mark at box-office collection, well we all know Akshay Kumar's recent release had a tough opening due to clash with John starrer "Satyameva Jayeta" as both the movies released on same date, but still movie managed to enter 100 crore club.
Positive aspect behind Gold becoming blockbuster hit is storyline, which was based on true story of Hockey legend Tapan Das who had a dream of winning first Olympic Gold medal for India after Independence, and he proved his dream on 12th August 1948 by defeating Britisher's on their home ground.
Akshay Kumar and entire member of Gold including Mouni Roy, Kunal Kupoor are receiving great applause from audience and critics for justifying Gold.
Gold was directed by Reema Kagit and produced by Farhan Akhtar and Ritiesh Sidhwani.
We congratulate Akshay for Gold entering into 100 crore club.

Recently we went through Box-office fight when John starrer Satyameva Jayate and Akshay Kumar starrer Gold released on Indian Independence day, there was buzz doing around the corner that both movies will have adverse effect on collection, however both the movies proved if theme is different and script is strong it does not matter if it release on same day or any day it will do good business.
Well Gold has managed to give tough fight too Satyameva Jayate on opening day as both the movies manage to collect good collection. According to sources Gold is moving smooth till date and there are chances that movie will very soon manage to enter 100 crore club. Till date movie has managed to collect 80 crores.
Gold was based on true story where as Satyamev Jayate was based on social issue Corruption.
Gold showcase story of Tapan Das who had a dream of winning Olympic gold medal in Hockey for Indian after India Independence, and how India clinch gold medal defeating British hockey team on their ground in 1948.
We wish Good Luck To Gold Team for upcoming days.
Good news for fans of Hera Pheri franchise, yes it's going to be good news as Akshay Kumar recently confirmed that he is coming up with 3rd series of Hera Pheri.
Well before there was buzz doing around the corner that Akshay is not interested in 3rd series of super-duper hit  Hera Pheri, well actor has ended buzz, by confirming that he along with Suniel Shetty and Paresh Rawal is returning back with laughter riot Hera Pheri.
Right now actor is waiting for release of his most awaited sports flick "Gold" which is going to have tough competition with John Abraham's "Satyamev Jayte" at the box-office on 15th August.
On work front actor is busy with 4th series of Housefull franchise.
Well Akshay time and again proved he can do any kind of flick be it comedy, action, drama, sports or based on social cause, he can justify any kind role he get to portray.

As well Know Akshay Kumar and John is going to have tough fight at the box-office as movies of both the stars are releasing on 15th August, being holiday due to Independence day, all eyes are on flicks of both stars as which movie will manage to get big opening at the box office.
Akshay Kumar starrer "Gold" and John starrer "Satyamev Jayate" being different zone flicks it might not have any impact on opening day added bollywood trade gurus.
Well we believe if movies do have different concept than it does not matter if movies release on same date, but somehow taking into consideration of fan following movies might have some adverse effect on opening day added sources. So guys get ready to witness tough competition between Akshay and John.
Well we hope both the movies have great opening at box-office.
Well we all know about Akshay Kumar's most awaited project "Gold", well few days back viewers and fans of Akki went through "Gold" trailer, everyone praised latest avatar of Akki. Well this time maker of biopic revealed latest song 'Naino Ne Baandhi'.
Good news for Akshay Kumar fans as first song from biopic "Gold" Naino Ne Baandhi" is out, song is picturized brilliantly, viewers can feel on-screen chemistry between both stars. Well thought both the stars are sharing screen first time, but there on-screen chemistry is eye-catching and heart tendring.
In Gold you will witness Mouni Roy easing role of Akki's wife.
It's happening second time when Akshay is doing any biopic, before he did Padman, for this actor received great applause from viewers and critics.
Shooting of biopic took place in UK and India. Biopic is all set in India's pre-independent.
Biopic will showcase story of India hockey player, as how he manage to achieve his dream of wining free India's first Gold come true. It was historical event as India won first Gold medal in Olympics that took place on 12th of August 1948.
Well Naino Ne Bandhi song is becoming house hold of Indian cinema fans.
Biopic is all set to release on 15th August.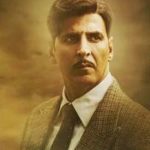 As Akshay Kumar starer "Gold" release date is coming closer, promotion is on full swing. For the same special event is being organized in India on 6th July, for the same actor will be flying back to India after enjoying holidays with his family in USA.
From the very first day trailer of "Gold" got released, trailer has managed to create new records by getting 35 million views at very fast pace.
According to sources maker of flick keeping in mind about level of Gold promoting  at highest level has organized special event for giving sneak peek of music and story of flick, for the same entire team of "Gold" will join together on 6th July.
Being a patriotice flick is all set to release on 15th August Independence Day.
Movie will showcase story of Tapan Das, as how he manage to win Gold for India during free India moment.
Other co-stars of this flick are Mouni Roy, Farhan Akhtar, Kunal Kapoor, Amit Sash, Sunny Kaushal and Vineet Singh
advertisement
Subscribe Newsletter
Recent Posts
Tags