Ali And Amyra Dastur Together Opposite Sanjay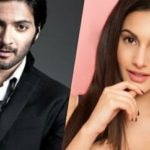 Guys get ready to watch Bollywood turned international star Ali Fazal opposite Amyra Dastur along with Sanjay Dutt in remake of Telugu flick "Prasthanam".
According to sources upcoming project will be directed by original director who directed Telugu version, yes we are talking about Deva Katta.
According to sources movie will go on floor next month. In this flick Sanjay Dutt is going to play lead role, he will be playing a role of powerful politician and Ali will be easing role of his son.
Original Telugu project was blockbuster hit and won three filmfare awards. Deva Katta received lots of applause for creating a master peace.
Best thing about upcoming project is it is going to be produced by Sanjay Dutts production house.
Well we hope Prasthanam manage to impress Bollywood fans and become blockbuster hit like original Telugu version.
Related Posts
Bollywood filmmaker Ali Abbas Zafar feeling nervous and excited about his upcoming project Tiger Zinda Hai, due to high octave climax.
Only 22 days left for wrapping up Tiger Zinda Hai, and there are reports that high octave climax actions are all set to begin tomorrow tweeted Ali Abbas Zafar.
According to sources Tiger Zinda Hai potrays the story of RAW agent character eased by Salman who's code is Tiger he falls in love with Pakistani ISI agent Katrina Kaif during any investigation and after that how Tigers strategy and aim changes.
As we all now movie is all set to release on eve of 2017 Christmas.
Shooting of flick commenced in scenic locations of Australia and Abu Dhabi. However last location is kept under wrap as maker of flick has not disclosed latest location of flick.
Tiger Zinda Hai is going to be delight for Salman and Katrina fans.
Ali Fazal's co-actress Judi Dench to visit Indian soon, Judi is sharing screen with Ali in upcoming project "Victoria And Abdul".
According to sources crew member of flick along will Judi visit for the premier of flick after the release of flick in UK on 8th September.
According to reports for the promotion of "Victoria And Abdul" organizer in India has signed top Chorographers for traditional Rajasthani song and dance, organizer are" making full efforts that entire team member of flick get full experience of Rajisthani culture.
According to sources Ali is feeling excited that entire team of flick is visiting India. Working with Judi is dream come true, she is very kind person and down to earth, I had a great time working with entire team added Ali
Apart from international project actor is looking forward with Fukrey 2 and Indo-American project film "For Her Or To Go".
Bollywood actor Ali Fazal is feeling excited for his upcoming international project "Victoria and Abdul. From the very first day news of Ali making his venture in Hollywood came into light, he has become talk of the town.
According to reports Ali is going to play lead role opposite Judi Dench, actor is doing hard work so that he can do full justice to his character to flick which showcase story of late 1800's Victorian Empire, in this Ali is easing a character of Indian servant named Abdul movie showcase how  during his travel to England he start developing friendship with Queen Victoria, flick will also showcase when Abdul taught how to speak Urdu Language to Queen Victoria.
According to reports Ali being a resident of Lucknow and brought up in family of Urdu literates he is feeling ease, however actor is feeling happy that he got a chance to explore Urdu in "Victoria and Abdul.
advertisement
Subscribe Newsletter
Recent Posts
Tags