Anil Back In Action
Well when it comes to age as bar for doing action in Bollywood Anil Kapoor has always showcased that to him age is just a number, when it come to fitness actor never compromise he always take good care of fitness this is the reason he is getting young day by day.
Well we have watched actor in action in popular TV series 24, but we haven't watched actor in action on silver screen from past few years, well with upcoming project Race3 actor is returning back to action.
Some of us may not be aware of the fact that actor has not taken help of body double while performing action in Race3. Recently maker of flick disclosed that Anil oppted for not taking help of body double. He further said however he was looking forward to go with light action sequences with Mr. Kapoor, but after having word with stunt directors Tom Struthers, I decided to give actor opportunity to do big scale action. According to filmmaker Remo D, souza Anil took special training by fight experts in Abu Dhabi.
So guys get ready to witness 60 plus hero in stunning action.
Race3 is all set to release on 15th June 2018.
Related Posts
Once again Anil Kapoor is going to reunite with Ranveer Singh in upcoming project of Bollywood versatile filmmaker Rakeysh Omprakash Mehra.
According to sources filmmaker is looking forward to make a project which will showcase bounding between father and son, for the same he has approached Anil and Ranveer Singh. Before also both the stars has shared screen space in "Dil Dhadkane Do".
According to latest development however Anil and Ranveer are interested in doing upcoming project, but due to ongoing busy schedule they can give dates to filmmaker in 2020 only.
Well it seems viewer and fans of both the actors have to wait for two years to witness them together on Silver Screen.
On work front Ranveer is right now busy with upcoming project "Gully Boy" and Simbaa. On the other hand Anil is busy with his upcoming projects "Total Dhamal", "Fanne Khan" and "Ek Ladki Ko Dekha Toh Aisa Laga".
As we all know Sonam Kapoor is all set to tie knot with Delhi based businessman Anand Ahuja on May 8 in Mumbai.
News of Sonam kapoor tieing knot with Anand was recently confirmed to media by kapoor family.
In a statement Anil Kapoor said " it's an intimate affair and thereby we have requested media to respect our privacy and stay away from it.
Anil further disclosed I have great respect for media, as media is always with me and family from the very first day we made our entry into Bollywood. I request media please be calm I will share everything thing with them very soon. I guarantee you we will not hide any thing from media, and will disclose everything, and it's obvious media will take my statement in positive way.
We congratulate Anil sir for upcoming wedding of Sonam Kapoor.
Bollywood blockbuster hit pairing is once again all set for Total Dhamal. Yes you heard right we are talking about Anil Kapoor and Madhuri Dixit. They worked together in number of flick in 90's and all these flick became blockbuster hits.
Madhuri and Anil are reuniting once again after two decades. They both are going to play lead role in Indra Kumar's upcoming adventure comedy "Total Dhamal" which will be releasing in December 2018.
Recently sources engaged in project shared few clipping's from set of flick.
According to sources number of sequences were supposed to shoot in proscribed time of 6 days, however due to great bonding and comfort sequence were completed in 4 days time.
Well it's going to be delight for viewer and fans to watch blockbuster pairing of Anil Kapoor and Madhuri Dixit once again after gap of two decades.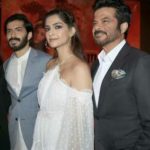 As we all know Anil Kapoor is all set to share screen with his daughter Somam Kapoor in upcoming project " Ek Ladki Ko Dekha Toh Aisa Laga".
According to latest development Anil is also looking forward to share screen with his son too. Anil is all set to share screen with Harshwardhan Kapoor in upcoming biopic based on Abhinav Bindra.
According to report in upcoming project Anil is going to ease a role of on-screen father which is going to interesting.
According to sources Harshwardhan will go through special training to get in shape for justifying role.
According to sources both father and son will leave for Chandigarh after release of his upcoming project "Bhavesh Joshi".
According to report both the stars will be spending four months together to get into character, so that they can justify their roles.
So it's going to be delight for their fans to watch father and son together on big screen.
OMG Anil Kapoor ask Anupam Kher for royalty, yes you heard right recently Mr.Kher took social platform twitter and tweeted "That is looking forward to play a role of Dr. Anil Kapoor in Bellevue, which is going to be American drama series".
According to report after going through Anupam's tweet Anil immediately reacted and added "Want royalty for using my name @AnupamPKher or wait for the legal notice.." soon after Anil's tweet troll started and people started posting harsh comments, one of twitter user wrote "Anil Ji he has made you Doctor, which is itself a precious royalty. Great Doctors are God's chosen ones" another user came forward and tweeted "Dear @AnilKapoor sir, have you asked Sanjay Dutt for using your nick name Munna in Munnabhai MBBS? not na".
Well you can say twitter was on fire when Mr. Kapoor reacted to Mr. Kher's post.
As we all are well aware of upcoming bollywood project Race 3, and we also now Anil Kapoor is part of it, recently on his birthday actor joined Race 3.
Before we have watched actor playing important role in previous two parts. According to report actor is going to be busy for whole one weak for first schedule of Race 3 which is happening in Mumbai.
Best thing about Race 3 is that Anil is going to share screen with Salman, before we have watched great bond between both stars in number of flicks, so it's going to be delight for fans of both the stars  to watch them together once again.
Movie is being produced under home production house of Salman Khan Films in collaboration with Ramesh Taurani and being driected by Remo D'souza.
Race 3 is all set to hit theatres on 2018 Eid.
Once again Anil Kapoor and Salman collaborating together for upcoming project Race 3. Apart from on-screen acquaintance both actor share good bound of screen too. They first collaborated to gather in 1997 super hit flick Biwi No 1, No Entry in 2005, Yuvraj 2008, Salaam-E-Ishq 2007.
In first two parts of Race Anil was the one who received great applause from audience and critics for comic timing despite both part did not manage to make it to blockbuster.
In first two parts we watched Saif Ali Khan playing lead role, but this time you will get chance to watch Salman. First two parts were directed by Abbas Mustan, but third one will be directed by Remo D'Souza.
Other co-stars of this flick are  Jacqueline Fernandez and Daisy Shah.
If news is believed to be true than its going to be delight for Anil and Salman to watch two superstar on one platform.
Bollywood actor Anil Kapoor is all set to share screen with his daughter Sonam Kapoor in upcoming project "Ek Ladki Ko Dekha To Aisa Laga". It's happening first time when you will get a chance to watch Anil and Sonam on big screen together.
According to sources upcoming project is going to be directed by Vidhu Vinod Chopra's sister Shelly Chopra, however actor has worked before with Vidhu Vinod Chopra in 1942-A Love Story, in this flick he shared screen with Jacky and Manisha.
According to sources title of flick is inspired from title song of 1942 A Love Story "Ek Ladki Ki Ko Dekha To Aisa Laga".
While interacting with media Vidhu disclosed his upcoming project is a big project, best thing about our project is that Anil and Sonam are coming together. on the other hand Shelly disclosed she is feeling to excited that her debut project is going to be big one having a bollywood superstar in lead.
Recently Anil Kapoor posted a image on Instagram in which you can watch him spying into her daughter Sonam Kapoor's mobile when she is going through it.
As we all aware of fact when it comes to sense of humor actor is number one, therefore by adding this picture he is showing how a over protective father get caught in camera spying her daughter mobile.
After going through intstagram post actress wrote "Guns don't kill people… dads with pretty daughters do" as he mentions in his caption, "I guess I am guilty as charged."
On the other Anand Ahuja who is said to be her boyfriend came forward are re-tweeted adding "@anilskapoor @sonamkapoor @kapoor.sunita … it's totally allowed."
Well its obvious protective father usually behave like this, however it showcase bounding between daughter and father.
Right now Anil is busy with her upcoming musical project Fanney Khan" in this flick he will be seen in never before avatar, and you will also watch actor lending his voice to number of tracks, on the other hand his daughter is busy with Veerey Di Wedding.
As we all are well aware of the fact that Anil Kapoor is all set to play a fathers role in upcoming flick "Fanney Khan" and that to he will be easing a role of Aishwarya Rai's father, with whom he shared screen in "Taal".
However latest reports also suggest that actor is all set to make his debut in singing, yes you heard right actor is going to do playback singing in "Fanney Khan".
According to reports his fans will get chance to witness actor lending his voice to number of songs, as maker of flick want his flick look real, therefore he decided to make Anil sing few songs.
According to source actor is trained in semi-classical and now he his looking forward to riyaaz for Fanney Khan, so that he can get perfect notes. However Anil disclosed if somehow he feel he is not able to justify singing he will quit without any excuse.
While interacting with media fillmaker Atul Manjrekar disclosed he want to make his flick look real, therefore he requested Anil Kapoor to lend his voice for some numbers.
advertisement
Subscribe Newsletter
Recent Posts
Tags