Anil Back In Action
Well when it comes to age as bar for doing action in Bollywood Anil Kapoor has always showcased that to him age is just a number, when it come to fitness actor never compromise he always take good care of fitness this is the reason he is getting young day by day.
Well we have watched actor in action in popular TV series 24, but we haven't watched actor in action on silver screen from past few years, well with upcoming project Race3 actor is returning back to action.
Some of us may not be aware of the fact that actor has not taken help of body double while performing action in Race3. Recently maker of flick disclosed that Anil oppted for not taking help of body double. He further said however he was looking forward to go with light action sequences with Mr. Kapoor, but after having word with stunt directors Tom Struthers, I decided to give actor opportunity to do big scale action. According to filmmaker Remo D, souza Anil took special training by fight experts in Abu Dhabi.
So guys get ready to witness 60 plus hero in stunning action.
Race3 is all set to release on 15th June 2018.
Related Posts

Bollywood ever young superstar Anil Kapoor who is entertaining viewers from decades is feeling glad that he has got chance to play historical character of Shahjehan in upcoming periodic drama "Takht".
While interacting with media Anil showed his excitement he said "I am feeling happy that in my entire acting carrier it's happening first time when I am going to play historical character. Well I am unable to describe emotions I am going through, I am putting my all efforts to justify the role of Shahjehan.
Upcoming project is set in Muslim era showcasing story of two warriors.
Recently actor enjoyed great success of his comdey project Total Dhamal which manage to cross 150 crore mark.
On work front actor is right working on his upcoming projects Pagalpanti and biopic based on Bindra along his son Harshvardhan.
Upcoming project will go on floor by the end of 2019.
Bollywood evergreen actor Anil Kapoor is all set with upcoming project "Malang", which is going to be directed by Mohit Siri.
Well recently filmmaker Mohit Suri took social platform to confirm making of Malang director shared click of entire star cast with caption "Let's get CRAZY,INTENSE and #MALANG@Anil".
In click you will witness Anil Kapoor, Aditya Roy Kapoor, kunal Khemu and Disha along with filmmaker Mohit Siri.
Soon after Mohit Suri"s post Anil Kapoor came forward  shared on click with caption "Together we are #MALANG! Pleased to announce my first with all these talented artists and filmmaker  – @mohitsuri @adityaroykapur @dishapatani & @khemster2! @malangfilm releasing on Valentine's 2020."
Well before we have watched blockbuster collaboration of Aditya and Mohit Suri in Ashique 2.
According to sources upcoming project is going to be thriller which will go on floor in Goa by the mid of this year.
Recently Bollywood legendry actor Anil Kapoor disclosed that he is having some problem in his Shoulder, for the same he is taking off to Germany to take treatment.
While interacting with media actor disclosed he suffering from calcification disorder, it happens when calcium start depositing in tendons(White Fibrous Connective Tissue Which Attach Muscle to a Bone).
According to sources actor will take off to Germany after release of his most awaited project "Total Dhamaal". On work front actor is right now busy with promotion of his upcoming project Ek Ladki Ko Dekha Toh Aisa Laga.
According to sources actor will be treated by expert Dr Muller-Wohlfahrt who only treat sports celebrities.
According to sources despite suffering from calcification disorder actor has done number of stunts, however recently doctor advised him to stay away from stunts as shoulder might get worse, for the same he first have to take medication and get rid of this problem than he can continue stunts.
Few days back new track "Achche Din" from upcoming Anil Kapoor's project Fanney Khan got released, however this song got stuck in political controversy.
According to controversial  lyric of song "Achche Din" somehow resembles to BJP's campaign line which was used by party for 2014 elections. The sologon was "Ache Din Ab Ayenge", however after song got released people started singing "Mere achche din kab ayange". Well it was believed that people started singing song in term of teasing BJP workers. Due to which maker started receiving calls from workers, taking controversy into consideration maker of flick immediately changed the lyrics and released song with new lyrics.
Well  "Ache Din Jarur Aayenga".
So guys what you are waiting for just go online and listen Achche Din with new lyrics.
In upcoming project Anil once again collaborating with Bollywood most versatile actress Aishwarya Rai after long gap.

Anil Kapoor starrer most awaited project Fanney Khan recently got wrapped up and promotion work is on. Anil Kapoor including his crew members is appearing on number of reality shows for promotion.
According to latest reports after promoting Fanney Khan in Mumbai  Team is all set to promote flick in New Delhi. According to sources they have planned to visit Delhi as both Anil and Rajkumar Rao has great fan following and it will have positive impact of flick.
Best thing about Fanney Khan is Anil and Aishwarya Rai Bachchan collaborating after two decades.
Upcoming project Fanney Khan is musical flick, it will showcase bounding between father and daughter, as how father help daughter to become singer.
From the very first day making of Fanney Khan came into existence, it has been receiving positive reviews from critics and fans. And from the very day trailer of movie got highlighted viewers are eagerly waiting for the release of flick.
Few days back legendry Bollywood singer Lata Mangeshkar came forward and said though she don't watch movies these days, but she is looking forward for Fanney Khan, she also gave good wishes to Anil Kapoor and entire team of Fanney Khan.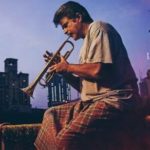 From the very first day first poster on Anil Kapoor starer "Fanney Khan" got released, actor fans were eagerly waiting for the release of second poster as first poster created buzz as it showcased actors back carrying trumpet in one hand and a tiffin in another hand.
Well latest poster showcases actors character in movie as you can watch actor playing trumpet sitting outdoor.
Upcoming project Fanney Khan showcase story of father daughter bonding, as how further break all barriers to fulfill her daughters dream of becoming singer.
Other co-stars of this project are Rajkummar Rao and Aishwarya Rai Bachchan. Movie is directed by Atul Manjrekar and produced by Bhushan Kumar, Krishan Kumar in collaboration with nominees of ROMP.
Movie is all set to release on Starring Anil on 3rd August 2018.
Once again Anil Kapoor is going to reunite with Ranveer Singh in upcoming project of Bollywood versatile filmmaker Rakeysh Omprakash Mehra.
According to sources filmmaker is looking forward to make a project which will showcase bounding between father and son, for the same he has approached Anil and Ranveer Singh. Before also both the stars has shared screen space in "Dil Dhadkane Do".
According to latest development however Anil and Ranveer are interested in doing upcoming project, but due to ongoing busy schedule they can give dates to filmmaker in 2020 only.
Well it seems viewer and fans of both the actors have to wait for two years to witness them together on Silver Screen.
On work front Ranveer is right now busy with upcoming project "Gully Boy" and Simbaa. On the other hand Anil is busy with his upcoming projects "Total Dhamal", "Fanne Khan" and "Ek Ladki Ko Dekha Toh Aisa Laga".
As we all know Sonam Kapoor is all set to tie knot with Delhi based businessman Anand Ahuja on May 8 in Mumbai.
News of Sonam kapoor tieing knot with Anand was recently confirmed to media by kapoor family.
In a statement Anil Kapoor said " it's an intimate affair and thereby we have requested media to respect our privacy and stay away from it.
Anil further disclosed I have great respect for media, as media is always with me and family from the very first day we made our entry into Bollywood. I request media please be calm I will share everything thing with them very soon. I guarantee you we will not hide any thing from media, and will disclose everything, and it's obvious media will take my statement in positive way.
We congratulate Anil sir for upcoming wedding of Sonam Kapoor.
Bollywood blockbuster hit pairing is once again all set for Total Dhamal. Yes you heard right we are talking about Anil Kapoor and Madhuri Dixit. They worked together in number of flick in 90's and all these flick became blockbuster hits.
Madhuri and Anil are reuniting once again after two decades. They both are going to play lead role in Indra Kumar's upcoming adventure comedy "Total Dhamal" which will be releasing in December 2018.
Recently sources engaged in project shared few clipping's from set of flick.
According to sources number of sequences were supposed to shoot in proscribed time of 6 days, however due to great bonding and comfort sequence were completed in 4 days time.
Well it's going to be delight for viewer and fans to watch blockbuster pairing of Anil Kapoor and Madhuri Dixit once again after gap of two decades.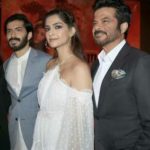 As we all know Anil Kapoor is all set to share screen with his daughter Somam Kapoor in upcoming project " Ek Ladki Ko Dekha Toh Aisa Laga".
According to latest development Anil is also looking forward to share screen with his son too. Anil is all set to share screen with Harshwardhan Kapoor in upcoming biopic based on Abhinav Bindra.
According to report in upcoming project Anil is going to ease a role of on-screen father which is going to interesting.
According to sources Harshwardhan will go through special training to get in shape for justifying role.
According to sources both father and son will leave for Chandigarh after release of his upcoming project "Bhavesh Joshi".
According to report both the stars will be spending four months together to get into character, so that they can justify their roles.
So it's going to be delight for their fans to watch father and son together on big screen.
advertisement
Subscribe Newsletter
Recent Posts
Tags