Anurag Says Salman Is No Behind Delay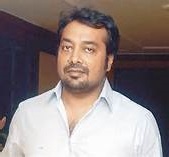 Salman is known as man of controversies, recently we came across news that Salman is main reason behind delay of Ranbir kapoor starrer Jagga Jasoos.
If we go buy latest buzz which suggest that Salman is main case behind delay of Jagga Jasos, however filmmaker Anurag Kashyap has different tale to tell, while taking social media Anurag posted that Salman is not a reason behind delay. He wrote "Me blaming Salman for the delay of Jagga:-)How When??!, Person posting this kind of news should write fiction, I think we need good writer in the industry."
However it was reported that post break-up of Ranbir and Kat who are main lead of flick, it came forward that during the shooting of flick Katrina went to meet Salman which resulted into delay of the January schedule of Jagga Jasos, however it would be good if both the stars put back together forgetting everything and start working for the project so that project can be completed in time added Anurag.
Related Posts
OMG Bollywood film maker Anurag Kashyap again in love, yes you heard right there is buzz doing around the corner that Anurag is in live-in relationship with 23 year old girl named Shubhra Shetty.
Recently Kashyap posted intimate pictures on social media Instagram, in which you can watch Anurag and Shubra in intimate and cute act. Going through picture you will  witness great bounding between him and Shubhra.
However he has not officially announced his relationship, but going through one of his click which is captioned "love" well it showcase his concern with Shubhra.
Its happening third time when Anurag felt in love, before he tied knot with Aarti Bajaj and got separated in 2009, then he tied knot with Kalki Koechli in 2011 and got divorced after four years, and now its third time that he has fall in love, which is quite interesting.

Anurag Kashyap praise Sobhita Dhulipala who recently made her debut in Anurag's flick Raman Raghav 2.0, according to reports Anurag discovered that Sobhita is passionate in writing poetry, as Anurag love reading poetries, he felt excited to see her passion of writing.
According to reports Anurag felt surprised to discover another side of actress, while interacting with media he said while I and Sobhita were sitting together I found that she wrote poetry, I was not so impressed as number of people claim that they write poetry. However after going through her poetry I was surprised, as her poetry contains so much of depth, it looks as it is written by some expert, after reading her poetries she made different place in my heart.
While concluding his interaction he said during the shooting of flick the more I discovered her she was not like any model or Miss India, she is very calm, hard working and intelligent, as she has great mind which showcase her hunger of expressing her views and feelings.
Bollyood director Anurag Kashyap is all set for his for his upcoming movie. Anurag Kashyap always hesitate giving script to Ugly actors. These days Anurag Kashyap has selected new way of working. Therefore Anurag Kashyap will not give a script to his actors what he will doing is only providing a brief outline for their character. In his upcoming directed movie Ronit Roy will be playing a Bengali teetotaler and his opposite Tejaswini Kolhapure going to play a role of his alcoholic wife.  Though the two leading actors of the movie were unaware about the working with each other, as they both were only asked to report on the set for first day of shooting on 21st October.
Therefore when Ronit Roy was asked about this novel shooting method, he stated that he don't think that any of the co-stars of the movie has been given any script. On the other hand Anurag Kashyap refuses to comment anything regarding the script of the movie. Ronit Roy said that he thinks that Anurag Kashyap wants a certain kind of naturalness   in the character and the script. Ronit Roy told that he was only told that he is going to play the role of Bengali Teetotaler beyond that I will come to know when I reach the set.
Though Ronit Roy refrained from any further comment on the upcoming movie Ugly. According to sources every character is dark and unfinished. According to sources this is going to be Anurag's darkest film of date.
advertisement
Subscribe Newsletter
Recent Posts
Tags