Arjun Coming Back With Surprise Packed Projects
Bollywood versatile actor turned producer Arjun Rampal is all set to work in feature films, for the same actor has shortlisted three project of different genres which is going to be surprising come back.
According to sources out of three project one will be produced by actor, which is going to be horror project.
According to sources while interacting with media actor disclosed "I am looking forward to work on three projects, shooting will commence very shortly. Actor further said right now I am going through script once I finalize script and everything get sorted I will come forward and officially announce about my upcoming projects.
Well if news is believed to be true than its going to be delight for his fans to watch his come back with bang.
We wish Arjun Rampal good luck for his upcoming project.
Related Posts
Bollywood versatile actor Arjun Rampal who is known for fitness have stuck himself in big trouble.
According to latest development actor stuck himself in legal trouble for same he can also go to prison.
According to sources it all happened when Arjun Rampal failed to return loan he took from YT Entertainment Limited in pretixet of returning loan back within 90 days with 12% interest, however he failed to do so.
According to sources from a company actor took Loan is working money lender company by lending money to filmmaker's.
According to sources company has filled case against actor under Negotiable Instruments Act when post dated cheque issued by Rampal got dishonored.
Well going through latest development it seems actor has stuck himself in big trouble for which he can get imprisonment.
We hope everything get sorted out soon and actor get some relief.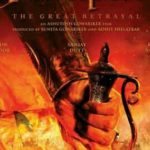 Good news for viewers who are looking for to watch most anticipated project "Panipat". Yes it's going to be good news as move went on floor this Friday.
According to sources shooting of upcoming project "Panipat" begun.
News of Panipat going on floor was confirmed by movie leads Arjun Kapoor and Kriti Sanoon, for confirming news both the stars took social platform form twitter adding "New Chapter Begun". Actor further tweeted He is feeling happy that he is working with his dream filmmaker Ashutosh Gowariker, what a great filmmaker he is, thanks Ashutosh sir having faith in me and giving me chance to be part of historical project.
Kirti also took social platform twitter and tweeted "Our #Panipat journey begins today. Super excited for Panipat journey.
Other co-stars of this project are Sanjay Dutt and Madhuri Dixit.
Upcoming project is all set to release on 6th December 2019.
Once again rumored love birds Arjun and Malika again caught in camera by paparazzi, well news of their relationship has become hot cake, were ever they go they are caught in camera by paparazzi, and number of time they both have been questioned by media regarding their relationship, however number of time they have denied such reports.
Well recently both Arjun and Malaika was spotted together at Amrita Arora's house spending leisure time. Few days back they both were spotted together in Italy
Well there are reports doing around the corner that Arjun and Malika are searching for a house in Lokhandwala area Mumbai.
Recently they both joined Karan Johar on sets of Koffee with Karan, where Karan asked about future planning, well Malika said, she don't like discussing about her personal life, she further disclosed she is a open book everyone knows what going around, therefore there is no need to disclose anything, I enjoy every bit of life.
Well going through above news it seems both Arjun and Malika are in no mood of disclosing their relationship.
When it comes to acting almost every Bollywood star go beyond his or her limit to justify character, number of time we have witnessed Bollywood stars going for makeover in different ways, well this time its Arjun Kapoor who is going for makeover, yes you heard right actor is all set to get bald for justifying his role.
According to sources Arjun Kapoor is all set to ease a role of Sadashiv Rao Bhau in Ashutosh Gowariker's upcoming project "Panipat", for this actors requires to get bald to justify character.
Well getting bald for any actor is not easy as it can affect his upcoming projects, but taking into consideration to justify his role actor is taking big risk.
According to sources actor is looking forward to shave his head, so that he can get into skin of his role and justify character he  is offered to play.
Upcoming project is based on third battle of Panipat which took place in 18th century.

Well from past few months we are going through number of reports regarding ongoing relationship between Mallika Arora and Arjun. And there were also reports doing around the corner that looking forward to officially disclose their relationship but nothing sought of it happened. Well there relationship came into light soon after she got divorced from Arbaaz Khan.
Well number of time Arjun is spotted coming out of Malika's apartment and they both are seen together in number of events. Recently there was buzz doing around the corner that both Arjun and Malika were seen together holding hands on sets of reality show India Got Talent sitting next to each other on jury seat, while actor was there for promoting his project Namaste England, they both also performed on one track of Namaste England on request of participants and viewers.
Recently during a Lakme Fashion Week both the stars were seen sitting together watching show. One of their picture from Lakme Fashion Week got viral on internet and started creating excitement among fans and viewers about the relationship.
Well number of time they have denied their relationship adding they are good friends nothing more than that.

Mubarkan actor Arjun Kapoor is going through very busy schedule these days due to having ample of projects in his hand.
Actor recently signed "India Most Wanted" for the same he has collaborated with Raj Kumar Gupta, and this project is going to showcase story of true crime event.
Recently actor wrapped up his most awaited project "Namaste England", according to source actor has already started working on "India's Most Wanted" a crime thriller based on valid incident.
Recently actor came forward and revealed releasing date of "India's Most Wanted" , actor disclosed his upcoming crime thriller will hit theater next year on 24th May.
Recently during a promotional event of his upcoming project "Namaste London" actor was asked how he feel when he get different script every time, actor disclosed I like accepting new challenges, therefore working on new script every time is quite exciting, I feel as I am on new assignment, and I have to give my hundred percent to clear that assignment.
Actor is right now busy with upcoming projects "Sandeep Aur Pinky Faraar, Panipat and India's Most Wanted. Apart from working on projects actor is also busy with promotion of his upcoming project "Namaste Lodon".
As we all know Arjun kapoor and Parineeti are right now busy with upcoming project "Namastey England". Recently both the stars along with maker of flick Vipul Amrutlal Shah visited Golden Temple to seek blessing before commencing shot at Amritsar.
According to sources after shooting in Amritsar crew member will leave to Ludhiana and then Patiala for next schedule.
In upcoming project both the stars are going to ease a Punjabi character. According to sources Arjun is feeling to excited  be part of this flick as he always wanted to discover Punjab to understands food and culture.
According to report upcoming project will be shoot in 75 different locations globally.
While interacting with media maker disclosed shooting in Amritsar is going to be great experience as right now weather her is perfect.
Movie is being produced by Jayantilal Gada [PEN] in collaboration with Reliance Entertainment and directed by Vipul Amrutlal Shah.
Bollywood versatile actor Arjun Rampal is all set to make his comeback with Sonu Sood's upcoming production venture "Sarvggun Sampanna".
According to source movie will go on floor by the mid of April, and it's going to be directed by Karan Kashay, Kashay has before done assistance for Bunty Aur Babli and Chak De India.
According to sources Sonu and Arjun are looking forward to go through script, once Rampal returns back from Jharkhand.
While interacting with media Sonu disclosed I signed Arjun because I believe he can justify the role, as actor is going to play powerful character, I hope viewers will like my project.
Before we watched Arjun in Kahaani 2 opposite Vidya Balan, actor received great applause for his outstanding performance from viewers and critics. His recent release was Daddy which was based on real story; however movie did not managed to get good response at the box office.
OMG upcoming project of Arjun and Parineeti "Sandeep Aur Pinky Faraar" has become first ever bollywood flick to shoot at India and Nepal's international border.
According to report both the lead stars of Sandeep Aur Pinky Faraar are going through tough shooting schedule as the location they are working right now comes under radar of illegal immigration.
According to sources the very portion of border shoot will showcase  tension between both characters, according to sources this is going to be pivot portion of flick, best thing about shoot is that its taking place which is regularly under alert for illegal immigration and smuggling. There is a kali river situated where people use an inflated rubber tube as a flotation device for crossing border in fog of a cold winter nights.
Due to cold climate shooting of flick is getting quite difficult. However with the help of Local establishment maker of flick is able to shoot intense scenes as local establishments are providing necessary security and help to crew members and filmmaker.
First schedule of flick was shot in Jhulghat village situated in Uttarakhand, which is under threat due to ongoing Dam project.
You can say it's a adventures and thrilling movie which will surely make you stunned.
Movie is all set to release on 3rd August 2018.
Bollywood actor Arjun Kapoor is all set to play new avatar in upcoming flick Sandeep Aur Pinky Faraar.
Recently maker of flick Dibakar Banerjee released first look of Arjun Kapoor from his upcoming project.
You will witness Arjun in drastic change, he is playing a role of Haryanvi Cop, his looks will surprise you as he is completing justifying the character. He is playing a role of 30 year old police constable.
According to reports actor interacted with number of police recruits across Delhi and Haryana to understand body language, apart from this he also visited police academy to understand what makes complete cop.
Movie is being produced by YR Films, in this flick Arjun is sharing screen with Parineti Chopra.
Before Arjun shared screen with Parineeti Chopra in Ishaqzaade jodi .
Movie is all set to release on 3rd August 2018.
advertisement
Subscribe Newsletter
Recent Posts
Tags