Ayushmann Reveals How He Got Article 15
Recently Ayushmann Khurrana revealed reason why he selected Article 15, well according to sources while interacting with media actor disclosed when he first met filmmaker Anubhav Sinha he offered me rom-com project, however I was looking forward to do something new, I told director I want to do something impacting like "Mulk", instantly he said will you like to do Article 15, without second thought I said yes as i was looking forward for something like this.
Upcoming project Article 15 is based on real incident that took place in 2014, well upcoming project is based on Baduna rape and murder case which took place in 2014.
Actor further said he like working on strong scripts and he also like portraying challenging roles as it helps him becoming versatile actor.
Recently we came across news that Article 15 is under threat by Karni Sena for hurting sentiments.
Recently first trailer of flick got released which received great applause from viewers and critics.
Movie is all set to release coming Friday.
Related Posts
Yet another challenging avatar of Ayushmann Khurrana managed to impress viewers, yes we are talking about latest release "Bala" in which actor eased a role of man having premature hair fall problem due to which he feels lack of confidence and he goes through number of remedies to get rid of  hair fall problem.
Well actor has given back to back hits this year his last outing Dream Gril managed to collect 7.43 lack at the box office on fourth day however his latest release has managed to cross 50 crore mark on fourth day making it highest grossing project of Ayushmann Khurrana.
Well number of trade analyst has given thumb up to the project adding in coming days movie might enter 100 crore club.
Well actor has proved he is all rounder , he can give perfection to any avatar he is been provided.
Well Bala is actors seventh hit project in row.
Best thing about Bala is that movie managed to collect 43.95 crore in the opening day, making it biggest opener of the season.
Well its going to be good news for fans of Ayushmann Khurrana who felt dishearten when release date of "Bala" was shifted from 1st November to 15th instead of 7th November as movie was supposed to have clash with "Ujda Chaman" on 1st .
Well taking into consideration that both "Bala" and "Ujda Chaman" has same theme and releasing on same date may affect box-office business maker of Ujda Chaman took matter to court , however later matter was sought out as "Bala" maker decided to shift release date one week ahead, well latest devolvement disclose that "Bala" will release on prescribed date which is 7th November.
For confirming the latest development on release date Ayushmann shared one post on social sharing Instagram on Diwali with caption 'Bala' will have preview shows for the producers and audience on November 7 in some selected theaters and on November 8 the film will be released across the country. While sharing the post, Ayushmann wrote, "Aa raha hai #Bala aapse milne on 7th November. Happy Diwali! Well we hope viewers will feel delighted to know that movie will release on prescribed date.
Get ready to meet Aysuhamman on 7th November at your nearest theater.
OMG Article 15 star Ayushmann Khurrana has been signed by UNICEF for special cause, yes you heard right UNICEF in collaboration with Government of India has approached actor to raise voice against sexual abuse of Children.
According to sources Ayushmann is feeling happy that he is been selected to raise voice against sexual abuse of children. According to sources without any second though actor gave node to work for POCSO(The Protection of Children from Sexual Offences) Act, 2012." Actor while interacting with media disclosed he will do his level best to help government to get rid of crime against child.
While interacting with media actor disclosed being socially conscious citizen, I am looking forward to work for UNICEF and Government of India by creating awareness on POCSO (The Protection of Children from Sexual Offences) Act, as its a great initiative which our government is taking for getting people aware about the POCSO act.
Recently actor appeared in Article 15, movie managed to become super duper hit, right now actor is working on another challenging project Bala.
Well from very first day Ayushmann Khurrana made his entry into industry with "Vicky Donor" we have watched him easing challenging role, and he has proved number of time he can justify any kind of role he gets to portray.
Recently Ayushmann played a role of partial blind person in Andhadhun, movie managed to impress audience after this project he appeared in Article 15 movie managed to become blockbuster hit.
Well right now actor is busy with his upcoming challenging project "Bala" in this flick actor will be seen finding cure for premature balding problem.
Recently first trailer of "Bala" got released in which you can witness actor fighting with problem of hair fall.
Recently actor took social platform twitter and shared trailer with tweet Baal kaisa hai janaab ka? Trailer dekho aur batao, kya khayaal hai aapka! #Bala trailer out now!http://bit.ly/BalaTrailer #DineshVijan @amarkaushik @bhumipednekar @yamigautam @saurabhshukla_s @jaavedjaaferi #SeemaPahwa @nowitsabhi @SachinJigarLive.
In trailer you can witness actor trying number of remedies to restore his falling hair.
Movie will release on 7th November 2019.
Get ready to watch super hit pairing Neena Gupta, Gajraj Rao once again collaborating with Ayushmann Khurrana, well before they shared screen together in Badhai Ho.
According to sources actor is going to collaborate with Neena Gupta and Gajraj Rao in upcoming sequel Subh Mangal Zyada Saavdhan.
News of Neena Gupta and Gajraj collaborating with Ayushmann was confirmed by trade anylst Taran Adarsh.
While interacting with media producer Aanand L Rai disclosed I like working on subjects which touché every individual thought however they don't want to speak it openly. Once again viewers are going to witness sensitive subject with some humor.
Recently actor came forward and shared one video in which he disclosed releasing date of upcoming project which is going to be Valentine's Days.
Well get ready to witness super duper paring once again in upcoming Subh Mangal Zyada Saavdhan sequel which will release next year on Valentine's day.
Bollywood versatile actor Ayushmann Khurrana is going to ease a role of powerful Cop in upcoming  true event project "Article 15".
Today actor is going  to treat viewers with first teaser of his upcoming true event project "Article 15".
According to sources upcoming project will based on Badaun rape case that took place five years ago on 27th May, making into consideration date of Badaun rape case actor is going to reveal first teaser flick on 27th May.
"Article 15" of Indian Constitution is based on prohibition of discrimination on ground of religion, race, caste, sex or place of birth.
Upcoming project is being directed by budding director Anubhav Sinha
Best thing about upcoming project is it is going to be telecast in upcoming London Indian Film Festival.
In upcoming project Ayushmann is going to share screen space with Isha Talwar, M Nassar, Manoj Pahwa, Sayani Gupta etc.
We wish Ayush good luck for his upcoming project.
Bollywood stars Ayushmann Khurrana and Bhumi Padnekar once again coming to-gather, before the both collaborated for two projects "Dum Laga Ke Hasha and Shubh Mangal Saavdhan" there on-screen chemistry was appreciated by critics and viewers.
According to sources Bollywood filmmaker Amar Kaushik and producer Dinesh Vijan has signed contract with Ayushmann and Bhumi for their upcoming project "Bala" which is going to be comedy project.
According to sources upcoming project will showcase story of odds of society, in this flick Ayush is going to ease a role of man who is suffering hair falling problem on the other hand Bhumi will be playing role of dusky girl fighting with skin problem.
On work front Bhumi is all set with upcoming most anticipated project Son Chirriya opposites Sushant Singh Rajput, and Ayushmann is all set with upcoming project "Dream Girl".
According to sources "Bala" will go on floor in March 2019 and release by the mid of September next year.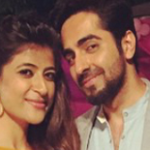 Well few days' back we came across news that Ayushmann's wife is diagnosed with pre-invasive breast cancer, well recently actor disclosed that he has kept karva Chauth fast for his wife Tahira.
Well according to sources recently Ayushmann took social platform Instagram posted one image with caption "Well my wife cannot fast this time due to her ill health, so this time I am going for Karva Chauth fast for her good health and long life". Well actor has proved he is not only good actor but a good husband who can do anything for his wife.
On work front recently Ayushmann received great applause for his outstanding performance in Andhadhun and Badhaai Ho. Actor once again proved he is versatile with his outstanding performance in Andhadhun, in this flick actor eased a role of blind pianist.
We appreciate what actor did for his wife's good health.
There is also news doing around the corner that Bollywood actor Abhishek also kept Karva Chautha fast with his wife Aishwarya Rai.
Well we all know in Andha Dhun Ayushmann Khurrana is easing a role blind musician who is piano player, for the same actor visited blind school for getting into skin of character.
According to reports for getting into skin of blind pianist, actor visited blind school  for about three months so that he can understand body language and gesture of visually impaired person.
While interacting with media actor said easing role of visually impaired pianist was tough job, but it was three months long visit to blind school that helped me justify character I was given. I thanks  Sriram sir for having faith in me and giving me chance to play challenging role, being a learner I like accepting role which are full of challenge. I thanks God that I was able to justify role.
Recently movie trailer got released and it received positive reviews from viewers and critics.
In upcoming project Ayushmaann Khurrana is sharing screen with Radhika Apte and Tabu.
Movie is all set to release on 5th October.

Bollywood actor Ayushmann Khurrana is once again all set to showcase versatility with his upcoming project "Andha Dhun".
According to sources in upcoming project Ayushmann Khurrana is going to ease a role of blind piano player, for the same he is taking special training from piano experts, although he is familiar with musical instruments, and we have watched him playing guitar before in a music album, but considering perfection he is taking lessons from experts so that he can justify character he is going to ease.
According to sources it is happening first time when you will witness any actor playing instrument without taking help of body double or special effects. What you are going to watch is original nothing fake.
Well after going through above news his fans will be feeling excited to watch actor playing melodious on piano.
advertisement
Subscribe Newsletter
Recent Posts
Tags