Ayushmann Talking About His New Avatar
Well we all know in Andha Dhun Ayushmann Khurrana is easing a role blind musician who is piano player, for the same actor visited blind school for getting into skin of character.
According to reports for getting into skin of blind pianist, actor visited blind school  for about three months so that he can understand body language and gesture of visually impaired person.
While interacting with media actor said easing role of visually impaired pianist was tough job, but it was three months long visit to blind school that helped me justify character I was given. I thanks  Sriram sir for having faith in me and giving me chance to play challenging role, being a learner I like accepting role which are full of challenge. I thanks God that I was able to justify role.
Recently movie trailer got released and it received positive reviews from viewers and critics.
In upcoming project Ayushmaann Khurrana is sharing screen with Radhika Apte and Tabu.
Movie is all set to release on 5th October.
Related Posts
Bollywood stars Ayushmann Khurrana and Bhumi Padnekar once again coming to-gather, before the both collaborated for two projects "Dum Laga Ke Hasha and Shubh Mangal Saavdhan" there on-screen chemistry was appreciated by critics and viewers.
According to sources Bollywood filmmaker Amar Kaushik and producer Dinesh Vijan has signed contract with Ayushmann and Bhumi for their upcoming project "Bala" which is going to be comedy project.
According to sources upcoming project will showcase story of odds of society, in this flick Ayush is going to ease a role of man who is suffering hair falling problem on the other hand Bhumi will be playing role of dusky girl fighting with skin problem.
On work front Bhumi is all set with upcoming most anticipated project Son Chirriya opposites Sushant Singh Rajput, and Ayushmann is all set with upcoming project "Dream Girl".
According to sources "Bala" will go on floor in March 2019 and release by the mid of September next year.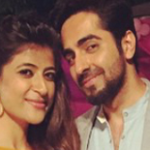 Well few days' back we came across news that Ayushmann's wife is diagnosed with pre-invasive breast cancer, well recently actor disclosed that he has kept karva Chauth fast for his wife Tahira.
Well according to sources recently Ayushmann took social platform Instagram posted one image with caption "Well my wife cannot fast this time due to her ill health, so this time I am going for Karva Chauth fast for her good health and long life". Well actor has proved he is not only good actor but a good husband who can do anything for his wife.
On work front recently Ayushmann received great applause for his outstanding performance in Andhadhun and Badhaai Ho. Actor once again proved he is versatile with his outstanding performance in Andhadhun, in this flick actor eased a role of blind pianist.
We appreciate what actor did for his wife's good health.
There is also news doing around the corner that Bollywood actor Abhishek also kept Karva Chautha fast with his wife Aishwarya Rai.

Bollywood actor Ayushmann Khurrana is once again all set to showcase versatility with his upcoming project "Andha Dhun".
According to sources in upcoming project Ayushmann Khurrana is going to ease a role of blind piano player, for the same he is taking special training from piano experts, although he is familiar with musical instruments, and we have watched him playing guitar before in a music album, but considering perfection he is taking lessons from experts so that he can justify character he is going to ease.
According to sources it is happening first time when you will witness any actor playing instrument without taking help of body double or special effects. What you are going to watch is original nothing fake.
Well after going through above news his fans will be feeling excited to watch actor playing melodious on piano.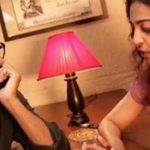 Well from the very first day news of Ayushmann Khurana and Radhika sharing screen space came into light their fans started guessing about the title of flick as title was kept under wrap.
Recently Ayushmann dropped a hint in front of his fans for hinting movie title, for the same he tweeted an image of a monkey emoji along with some musical notes on twitter with caption "Any Guess Of the title of my next project.
Recently both Ayushmann and Radhika came forward and disclosed the title of flick putting break on speculation and guessing. According to both the stars title of their upcoming flick is AndhaDhun.
Recently actor took social platform twitter and tweeted "Oh it's not easy when you are working with versatile filmmaker Sriram Raghavan who is popular with string of badass flicks titles anyhow we tried!Presenting#AndhaDhun!@teaser…….@andhadhunfilm@radhik_apte#Tabu#SriramRaghvan @Viacom18Movies@Matchboxpix@ZeeMusicCompany".
According to sources in upcoming project Ayush is going to play role of blind pianist.
Well we all know when we talk about Ayushmann Khurrana only one things come in our mind is versatility, we have watched actor number of justifying different avatars, whenever he appeared on big screen he always received great applause from critics and fans.
Once again actor is all set to touch heart of critics and fans with his upcoming untitled project which is going to be directed by Sriram Raghvana, well if we go by latest development its suggest actor is all set to play a role of blind musician.
This is happening first time when actor is going to ease a role of blind individual in any flick.
Right now Ayushmaan is indulge in shoot of his upcoming project "Badhaai Ho" opposite Sanya Malhotra, we have watched Sanya's outstanding performance in Dangal. This project is being directed by Amit Sharma.
Well when it comes to justifying a role of Indian common man hailing from different regions, Ayushmann is one who has justified number of times, we have watched him in Vickey Doner easing a character of Dilliwalla, and Bengali in "Meri Pyarri Bindu.
Well we have watched actor almost in every style, but this time you will watch actor speaking in Haryanvi in his upcoming project Badhaai Ho.
While interacting with media actor disclosed when it comes to acting, I like accepting challenges, thereby i always like to absorb local slang, pronunciation and shades that people have in different states. Well these days viewers appreciate watching real characters, as they want actor to justify the character he or she is easing. Well if I manage to convince viewers they are watching real character not me than this will be biggest achievement for me. Well I hope viewers will appreciate my role in upcoming project "Badhaai Ho".
Ayushmann Khurrana's most awaited project "Badhaai Ho"goes on floor. In this flick actor is going to share screen with Sanya Malhotra.
Movie is being produced by Junglee Pictures, which previously produced Ayushmann Khurrana's "Bareilly Ki Barfi".
Movie showcase family story which come cross unforeseen news, and how family members deal with it without taking outsider help.
Movie is being directed by Amit Sharma, who is well-known for making ad films, he has made around 1000 ad films till date including one short film on Kashmir Tourism, and a feature film.
Best thing about this flick is audience will get chance to watch Ayushmann Khurrana and Sanya together first time.
While interacting with media Amit Sharma disclosed " I am feeling happy that I am directing a flick, before I have made number of ads, so its going to be great experience for me directing big project, I hope viewers will enjoy it.
Bollywood actor Ayushmann Khurrrana is all set to do romance with Sany Malhotra who eased role of Aamir's Daughter in Dangal, she played role of Babita Phogat.
According to report both Ayushmann and Sany are all set for upcoming project "Badhaai Ho".
Official confirmation of flick came to light when producer of flick came forward and took social platform twitter and tweeted "@Sanyamalhotra07 to star opposite @Ayushmann Khurrana in @CinemaPuraDEsi's #BadhaaiHo produced by @Junglee Pictures & @ChromePictures, the film goes on floorin January in the capital."
According to sources movie will go on floor in the month January 2018. Movie is going to be family drama with some unforeseen hearsay. Movie showcase how family deal when them come across unforeseen news.
Viewer will get chance to watch quirky script full of humor.
So guys get ready to watch on screen chemistry of Sanya and Ayushmann.
From past few days we are coming across nepotism controversy taking place in number of bollywood events, we have gone through number of interviews in which we have heard number of actors talking about nepotism.
Recently bollywood actor Ayushmann came forward and expressed his view regarding Nepotism actor said what make you successful actor is your acting talent not being a star-kid.
Ayushmann during the trailer launch of his upcoming project "Bareilly Ki Barfi" disclosed "I believe in today's era, its your talent that make you survive, you can look at Ranbir Kapoor, Alia Bhatt and Varun though they are star-kid but they have achieved success not due to their parents, but due to their talent.
However being a star-kid you get fame easily, but it's your acting talent that make you  successful. So it does not matter if you belongs to a stars family what matters the most is talent.
Right now Ayushmann is busy with his upcoming flick "Bareilly Ki Barfi".
Wow Ayushmann Khurrana turning producer by producing short flick, well actor has managed to become multi talented by acting, singing, writing, composing and now entering into production.
According to reports Ayushmann Khurrana is venturing into production for producing short flick "Toffee". This flick is set in nineties and it narrates story of two teen girls aged between 11.
Movie is going to be directed by wife Tahira Kashyap, while interacting with media actor said Tahira has been an author, and she recently wrote script, and it deserved to be shared to viewers, actor further said my motto of producing short flick was that, short flick you can tell whole story in short duration which is quite interesting concept.
Actor while concluding his interaction with media disclosed  I am thankful to Mukesh Chhabra for co-producing this short flick.
If news is believed to be true than its going to be delight for his fans to watch his production venture.
advertisement
Subscribe Newsletter
Recent Posts
Tags