Big B Thanked His Fans, Family And Friends
Recently Big B took social platform twitter for thanking his fans, family and friends giving him second life actor wrote "I was about to die, but your prayers has kept me alive, this is one loan that I can never repay".
Some of us may not be aware of the fact that on very day in 1982 actor got new life.
Big B received serious injury during the fighting sequence on the sets of Coolie, according to reports during the fight sequence actor fell on the edge of a table and hurt his back, he was immediately shifted to Breach Candy Hospital in Mumbai, due to sever injury actor went through two surgeries. Injury left actor in critical condition for about a week, but due to his will power and love of his fans he survived.
According to reports second surgery was performed on same day. It was deciding factor for actor's life. According to reports actor did not returned to his sense for hours after operation and he was announced clinically dead, however it was his fans, friends and family members prayer that gave him second life.
Related Posts
Wow Big B and Rishi Kapoor collaborating again after a gap of 26 years, we have watched them together in Kabhi Kabhie, Amar Akbar Anthony, Naseeb ,Coolie. and Ajooba in 1991.
Both the veteran actors are making their comeback with 102 Not Out. They both look astonishing in the first look of flick which released online.
Business expert Taran Adarsh took social platform tweeter and tweeted Amitabh Bachchan and Rishi Kapoor reunite after almost 3 decades for director Umesh Shukla's #102NotOut… Filming commences in Mumbai…
According to report Big B is easing a character of 102 year old on the other hand Rishi is going to play role of 70 year old.
While taking social platform Rishi Kapoor Tweeted " Wonderful to work again with the Legendary Amitabh Bachchan. Thank you Amitji, it never felt the 26 years old hiatus.We connected instantly!
Movie is being directed by Umesh Shukla .
From past few days there was first look of Big B's character from upcoming flick "Thug Of Hindostan" was doing around the corner, however actor has denied any such report, he said his first look is yet to be revealed, one you are witnessing is from my classified ad.
From past few days there was buzz doing around the corner when one of leaked image of Big B got viral on social media, which was believed to be first look of actor from "Thugs Of Hindustan". However Amitabh's co-stars Aamir and Shraddha took social platform tweeter and responed, but instently Amitabh took social platform and tweeted "No sir. This is from an ad I worked in today. It is not from our upcoming flick".
Thug Of Hindostan is inspired from English novel "Confessions of a Thug" written by Philip Meadows Taylor, this movie will showcase life story of imperial thugs who stole  gems from travelers during 1880's era. This movie is based on real story.
OMG Big B starrers "Sarkar 3"releasing date get shifted, as before movie was scheduled to release on April 7th and now date has been shifted to 12th May.
According to sources releasing date of "Sarkar3" has got delayed due to delay in post-production work. According to reports this was declared by distribution partner Eros who has purchase all right of flick.
According to sources movie will showcase functioning of Indian politics, in this flick Big B is going to ease character of Subhash Nagre third time in row. Other co-star who will share screen are Jackie Shroff, Manoj Bajpaye and Yami Gautam all these stars are going to play important part.
Well going through news it will despiontment for Sarkar fans who were eagrly waiting for the release of flick on 7th April as they will have to wait for one month more.
According to reports "Sarkar3" will have a opening clash with Ayushmann and Parineeti starrer "Meri Pyari Bindu", but it will have no  adverse effect of flick added experts.
As now we are well aware of the fact that Iulia Vantur has made her entry into Bollywood, and there are reports doing around the corner that number of A grade stars are supporting Iulia.
Few days back she completed her song for Himesh Reshammiya's upcoming flick "Aap Se Mausiiquii, in this flick she has sung a English song. And there is buzz doing around the corner that she might sing for Album , yes you heard right ,according to buzz Salman Khan is looking forward to launch her album. Its obvious if Salman is going to support her she will defiantly make big entry in Bollywood.
Her fans stunned when Megastar Big B praised Iulia Vantur during the launch of "Aap Ki Mausiiquii" music. While interacting with media Big B said Iulia sang so good, and she is gorgeous looking girl will wonderful voice.
According to reports after hearing praise from Big B Iulia was found blushing and found praising that Big B is popular star in Romania. While concluding her interaction she thanked Megastar for praising her.
From the very first day Aishwarya Rai Bachchan's ADHM got released in theatres, we came across that Bachchan family was feeling upset with her as she did astonishing scene with Ranbir Kapoor, on the other hand it was first time when Aish did such kind of scene after her marriage.
In Ae Dil Hai Mushkil actress eased a character of Urdu poetess Saba, though she received great applause from her fans and viewer for her remarkable acting, same time there were speculations doing around the corner that her in-laws were upset with the actress, as they did not came forward and praised her.
But recently big surprise  came forward when Big B broke his silence and came forward and praised Aish for her remarkable role in ADHM, in an recent interview , superstar talking about women empowerment Big B said that Aishwarya's role has set new challenge for men.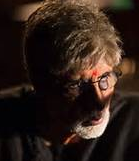 Big B starrer Sarkar 3 is in trouble, however movie is on third and final stage of shooting.
According to reports Big B starrer Sarkar 3 is in trouble, yes you heard right movie is in legal trouble, according to reports Narendra Hirawat has send legal notice to maker of flick adding that he owns a copyright of making the sequel of flick and he also have worldwide copyrights of flick.
Narindra in his notice disclosed that I have all the rights of Sarkar. However it has come to my notice that (Ram Gopal Varma) has started shooting. Anyhow if RGV did not respond to my notice, then I will be free to move to court  to file stay case to take stay on movie.
He further said RGVC never contacted me before starting shoot of flick.
Going through above report it seems RGV is going to be in big trouble, due to this movie can also get delay.
Big B is so impressed with his co-star Taapsee who is sharing screen with Big B in "Pink".
During the trailer release Big B was asked about his experience with Taapsee. While interacting with media during the trailer release of "Pink" Amitabh Bachchan said, Taapsee is genius when it come to on screen she always  give full justice to her character in "Pink" she did same. Best thing about Taapsee is that she did number of scenes in one take which was quite impressive. I think that Taapsee at a very young age has great acting caliber to showcase, she is very dedicated actress, who gives her 100 percent when she is on screen.
We believe after hearing so much praise from Mega star Taapsee might be flying on 9th cloud.
Going through above news it seems Taapsee has managed to capture heart of Big B.

Bollywood Megastar Big B has confirmed that he is all set to share screen with Dangaal actor Aamir Khan in his upcoming flick "Thug".
However there were rumors mulling around the corner that Hrithik might become part of "Thug", however Big B has made it clear its Aamir who will be sharing screen with him not Hrithik. This news is going to be delight for Big B and Aamir fans that there favorite stars are coming together.
During a recent event Big B was asked about the star cast of his upcoming flick, actor said "It is a great honor and privilege to work with Aamir.
According to reports It's happening first time when anyone from "Thug" team has disclosed it with media, Big B further said title of movie might change as "Thug" title is not finalized yet, its kept untimely title. Anyhow maker of my flick is still in search of title, as early he finds one we will disclose it with media.
Big B once again set to Fascinate audience with his power packed performance in his upcoming thriller "Pink". From the very first day "Pink" came into existence it started building excitement among audience and critics. Its good news for Big B fans as movie trailer is out know, and speculations will be over as his fans will very much aware about the theme of the movie.
Movie will showcase a story of few girls who end up in spontaneous trouble when a boy who attempted to sexual abuse one of the girl during the night outing gets disappeared mysteriously.
"Pink" is being directed by Aniruddha Roy Chowdhry. Other co-stars of this flick are Taapsee Pannu, Kirti Kulhari, Andrea Taring, Angad Bedi all of them are playing major role. Movie is all set to release on 16th September.
Big B has appealed all his fans and friends to come forward and pledge that they will not employee kids, and help making this world a better place for little ones.
While taking social platform actor tweeted ""Each of us has the power to make this world a better place for children. #dont_employ_little_ones".
According to reports megastar has come forward and raised voice against child labor, number of celebrities also joined hand regarding this social cause, Big B has appreciated  number of young celebrities who has raised voice against child labor on a Twitter campaign organized by Reliance General Insurance.
Big B also posted : "What a day at 'Pink'! Watching young talent put in amazing work … whole unit claps … so deserving. Happiness is being in the company of incredible young talent! Laughter and tears of joy! God bless them."
In "Pink" Big B is easing a role of Lawyer, movie is being produced by Shoojit Sircar, directed by Aniruddha Roy Chowdhury.
advertisement
Subscribe Newsletter
Recent Posts
Tags