Farah Choreographed Song For "Veer Di Wedding"

Kareena Kapoor is making her comeback after maternity leave, with most awaited project "Veer Di Wedding", recently one of crew member Sonam Kapoor came forward and  disclosed that Farah Khan has choreographed song titled "Tareefan"  for upcoming project which  will add more magic to flick.
Recently Sonam Kapoor came forward and shared a image of her with Farah Khan on social media Instagram, with caption "I am feeling happy to share song space with other leading ladies of this project which is going  being choreographed by non-other than my best friend Farah Khan".
According to sources best thing about upcoming project is that you will get chance to watch new faces from wed series.
In Veer Di Wedding Kareena will be seen opposite newcomer Sumeet Vyas.
Well its going to be delight for Kareena fans to watch her comeback with "Veer Di Wedding".
Related Posts
Bollywood versatfile filmaker Farah khan is all set collaborate with Bollywood director producer Rohit Shetty for her upcoming mega musical project which is going to be remake of 80's Bollywood block buster hit.
Well we have watched Farah making project inspired from 70's 80's ear number of time , and once again she is going to do remake of 80's block buster hit.
Well few days back we came across news in which Rohit disclosed that he is going to collaborate with Farah Khan.
There are reports doing around that for upcoming project she will sign topnotch star cast of Bollywood like SRK, Salman and Ranveer Singh.
While interacting with media Farah Khan disclosed that it going to be dream come true collaborate with Rohit. She further said I have purchased copy right of flick, right now script work is on progress once script get ready we start finalizing star cast. Aprat from producing flick Rohit will also do direction for action sequence.
If reports are believed upcoming remake is going to be inspired from Amitabh and Hema Malini starrer block buster hit Satte Pe Satta.

Bollywood most awaited project Housefull goes on floor in London.
According to sources in London movie will shoot for stretched two weeks.
Recently choreographer turned Bollywood director Farah Khan shared one song with image of leading ladies from flick on instagram with caption " With lovely ladies of #Housefull4…who really Do get along..coz heroines fighting is soooooo passe.. @kritisanon@PoojaHegdeSays@kritikharanda.
Few days back she posted on Instagram image of leading actors with caption "Happy house full of handsome men Shooting a somg "may i say "Super Hit song for #Housefull4 .. Starring  @akshaykumar @thedeol @Riteishd @SimplySajidK @NGEMovies #SajidNadiadwala.
Well going through above caption's it seems Farah Khan is feeling to excited about houseful4.
We wish good luck to entire team of Houseful4 for movie getting on floor, and we wish good luck to Sajid Madiadwala and Farah good luck.
Movie is all set to release next year on Diwali Eve.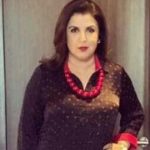 Few days back we came across news that Farah Khan is looking forward to choreograph a sangeet of Sonam Kapoor's wedding, however it will not happen as Farah got her leg fractured.
According to sources it all happened when she extended shoot of her on going TV show, for the same she was rehearsaling late night, while moving back to vanity van she got her leg injured, soon after injury Doctor was called, after examining her injury doctor diagnosed she got fractured and she need medication.
According to sources doctor has advised Farah to take bed rest for some time, till her fracture get heal.
Well guys it's good news as she has already prepared the sangeet and now her assistants will do reharsel with family members of Sonam Kapoor, to get them ready for the special song.
We wish her steady recovery.
As we all know Bollywood Choreographer Farah Khan has stopped doing choreography from the very first day she made her debut as full time director, these days she only do selective choreography and that too for her close friends SRK, Sajid Nadiadwala and for her brother Sajid Khan.
According to latest buzz doing around the corner is that Farah is all set do choreography for Salman for a song sequence in his upcoming flick "Sultan". However this song was supposed to be choreographed by Vaibhavi Merchant, but unfortunately she lost her father few days back, due to which she is spending some time with her parents in Mumbai, due to which shooting of song came to halt, taking into consideration that movie will get delayed maker of "Sultan" Ali Abbas requested Farah to do Choreography, she immediately said yes to maker. She was spotted doing dance rehersal in a dance hall situated in Varsova, Mumbai.
According to sources a song sequence which is going to be choreographed by Farah will be an item number, in which more than 100 background dancer will take part, shooting of this item number will commence between 5th March to 10th March, for this song special set is made which will give desi flavor to song.

Bollywood film maker Farah Khan is all set to make movie on "girl power". According to her movie will be based on girl power containing  social massage.
While interacting with media Farah disclosed she is working on script right now, movie is about two girls, movie totally focus on "girl power", this movie will be quite different from my previous flicks, however movie will fun oriented having lots of humor, on the other hand movie will have massage for society too.
Farah further said reinventing yourself is very important, this is what I am going to do by making a movie which I have never made before. She further said after completing this project she will start working on "Happy New Year 2" and "Main Hoon Na 2.
Farah while concluding her interview said, though concept of making movie on girl power was in my mind from past few years, but I was unable to find good script, but now I have  found  a script on which I am working now, after completing script I will start working on it.
Bollywood most happening choreographer turned Bollywood director Farah Khan along with her  husband  Shirish Kunder and family friends  celebrated 7th birthday of their loving triplets with pump and show' Anya, Czar and Diva were looking adorable.  
As we all know Farah is very close to her children due to this she organized big party to celebrate their Triplets birthday with bliss . While taking social platform twitter Farah Khan posted images of her kids cutting their birthday cake. Farah gave birth to triplets Anya, Diva and Czar in 2008, her  kids were  looking lovely and pretty. Her daughter wore fairy frock while her son wore black waist coat.
Recently her movie "Happy New Year" received great applause from audience as well as critics, and managed to become box-office hit.
While interacting with media Farah added I am feeling happy to celebrate 7th birthday of kids, as they are very close to heart they are my life.
advertisement
Subscribe Newsletter
Recent Posts
Tags