First Look Of Kareena From Angrezi Medium Is Out
Well recently we came across news that Kareena Kapoor Khan is on vacation with his hubby in London and very soon she will join Irfaan Khan for her upcoming project Angrezi Medium in which she is going to ease a role of cop, well fans were eagerly waiting for first look of actress.
Recently trade analyst revealed first look of actress on social platform in which you can witness actress in army green shirt in cop avatar with police badge.
Angrezi Medium is going to be comeback project of Irfaan Khan, as we all know actor was away from camera due to ill health as he was diagnosed with neuroendocrine tumor, for treatment actor was in London, after winning battle on cancer actor is back on track.
According to sources first part of flick got wrapped up in Udaipur, and know second schedule of flick begins in London.
In this flick Radhika Madan is easing a role of Irfaan Khan's daughter.
Related Posts
OMG Kareena say she will be happiest girl to have Alia to see her as her Sister-in-law. Well from the very first day news of Ranbir Kapoor and Alia dating came forward during the shoot of Brahmastra, number of speculations regarding their relationship started building.
From past few months there were speculations going on that very soon both stars will tie knot and become couple, however Alia has been denying any such happening from past few months.
Well recently during the Jio MAMI Mumbai Film Festival's Movie Mela, everyone was stunned when Kareena revealed she would be happy person to seen Alia as her sister-in-law. Well it all happened when Karan Johar while hosting show asked Ali have she ever dreamt that one day Kareena will be her sister-in-law, Kareena shouted eagerly in crowd "I'll be the happiest girl in the world."
Well going through above news it seems that Kareena has already given green signal too Alia and Ranbirs' relationship.

Good news for Kareena Kapoor Khan fans, yes it's going to be good news as actress is all set to make her digital debut, which is going to be web based show and its going to be chat show.
Right now she is engaged with TV channel judging a dance reality show.
Well if news is believed to be true than its going to be delight for her fans to watch her in avatar of host.
Well before she did a radio show in which she focused on women issues, his initiative was appreciated  by critics and her fans.
According to sources in upcoming chat show actress will be witnessed interacting with Bollywood celebrities.
Well news still seems to be buzz as no one has come forward and announced officially regarding upcoming chat show.
On work front actress has number of projects in her kitty like Good News opposite Akshay Kumar, Angrezi Medium opposite Irfhan Khan, Karan Johar's Thakht and Lal Singh Chadha Opposite Aamir Khan.
Well it's going to be delightful moment for fans of Kareena and Saif, yes it's going to be good news as actress is all set to join hubby for upcoming project Jawaani Jaaneman.
Well after marriage it's going to be their second project together.
Well right now Kareena is in on vacation with his hubby Saif Ali Khan in London as both the stars are in London for shooting of their prescribed project Kareena is there for shooting of his upcoming project Angreze Medium.
According to latest reports very soon Kareena will join star cast of Jawaani Jaaneman, she is going to play small and centric role as she is going to play cameo. According to sources she is going to ease role of ex-lover of Saif.
They both collaborated together five years back in Happy Ending in this flick she also played cameo role.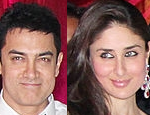 Kareena Kapoor Kapoor is all set to collaborate with 3 idiots co-star Aamir Khan for upcoming Advait Chandan's most awaited and anticipated project Lal Singh Chaddha which is going to be remake of Tom Hanks super duper hit "Forrest Gump" released way back in 1994.
Well according to sources Kareena Kapoor Khan is going to ease role of Khan's love interest in upcoming project Lal Singh Chaddha. Upcoming project will go on floor by the beginning of October.
On work front actress is right now in London shooting for his upcoming project Angrezi Medium opposite Irfan Khan.
Well if above news is believed to be true than its going to be delight for Kareena Kapoor Khan and Aamir khan fans to watch this lovely pairing once again after decades before the shared screen together in 3-idots and Talash.
Very soon Kareen is going to start shooting for Karan Johar's most awaited project "Takht".
Bollywood actress kareena Kapoor is feeling lucky for getting chance to share screen with bollywood's critically acclaimed actor Irfan Khan, well we all know actor recently won his fight against deadly disease and returned back to Mumbai to start shooting for his most awaited project Angreeze Medium.
Though Kareena has small part to play in Angreeze Medium opposite Irfan Khan, however she is feeling delighted that she will get chance to learn something new from versatile actor Irfan Khan.
While interacting with media actress disclosed "I am going to ease a role of cop in Angreeze Medium, for the same I am feeling excited".
She further said sharing screen space with Irfan is going to be delightful moment as its very hard to get chance to share screen with versatile actor like Irfan Khan who has set new level in terms of acting, despite having small role to play I will get chance to learn more from him
Upcoming project is going to release next year on 25th February.
Well we all know Irfan Khan is making his comeback with Hindi Medium2.
Well we all know last year actor was diagnosed with neuroendocrine tumour for the same he went abroad to take treatment after fighting with tumor actor is now out of danger and recently returned back to India to start shooting for English Medium 2, well it was not clear that actor will work with new star cast or continue with old star cast Hindi Medium , well it will be delight full moment for Kareena fans to know that she is going to be leading lady opposite Irfan in Hindi Medium2.
Well before maker signed Pakistani artistes Saba Qamar but due to ban of Pakistan stars in India after surgical strike maker has left with no other hand there was no option left for himto go for new actress for the same he  signed Kareena Kapoor.

Good news for diehard fans of Kareena Kapoor's Poo character which she played in "Kabhi Kushi Kabhi Gum", this was the very project that made her superstar overnight.
According to latest reports actress is all set play Poo in his upcoming project which is going to web-series. Yes you heard right actress is all set to make her debut on digital platform. According to sources right now actress is having sitting with Netflix.
According to sources in upcoming web-series actress is going to ease a role of 30 years old women.
According to sources if everything goes according to plan, then were shortly digital audience will get chance to watch Kareena playing her popular character Poo.
Apart from digital project she will be working on her upcoming projects "Good News" and "Thakt".
So guys get ready to meet your favorite character Poo again, but this time of digital platform.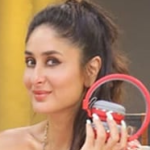 Meet Bollywood's new RJ Kareena Kapoor. Well Kareena is all set with her Radio chat show which will go on air by the end of this year.
According to sources Kareena has already finished one episode of Chat show and that too with Sunny Leone, who was said to be first guest of chat show. according to sources first episode will focus on career, marriage and motherhood. Best thing about first episode is Sunny and Kareena collaborating first time.
Recently both stars were witness at Mehboob Studios both stars were looking hot and stunning in black and white outfit.
Recently we watched web-series based on life story of Sunny Leone "Karenjit Kaur: The Untold Story, her story reveived positive reviews from critics and viewers and managed to get great TRP.
On work from Kareena is all set with two mega projects Takht and Good News.
On work front Sunny is all set with Tamil project Veermadevi.
Well news of Kareena coming up with Radio chat show will surely create excitement among her fans.
Few days back we came across news in which Kareena Kapoor Khan disclosed, well time has come when I am going to share screen space with Ranveer, however before I was to share screen space with him but due to some reason it could not happen. Well today I am happy at last I have got chance to shares screen space with versatile actor.
Well recently actress came forward and praised his co-actor Ranveer Singh and filmmaker Karan Johar adding "I am feeling happy that I am going to share screen space with Ranveer Singh and Karan Johar after two decades. I have worked with Karan in 2001 for Kabhi Khushi Kabhi Gum what a great filmmaker he is, I have watched Ranveer Singh's number of flick what a fabulous and versatile actor he is working with him help me learn lot new things.
Upcoming project "Takht" is going to be family drama full of emotions.
In Takht Kareena is sharing screen space with Ranveer Singh, Bhumi Pednekar, Alia Bhatt, Anil Kapoor, Vicky Kaushal and Jhanvi Kapoor.
Well it's going to be delight for Kareena and Ranveer fans to watch pairing of powerful stars first time on Big Screen.
As we all know Bollywood actress Kareena Kapoor also work for a UNICEF's, as she is been appointed Goodwill Ambassador of UNICEF.
According to sources actress is going to engage in program organized by UNICEF for the welfare of mothers and child's health, according to sources she is going visit number of small cities for creating awareness concerning nourishment and physical condition of pregnant women's.
Recently UNICEF conducted a survey regarding health and nutrition, it was found that women living in small cities are not much aware about the precautions required during post pregnancy, due to which negative aspects arise during pregnancy which usually have bad impact on both mother and child's life.
According to sources actress will conduct special event in small cities in which she will educate women about taking protective action during six months of post pregnancy, so that it does not have any adverse affect on delivery.
Well we salute actress for participating in awareness program being conducted by UNICEF
advertisement
Subscribe Newsletter
Recent Posts
Tags