Govinda In Triple Avatar
OMG Govinda to play triple role in upcoming project, however we have watched him playing double role number of time flick, but this time you will get chance to watch actor easing triple role.
According to report actor is going to reunite with Pahlaj Nihalani after a gap of 25 years for "Raju Rangeela, before they last worked together in 1993 for "Ankhen" in which actor played double role.
Best thing about upcoming project is that Pahlaj is going to direct and produce both.
Recently Pahlaj came forward and disclosed about his upcoming project "Raju Rangeela", he also disclosed that in this project Govinda is going to ease triple role", however he did not disclosed about other star cast and script.
Well we hope after going through above news die-hard fans of Govinda will be feeling delighted to watch Govinda in triple avatar.
Related Posts
It was shocking moment for Govinda and his entire family when news of his Nephews janmendra Ahuja's death  came into light.
According to sources Govinda's Nephew was found dead in his flat situated in Versova, Andheri West Mumbai.
According to sources his body was immediately taken to hospital around 6:30 am where he was declared dead and later postmortem was conducted.
According to sources news of Janmendra's death was confirmed by Kashmera Shah, while interacting with media actress said he died a natural death, as he suffered heart attack. Our family is in shocking moment ever one is feeling upset with sudden death of Janmendra, he was too young to die he was only 34 years old.
We condole Govinda and his family on death of his nephew my his soul rest in peace.
Bollywood actor Govinda is feeling dishearten due to not getting support from film industry. Recently actors latest project "Rangeela Raja got stranded due to ongoing scuffle between producer and director, more over Central Board Of Film Certification is not giving NOC to project.
While interacting with media actor disclosed "He is feeling depress that from past few years his number of project got stranded due some or other reason, some got stranded due to CBFC.
Actor further disclosed "I don't understand why I am been targeted, however some people are not letting my project to hit theaters. Well my latest release Friday was unable to get positive response, as  my project was not provided proper show timing, due to this my project got flopped at box office.
I request film industry to support me by giving me chance to showcase my talent, I Know I have great fan following if I get a fare chance I will show you how good I am.

Bollywood versatile superstar  Govinda is all set with his comeback on big screen with most anticipated comedy project "Fryday", from the very first day news of making of Fryday came into existence Govinda's fans were eagerly waiting for the first glimpses of trailer.
We'll wait is over as recently actor released first trailer of Fryday, you can watch this trailer on YouTube. In trailer you can watch comic timing of both Varun and Govinda. Movie is being directed by Abhishek Dogra, produced by Sajid Qureshi.
According to sources during trailer launch actor was found praising Varun Sharma for his comic timing, actor further said working with Varun was great experience, he is hard working actor who always gives his hundred percent. I appreciate his work.
Answering to question during trailer launch about making of actor's biopic, Govinda said well according to me making biopic at a stage when actor is still working is not good idea. Well biopic can be considered only after retiring from acting.
Few days back there was buzz doing around the corner which disclosed Govinda is going to be part of most awaited flick "Jagga Jasoos", as one of the images got viral in which Govinda was seen with Ranbir and Katrina creating uncertainty.
However recently filmmaker Anurag Basu rectified news adding he is not part of my flick, though I have shot a few shot with him during first schedule of shooting, however after that  I made some changes in script due to his role was deleted and he was not part of flick, I thanks actor for agreeing to work, as I requested him to do cameo in my flick, however it's our loss that he is not part of our flick.
On the other hand when Govinda was contacting by media regarding his leaked picture, actor answered I am feeling happy that Anurag at last talked about it keeping mum for three years regarding my role. However I completed my part but I will not be part of promotion as he has not clarified things while I was shooting for the flick.
We are well aware of the fact that Govinda was superstar of 90's he had great fan following due to his dance moves, comic sense and acting, but these days actor has lost his charm, though he worked hard to make his comeback, but he failed as most of his flicks got flopped. His latest flick was Aa Gaya Hero,this flick also got negative reviews and got flopped.
According to latest reports Govinda is looking forward to test his old theme of double role, we have watched actor receiving positive reviews for his double avatar in flicks like Bade Miyan Chote Miyan .
Once again actor is going to test his nerve with double role but his upcoming flick have twist as actor will playing to different role one as actor and another one as a villain and who is a gay, well its sounds quite interesting.
Well we have watched actor playing a role of man who turns up women of middle age to impress his girlfriend in Aunty No.1. Well this time you will watch him playing a character of gay villain, which sounds quite challenging. Well we hope he manage to impress audience and critics.
Govinda's upcoming untitled project will be directed by Satyendra Raj and produced by Sarwan Sharma and Jayant Ghosh. Movie is all set to released by end of this year.
Bollywood's most happening comedy actor Govinda is surprised how people can comparison him with Varun Dhawan.
As we all know due to comic sense of Varun he is number of time be compared with Govinda, but actor thinks comparison is a fake.
Govinda during an event said bollywood actor Ranveer Singh and Varun have physic like Salman Khan, but they cannot compare themselves with him, if they do so they won't good remarks. As they cannot dare to compete him. This is how the Indian Cinema works.
How Varun can be compared with me, for becoming me he has to be innocent, uneducated and a poor village boy. However Varun is born with silver spoon in his mouth as he is a son of great filmmaker David Dhawan, who is very good friend of mine we have worked together in number of projects, however Varun has done only 2 film with his father.
Few days back there was news doing around the corner that Govinda will play a role of Alia's father in upcoming timidly titled "Shaandar".
But according to latest reports actor has refused to act in "Shaandar". Though filmmaker Vikas Bahl was very keen to see Govinda playing Alia's father role, but it seems Vikas Bahl keenness of introducing yesteryear star Govinda playing a role of Alia's father remains dream.
According to speculations yesteryear star  said no to "Shaandar" due to some prior commitments, we have to wait for sometime too actually know right reason behind Govinda saying no to project, as till date actor and director has not come forward to give official explanation.
In Shaandar Alia is going to share screen with Shahid Kapoor, movie shooting will take place exclusively in Europe, as a director its Vikas Bhal's second movie, we have seen his outstanding direction in Kangana Ranauat starrer Queen.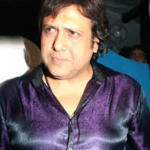 Bollywood actor Salman Khan seems distressed due to Govinda refusing to act in his upcoming production venture which is going be remake of Mahesh Manjrekar's Marathi movie 'Shikshanacha Aaicha Gho' this movie is based on father who want his son to become a best student.
According to reports Salman disclosed that he contacted Govinda to play the leading role but anyhow he refused, Salman further disclosed that from past three years he has been running after Govinda and requesting him to do this movie, but every time he says this movie is not good and he don't like the theme therefore Govinda don't want to do this movie.
Though there were murmur going on around the corner that Salman has also approached Paresh Rawal to play lead role in this movie . In this movie Salman will be doing guest appearances.
According to reports Salman made it clear that casting of this movie is not yet finalized, but we are working on it, he further said title of movie may be 'God Only Knows' and making of this movie will most precisely start in mid of February 2014.
Govinda, who will soon be seen in the much-delayed film "Deewana Mai Deewana" opposite Priyanka Chopra, says he always knew that she would go on to become a top actress.
"At the time when (K.C.) Bokadia sahab was selecting the heroine for the film, he told me that he would be finalising Priyanka Chopra and asked me how is the idea. I said she will be a top actress. And today she is one of the top actresses of Bollywood. May God bless her," the 49-year-old said in an interview.
With "Deewana Main Deewana", Govinda will break away from his image of a comic actor. However, he is not worried about it at all.
"People have not the seen the kind of cinema which I used to do for a long time now. The young generation knows only that much about my cinema which they have been seeing on television. So I don't think this image thing will create any problem for the film," he said.
"Deewana Main Deewana" also features Kader Khan, Shakti Kapoor, Prem Chopra and Johnny
Directed –   Nikhil Advani
Produced –  Anupama Patil, Kishor Patil
Cast – Akshaye Khanna, Govinda, Suniel Shetty, Boman Irani, Urmila Matondkar
Music –  Shankar-Ehsaan-Loy
Release date – 19 October 2012
This is India's first stereoscopic 3D animation feature film.
Delhi Safari is an upcoming bilingual stereoscopic 3D animation film. The screenplay of the film is written by Girish Dhamija and Suresh Nair. The film traces the journey of five animals and birds from Mumbai to Delhi. The lyrics are penned by Sameer
The English version of the film has voices by Jason Alexander, Cary Elwes, Christopher Lloyd, Jane Lynch, Vanessa Williams and Brad Garrett. The international sale of the film is being handled by Fantastic Films International.
 Delhi Safari is the story of a journey undertaken by a cub leopard, his mother, a monkey, a bear and a parrot when the forest they live in is on the verge of destruction. Builders have encroached upon their forest and the animals decide to go to Delhi and protest in front of the parliament and ask the parliament some very simple yet pertinent questions they were – why has man become the most dangerous animal? Doesn't man understand that if the forests and the animals don't co-exist with humans, the balance of the ecosystem will be endangered?
advertisement
Subscribe Newsletter
Recent Posts
Tags