Irrfan Khan's Karwaan To Hit Theaters In August
Well we all Know Bollywood versatile actor Irrfan Khan is not going through good health from past few months, he is going under medication, it's going to be good news for actors fans as his latest project Karwaan is going to release on 10th August.
Recently maker of flick released first official poster of flick in which you can watch actor drinking coconut water with his co-pays stars Dulquer Salmaan and Mithiali Palkar.
This flick is going to be debut flick of south actor Salmaan.
Recently Dulquer took social platform and tweeted his excitement adding "We are feeling happy that finally our movie get release date which is 10th August. Can't wait for you all to watch it.
According to sources upcoming flick revolves around three ecentric persons who meet together and start strange journey for  find the meaning of life.
We wish Irrfan fast recovery and good health.
Related Posts

Good news for Irrfan Khan fans who were eagerly waiting for the comeback of actor from past one year, as actor was out of country taking treatment in London after he was diagnosed with NeuroEndocrine (Tumour).
According to sources actor has returned back to Mumbai and he is right now taking treatment at Kokilaben Dhirubhai Ambani Hospital.
According to latest development actor is all set with second part of his super duper hit flick Hindi Medium 2. According to sources recently actor went through script, and he will start shooting in last week of February.
According to sources however maker of flick has not finalized leading lady who will be seen opposite Irrfan.
According to sources post shoot of upcoming project actor is going to visit his home town.
We wish actor fast recovery and good health and we wish him good luck for his comeback with Hindi Medium2.
Well we all are aware of Irrfan Khan's health condition as actor has been  diagnosed with rare disease called Neuroendocrine Tumour, and for the same actor is in London for taking medication.
Well recently actor came forward and gave latest updates of his health, while talking with media actor said "He has gone through fourth phase of chemotherapy, two more to go, after that they will take me for examination, well after 3rd phase of chemotherapy scan was positive, and now I have to wait for sixth phase of chemotherapy and see what result comes in scan, after this only picture will be clear what next.
Further actor disclosed "These days I don't think more about life, even I don't go for reading scripts, I am going through wired experience, my thinking has been changed, I have stopped planning, I take stuff as it appear, I am living in present I stopped thinking about life, life is unpredictable one don't know what is coming next, I am always positive about my health, well this health problem has made me more strong and taught me lot about life.
Well we wish actor good health and wish him good luck for his latest project "Karwan".
Bollywood versatile actor Irrfan who is away from silver screen due to health problem, as actor is diagnosed with rare disease, for the same actor is in London for taking treatment.
Well Irffan has proved he is great fighter, this is the reason in his latest twitter profile picture you can witness actor smiling, might be seen weak, but he looks sturdy.
Irrfan is seen, listening music and having joyful moment.
Well his fans are getting happy to witness actor in joyful mood.
Thought actor might be going through health hazard, but he is also taking care of his upcoming project "Karwan" which is all set to release in first week of August. Actor is continuously posting trailer and songs of flick on twitter in term of promotion.
We wish actor good health and fast recovery. And wish good luck for his upcoming project "Karwan".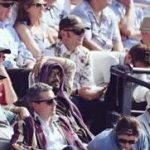 As we all Know Bollywood versatile actor Irrfan Khan is not doing well due to ill health and he is in London, as actor has been detected with disease called NeuroEndocrine tumor, for the same actor is in London from last few months for treatment.
According to sources actor is taking treatment at The Princess Grace Hospital in London.
According to sources Irrfan Khanis  going through chemotherapy treatment in London.
Recently one of his latest image got viral in which actor is seen sitting in Lord's cricketer ground  stand watching cricket match between England and Pakistan.
According to latest development his image was posted on twitter by Pakistani sports anchor Zainab Abbas on twitter , you can witness actor sitting in stand covering his head with towel.
Well going through image it seems Irrfan Khan is looking  much  better, we wish him good health.
As we all know Irrfan is all set to hit theater with his upcoming project "Blackmale" very soon, therefore taking into consideration of movie release date coming soon, actor request maker of flick is to run special screening for Big B who is very close to him.
Well we all know these days actor is not going through good health, as he is been diagnosed with rare disease, and right now actor is in London for treatment, and he has requested filmmaker to organize special screening of his upcoming flick for Amitabh sir.
Few days back actor expressed that he want his movie should get great opening and get released on scheduled time, therefore taking a actors verdict into consideration maker of flick Abhinay Deo and Bhushan Kumar are looking forward to release flick on schedule.
From the very first day first teaser of flick got released, it has created excitement among his fans due to its content, as in teaser Irrfan is seen running around the streets wearing a pair of boxer shorts with his face covered by a bra-and-panty paper bag. With logo `What will you do if you find your wife in bed with someone else?` well we hope actor get well soon and join special screening.
Movie is all set to release on April 6, 2018.

Few days back we came across shocking news regarding Irrfan Khan's health, in which actor disclosed about his health hazard, adding he is suffering from rare disease known as neuro-endocrine which is kind of tumor. And it was reported that actor will be moving to London for treatment.
According to latest report actor has moved to London for taking treatment, on the other hand it has also come forward that actor has started taking Ayurvedic treatment from Vaidya Balendu Prakash, But actor has denied report of taking Ayurvedic treatment, actor disclosed however he met with Vaidya Balendu Prakash, he only called him once, I want to make clear I am not taking any Ayurvedic treatment.
While interacting with media actor disclosed "Well I don't understand how someone misappropriates false reports by using someone's illness for the sake of publicity and personal achievements.
Well few days back speculation started building when Bollywood actor Irrfan Khan came forward and disclosed that he is suffering from rare disease, well actor did not disclosed what kind of illness he is going through, however recently actor came and disclosed he is suffering from 'NeuroEndocrine Tumor' and for the same he will we going abroad for the treatment.
Well neuroendocrine tumour is kind of tumor which might grow slow or fast and it may also spread in whole body. Worst thing about this disease is that it has no symptoms it only get detect if one is luck enough. However if symptoms develop it may be of many kind like one can have problem related to skin flushing or fluctuating blood sugar levels which may shoot any time.
It can only be cured by surgery, radiation or chemotherapy. Well its shocking that actor is diagnosed with this rare disease
Recently actor came forward and took social media and added caption `Life is under no obligation to give us what we expect`. – Margaret Mitchell The unexpected makes us grow, which is what the past few days have been about. Learning that I have been diagnosed with NeuroEndocrine Tumour as of now has admittedly been difficult, but the love and strength of those around me and that I found within me has brought me to a place of hope. The journey of this is taking me out of the country, and I request everyone to continue sending their wishes. As for the rumours that were floated NEURO is not always about the brain and googling is the easiest way to do research 😉 To those who waited for my words, I hope to be back with more stories to tell.
Well we went through number of news in which we found lots of speculations and rumors going on regarding actor health. Well actor has cleared all rumors disclosing a disease he suffering from.
We pray God that actor recover fast and get back to work soon.
Bollywood versatile actor Irrfan Khan gave shocking statement adding he is suffering from a rare disease and will share details after going through all necessary tests.
While taking social platform twitter actor disclosed " he and his family were jolted when came to know about my illness, actor further request his fans and follower and media not to speculate about his health, which is personal.
Actor further disclosed one day you wake up and you are in jolt when you life start sucking, well my life has been suspense story, well I have came to know that my search for rare stories will end me up with rare disease. I am kind of person who never say I quit, I am fighter and I always fight till I succeed.  I am thankful to God that my family and friends are with me and very shortly we will reach to conclusion, therefore don't try to speculate my story , I myself will share my story after we come to conclusion.
Bollywood versatile actor Irrfan Khan is all set with "Qarib Qarib Singlle", recently teaser of flick go released. His last picture was Hindi Medium, which did good business at the box office.
Best thing about this flick is that Irrfan is coming up with never before avatar of lover boy, movie is full desi tadka, in this flick Irrfan is sharing screen with Parvathy a well known Malayalam actress.
Recently maker of flick revealed third poster of flick with movie title, in this poster you will get first glimpses of actors new avatar with search line in a browser.
According to sources viewer are eagerly waiting for the release of flick as they are very much impressed by Irrfan's new avatar.
According to sources shooting of flick took place in Bikaner, Rishekesh and Gangtok. Movie is being directed by Tanuja Chandra and being produced und Jar Picture production house.
Movie is all set to release on 10th November.

Bollywood ace actor Irrfan is not only finest actor of Indian cinema, he is also a finest actor of Hollywood cinema. Right now actor is looking excited about his upcoming Hollywood project 'Inferno' he is sharing screen with Tom Hanks.
According to sources Hollywood's most happening actor Tom is feeling happy that he got a chance to share screen with Irrfan. It is believed that Tom Hanks is very dear friend of Irrfan, Tom felt while sharing screen with Irrfan as he is sharing screen with Sir Laurence Olivier or Sean Connery, this is a huge complement for Irrfan.
Tom Hanks while interacting with media disclosed that Irrfan created different vibes around, it was great experience working with him, what a actor he is, he is a global superstar. He further said Bollywood has adapted modern style and it has become popular society accross world, therefore when maker of 'Inferno' told me that I will be sharing screen with Irrfan, I felt like working with Indian version of Sir Laurence Olivier or Sean Connery. But I might say Irrfan is down to earth person and a great actor.
advertisement
Subscribe Newsletter
Recent Posts
Tags