Is Rakhi Really Getting Married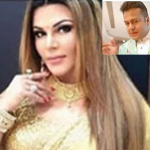 Well Bollywood's most controversial Diva Rakhi Sawant is again in news, yes you heard right she is in news for surprising fact, yes it is surprising news as Rakhi recently came forward and revealed her wedding date.
Recently controversial Diva took social media and revealed that she is going to tie knot with Deepak Kalal. Deepak Kalal recently appeared on India Got Talent and he was seen proposing Sawant, well it seems she has accepted her proposal.
Recently she took social platform and shared a wedding card on which date, time and venue of wedding is mentioned.
Well number of time we have witnessed Rakhi playing trick with viewers to grab their attention, well we think we have to wait till wedding date mentioned in card which is 31st December, is it really happening or its publicity stunt only time will tell.
Well, whether it's really happening or is it just publicity  to for attaining attention of viewers, we have to wait for same.
Related Posts
Bollywood actress Tanushree Dutta who is in news for starting #MeToo movement, after she accused Nana Pataker for doing sexual harassment with her on the sets of "Horn Ok Please".
Well recently Tanushree returned back from US and came forward disclosed publically on national TV that she was sexual harassed by Nana Patekar during the shoot of "Horn Ok Please" and she also disclosed when she tried to retaliate she was attacked on sets of flick.
According to latest recently bollywood diva Rakhi Sawant who replaced Tanushree in special song in "Horn Ok Please", while interacting with media disclosed Tanushree is liar, whatever she has disclosed is not true it's all fabricated.
Well Tanshuree after going through Rakhi's conversation with media, immediately came forward slapped defamation suit amounting 10 crore against Sawant for defaming her.
Defamation suit was confirmed by Tanushrees advocate Nitin Satpute.
Bollywood diva and TV reality actress Rakhi Sawant is in big trouble for hearting religious sentiments. According to reports Punjab Police has issued arrest warrant against Rakhi for her comments on Valmikk.
According to reports Punjab police arrived  Mumbai from Ludhiana yesterday to arrest her. Reports further suggest local court of Ludhiana has issued arrest warrant against bollywood diva on March 9th on the basis of complaint lodged for hurting religious sentiment of Valmiki community on social media last year. However later she apologised for the same via a video clip, in which she added it was not my intention to hurt religious sentiment.
According to reports she failed to appear in court despite number of summons, and now case is adjourned for 10th April.
It seems her bold behaviour is going to spoil her image, we hope she should stop giving bold statements and concentrate on her work.
Bollywood diva Rakhi Sawant who is called controversial queen, recently one of her mms got viral in which she seen changing clothes, one can also see rollers on her head, it seems this video was been made before any event.
According to reports Rakhi has come forward and denied any such video, she said it might be her duplicated who had tried to spoil her image, but she will fight back and bring truth in front of media.
It's not happening first time when she is stuck in controversy, before she has faced lots of criticism due to her rude and bold behaviour.
Right now Rakhi is busy with a flick "Before Christmas In Kashmir", this flick is going to be directed by Shahid Kazmi, this flick also star Tariq Imtiaz in lead role.
Well we hope she manage to bring truth in front of media and make everyone's mouth shut.
advertisement
Subscribe Newsletter
Recent Posts
Tags