Is Really Abhishek Part Of Roshni
Recently Abhishek Bachchan shocked everyone when he walked out of upcoming JP Dutta's project Paltan, only few hours before shoot.
According to sources now he has been approached by Shree Narayan Singh for his upcoming project Roshni, in this flick he will be seen opposite Shahid Kapoor.
According to source however reason behind quitting Paltan is not clear, as actor has not come forward and disclosed anything regarding his quitting plan.
Recently sources engaged in project disclosed actor was recently given a script and narration and he was found quite excited and showed his interest, as movie is based on real theme of corruption taking place in electricity department.
However producer has disclosed yes we are looking forward to sign Abhishek for Roshni, however we have not finalized any thing till date, if everything goes according to plan then there are chances you will watch Abhishek in Roshni.
Related Posts
From the very first day maker of houseful franchise has revealed about forth installment of Houseful, number of speculations are doing around the corner taking cast into consideration.
However Sajid Nadiadwala once again going to collaborate with Sajid Khan in terms of direction but he has not talked about star cast, however there is buzz doing around the corner that Akshay Kumar, Riteish Deshmukh, John Abraham and Arjun Rampal are coming together for the same.
However there is bad news for Abhishek Bachchan fans as there is buzz doing around the corner that maker of flick has dropped actor.
Latest reports suggest Abhishek has shown his keenness to become part of flick, but it will only be confirmed one someone from Houseful team come forward and disclose about the star cast.
Right know Abhishek has two projects in hand one with Prabhudeva and another with Priyadarshan and all eyes are on these projects as from past few years actor has not given any hit.
Recently Abhishek went through wired situation when he was trolled on social media when someone raised question "Why your daughter Aaradhya been seen number of time travelling abroad with her mother Aishwarya Rai, instead of going to school and she also blamed her mother for spoiling Aaradhya's childhood.
Well we have watched number of stars going through wired situation online due to their comment, dress, and behavior but we have not watched any actor trolled for their kids.
Tweet read as "@Shrijahan @juniorbachchan is ur child not going to school? I wonder which school gives a permission to take out a child when u like to go a trip with mom. Or are you guys going for beauty with brains. Always hand in hand with arrogant mom. Not having a normal childhood" after going through this tweet actor got upset and came forward and replied adding "Ma'am as far as I Know…Most schools are shut for weekend.. She goes to school on weekdays, May be you should try it considering your spelling in your tweet" well we think actor gave appropriate answer putting troll into rest.
Real life partner's is all set to impress audience after a long gap of seven years, yes you heard right we are talking about Abhishek and Aishwarya sharing screen once again.
According to latest development Abhi and Aish are all set to share screen with Shailesh R Singh's upcoming production venture, in which we well watch both the stars easing a character of IPS officers.
While interacting with media maker of flick Shailesh R Singh disclosed "Yes I have contacted Abhishek and he has shown his interest, and now we are looking forward to narrate script to Aishwarya Rai, we hope soon we will start working on project once both Abhi and Aish go through script.
While concluding his interaction producer disclosed that from past few years he was looking forward to work with Aish and Abhi, and now he has got good script and without any hesitation he will start working on project very soon.
Few days back we came across news in which it was disclosed that Abhishek Bachchan is not going to be part of SLB's upcoming periodic drama "Gustakhiyan" opposite Pee Cee.
However latest reports disclose Abhi is very much part of SLB.s upcoming project, however its Priyanka who have walked out of project.
According to sources Priyanka has decided to quit flick and she has disclosed the reason with filmmaker why she has quit the flick.
According to reports upcoming project Gustakhiyan will potray the real time romance story of great writer Sahir Ludhianvi and Amrita Pritam. Therefore SLB was looking forward for mature actor and he was in talk with Abhishek for the same and actor has agreed to do the project, however due to Pee Cee backing out from the project maker of flick is in search of another actress who can justify character of Amrita Pritam.
From past few years we are witnessing Football craze in our country and for this all credit goes to our bollywood stars for promoting sport.
Recently football team ASFC led by Abhishek played a friendly match with CISF team in Mumbai.
ASFC team was lead by Abhishek other contender of team were Ranbir Kapoor, Shoojit Sircar, Shabbir Ahluwalia, Vivian Dsena, Armaan Jain, Vikram Thapa, Raj Kundra, Armaan Rehlan, Antoni Pecora, Sachiin Joshi, Jim Sarbh, Marc Robinson, Utsav Bachani and Mazhar Dalvi. As we all know Ranbir is great admirer of Barcelona football team, he was vice-captain of ASFC team
Best thing about this match was both Abhishek and Ranbir are owner of ISL team, Chennaiyan FC is owned by Abhishek and Mumbai City FC is owned by Ranbir Kapoor.
ASFC won match against CISF 2 – 1.  CISF consist Maharashtra, Goa, Daman and Diu player.
While interacting with media Abhishek told our main aim behind playing friendly was to promote and collect chairty for upcoming football event FIFA Under – 17 World Cup in October this year. We are working for Mission XI Million, which works for encouraging children to play this popular game.  I thanks all the team members for giving their precious time.
Bollywood actor Abhishek Bachchan and Priyanka to tie up again for SLB project Gustakhiyan, before we have watched both Abhi and PC in Bluffmaster, Dostana and Drona. However only Dostana manage to become highest grossing flick.
If news is believed to be true than its going to be delight for Abhishek and Priyanka fans to watch their favorite stars together again on big screen.
According to sources Gustakhiyan will be based on renowned writer Shair Ludhianavi and his love interest Amrita Pritam. It's obvious Abhi will be easing a character of Sahir and PC will be easing a character of Amrita Pritam as they both are easing lead roles in Gustakhiyan.
It's going to be Priyanka's first comeback Hindi flick after she made her debut in Hollywood and International TV. She is making her comeback after a gap of two years.
Movie is going to directed by Sanjay Leela Bhansali.
Bollywood actor Abhishek Bachchan has not managed to impress audience from past few years, however this time he is coming up with thriller project which will directed by Nishikant Kamat and produced by KriArj entertainment and Kyta Productions.
According to sources its happening first time when Abhi will be working in thriller flick as before we have mostly watched him in serious and comedy roles , so its going to be delight for his fans to watch him in thriller. According to sources there was no special training required for the flick, flick will go on floor in May, and will release by the end of this year.
According to sources after going through script actor immediately gave nod to project and he is all set to commence shooting.
While interacting with media Abhi said he is excited about his upcoming thriller project, actor said its happening first time when I going to play different avatar which i have not played before.
Though we have watched Abhishek Bachchan and Aishwarya Rai Bachchan fascinating audience together in number of bollywood flick, however actor has refused to share screen with Aish this time.
According to reports Aish was looking excited to share screen with her hubby Abhishek in his home production "Lefty", however Abhi rejected this idea, by asking filmmaker to find new face for lead role, as might he is finding her too mature for role.
Movie is going to be directed by Prabhudeva and being co-produced by Abhishek Bachchan.
However its just a buzz as it is not been officially announced who will be playing lead lady opposite Abhishek.
However watching Abhi and Aish together will be delight for fans, but going through above news it seems actor is not interested sharing screen with Aish.
For final star cast we have to wait and watch what lefty team finalize.
These days we are witnessing number of movies getting delayed due to actors date problems or injury problems. This time its Abhishek Bachchan's  upcoming movie "All Is Well" which is being directed Umesh Shukla seems not well , as from very first day movie is getting delayed, earlier this move got delayed due to Smriti Irani being busy in election campaign and later on this movie got delayed due to Smriti Irani joining her new job as HRD minister, due to this movie is running out of his scheduled time.
According to sources engaged in "All Is Well" the movie was said to be released by August end and now movie seems to postponed till 2015, therefore this year Abhishek will have only one release on card and that is "Happy New Year" which is going to have a challenging opening as this movie releasing date is going to clash with Ajay Devgn starrer Action and most awaited Karan Johar movie Ungli.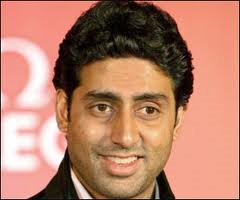 It's happening first time when audience will witness their favorite star Abhishek Bachchan playing a double role and a role of alcholic tapori dancer in his upcoming flick "Happy New Year".
According to reports Abhishek is playing double role and alcholic role in "Happy New Year" which is going to be surprise pack for his fan's
While interacting with media during the launch of movie trailer on Thursday Abhishek added he is feeling very excited as it's happening first time when he playing a double role and a role of alcholic tapori dancer. Abhishek further added he is very thankful to SRK that he has helped him preparing both the character, having played alcholic in Devdas and Tapori in Josh.
On the other hand its happening first time in bollywood when entire cast of "Happy New Year" has changed their Twitter names with their characters name which they are playing in movie "Happy New Year" for the promotion of movie.
advertisement
Subscribe Newsletter
Recent Posts
Tags