Is Really Farhan Dating Shibani
Well from past two years we were going through reports that Farhan Akhatar and Shraddha are in relationship, however latest reports suggest actor is right now dating with Shibani Dandekar.
According to sources Farhan these days dating Shibani Dandekar, sources further disclosed that both of them are fascinated with each. Recently both of them were spotted in London enjoying leisure time. According to sources they both are good friends from past three years, they became good friends when Shibani participated in reality show "I Can Do That", which was hosted by Farhan himself. Well we don't know when friendship turns into love, as human nature is un-predictable.
Well we all know when news of Shraddha and Farhan dating came into light, being father Shakti Kapoor was bit upset with Shraddha Kapoor and number of time warned her to stay away from Farhan, well due to ongoing tussel between her father and Farhan, they both started maintaining distance, well after going through news of actor dating Shibani, Shakti Kapoor will be filling bit relieved, however we don't know how Shraddha will react after she comes to know about Shibani having affair with Farhan.
Well if we talk about Shibani she has hosted number of international shows, apart from this she has performed in number of reality shows and done endorsement of different products in India.
On work front Shraddha is right now busy with promotion of her upcoming project "Stree".
Well fans of Shraddha and Farhan might feel dishearten if news is believed to be true.
Related Posts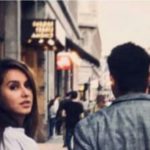 Well from past few months we went through number of news that Farhan Akhtar is in relationships with Shibani Dandekar, however actor and Shibani are denying such  kind of reports from past few months.
Well recently Farhan Akhtar took social platform instagram to officially announce his ongoing relationship with Shibani Dandekar putting all speculation to rest. While confirming relationship actor shared one click with caption "As long as I have you, As long as you are, I'll never be lost. Shine on beautiful star, @shibanidandekar love you loads. Click that actor shared you onecan witness them holding hands walking around.
Well going through above news it seems speculation comes to end.
Well it's going to be delight for Farhan Akhtar fans who were eagerly waiting for actor to confirm his relationship with Shibani.
Farhan Akhtars was anticipated and delayed project "The Fakir of Venice" finally get a releasing date which is going to be 18th January 2019.
In upcoming project Farhan is collaborating with  Annu Kapoor.
While interacting with media filmmaker Anand Surapur disclosed reason behind delay he said "We were sorting issues with production house on the other hand we were looking forward for good music, due to A.R Rahman having tight schedule we postponed project. And know everything is on track and we are set to release flick next year.
Upcoming project will showcase story of human nature which usually change according to situations he face everyday. In this flick you will watch story of two individuals who travel to Venice for earning money quickly.
According to sources upcoming project will release globally.
So guys get ready to witness your favorite stars in new avatar with new theme.

Recently first single of Bollywood all-rounder Farhan Akhtar titled "Jaane Ye Kyun Kiya" got released on social media "YouTube", song has managed to receive 15 Million views.
Song has managed to get 15 Million views in very short period making song super duper hit.
Farhan recently returned back to India conducting live Music tour with Shankar-Ehsaan-Loy.
News of song crossing 15 million views was confirmed by actor on social platform Instagram.
According to sources shooting of "Jaane Ye Kyun Kiya" took place in Iceland.
Though actor has lent voice to number of songs in Bollywood flicks, but "Jaane Ye Kyun Kiya" is his first single number which he has sung for music album.
Some of us may not be aware of fact that actor recently sung song for Telugu flick "Bharat Ane Nenu" titled "I Don't Know".
So guys what you are waiting for join Youtube and enjoy first single of your favorite actor-singer Farhan Akhtar.
Omg Farhan and Shibani in mood of disclosing their relationship officially, well from past few months we have gone through number of news regarding their ongoing relationship, however actor always denied any such news, well now it seems Shibani Dandekar and Farhan Akhtar have decided to make their relationship officially.
Their relationship became official when recently Shibani posted some clicks on social media, in one of her click you can witness her walking down the street holding hand, making people guessing who his this mystry man, well if we look click from back it resembles to Farhan Akhtar.
Well before number of time Farhan Akhar has been questioned about his relationship with Shibani, and every time actor denied adding we are not in relationship, she is just good friend of mine.
Well it's for sure after going through latest clicks posted by Shibani on social media, will surely create excitement among fans of Farhan Akhatar.
According to sources all the clicks that Shibani has posted on social media are clicked while both were enjoying holidays
From the very first day actor broke his 16 years old marriage with Adhuna, he is been in news for dating number of bollywood actress.
Good news for fans of Bollywood all-rounder Farhan Akhtar, as he is coming up with his first Hindi Single in August this year.
Well we have witnessed him directing, acting, writing songs, singing in live concert and singing in movies, but this time  he is coming up with next level singing. Farhan Akhtar is all set with first Hindi single as writer and singer for music he is going to collaborate with Rochak Kohli. For the same he is right now out of India for shooting video.
On work front actor is busy with upcoming project Gold and Gully Boy.  He is also committed to number of concerts.
According to sources Farhan is right now In Iceland,in cold weather shooting video of his first Hindi single.
Well after going through above news fans will be feeling eager to listen first Hindi single of Farhan.
Well from very first day we came across news that Farhan is looking forward to come up with 3rd Installment of blockbuster hit franchise Don number of speculations started building.
Well from the very day news of Farhan working on script of Don 3 came into existence, number of speculations started mulling.
Few days back one news came into light which was published in daily magazine, in which it was revealed that actor is going to ease a role of cop in upcoming instalment, however actor has denied any such report, recently he came forward on social media and disclosed ", " Request those who conjure up news about #Don3 without any fact checking to please refrain. It is not fair to raise expectations of the films fanbase via false news."
Well it seems actor has ended all the speculation by framing news as baseless news.
Before we came across new which disclosed Farhan Akhtar is feeling upset due to fake quote circulated online with his name.
Recently actor came forward strongly to take firm stand against fake quote which promoted communal violence.
Actor requested his fans to be cautious while they read any quote on social media, as there are number of fake quotes in his name are going viral.
Actor recently took social platform and shared number of post on twitter countering the rumor adding "@TwitterIndia this is a malicious tweet with a statement that I did not make being ascribed to me. Kindly take necessary action against this user. https://twitter.com/drgpradhan/status/958038874436988932 …"
Actor also tweeted "To my followers and other users of twitter, Please be very cautious about what you choose to read and believe online. There are disturbing forces at mission to create foster hate. Be aware of it and do your research before believing and/or reacting to anything" .
According to report message which got viral in name of Farhan is as "justified the death of those who were killed in the communal violence that erupted in Kasganj, U.P on Republic day.
According to report culprit posted actors screenshot with image and comment creating misunderstanding among her fans and followers adding communal spice.
Well we hope sitution get under control and Farhan's fans understand what actor is saying.
We have come through number of news from past few months which revealed that Farhan and Shradha are in relationship, however latest reports suggest that relationship has entered into conflict due to which their professional lives are getting effected.
Well as we all know she has signed new project with Farhan's production house, which is getting delayed due to their ongoing conflict. And there are chance that she might quit the project.
However media tried to contact both the stars, but they were not available due to their ongoing commitments, as Farhan is in Milan to attend concert, actor recently posted one photo expressing his love towards Beatles.
Actor shared a image of his band with caption "Inki chaattra-chhaaya mein kaam achha hi hona hai..
Well still this news seems to be rumor as both the stars has not confirmed any news of split.
Farhan Akhtar is back with social cause for creating awareness against gender violence, he want this moment should reach every village, for this he is looking forward to organize concert "Lalkaar".
Actor disclosed this during his Lalkaar concert that was hosted in collaboration with his ongoing foundation MARD (Men Against Rape And Discrimination), Bill and Melinda Gates foundation and Population Of India Foundation last Tuesday in home town, I want Lalkaar to reach every city and village.
I want this moment at large scale by reaching small cities and villages; I don't want to restrict it to home town only making it limited moment.
Answering to media's question what kind of awareness he is looking forward through MARD's Lalkaar moment? Actor replied our concert has special message, for this we have asked collage student to make two minute film for spreading message about stopping violence. However we have received number of entries and today we will announce the winner.
He further disclosed his upcoming concert is free for all and he is looking forward to have big crowd.
We salute Farhan for taking good initiative in his hand.
Bollywood actor Farhan  along with his friend director Feroz Abbas Khan has taken sensitive initiative in hand "Bas Ab Bahut Ho Gaya" program based on awareness of  violence against woman.
According to reports actor will begin a concert name Lalkaar in which the will sign bollywood ace musian Salim-Sulaiman, Papon, Sukriti and Prakriti Kakaar for raising voice.
During a conference in Mumbai actor asked women working in film industry to come forward and speak against harassment they face.
Actor further said violence against women has been sensitive and important issue after gender based discrimination came into light when scandal of #MeToo campaign came into light. Actor said its right time take stand against this kind of issue. Sharing opinions does not matter what matters the most is to spread message that we all have a collective concern, let us create awareness where this kind of violence is taking place.
We salute actor for taking sensitive issue in hand.
advertisement
Subscribe Newsletter
Recent Posts
Tags