Is Really Kabhi Haan Kabhi Naa Remake On Card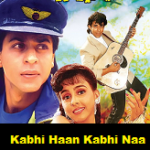 Well these days remake has become trend in Bollywood, we are witnessing number of remakes from past few years. Well this time there is buzz doing around the corner that remake of super duper flick Kabhi Haan Kabhi Naa is coming soon.
Well some of us may not be aware of fact that SRK hold copyright of Kabhi Haan Kabhi Naa, taking into consideration that actor hold the copy right number of filmmaker are approaching actor to purchase copy rights.
According to sources there are reports doing around the corner that SRK might himself recreate Kabhi Haan Kabhi Naa in terms of web-series. And there is buzz doing around the corner that popular online platform is also looking forward for the same.
Well news still seems to be buzz as no one has come forward and disclosed remaking of KHKN.
However if it happen it will be delight for fans of KHKN to watch remake.
Related Posts
No related posts found!
advertisement
Subscribe Newsletter
Recent Posts
Tags