Is Really Sonam Part Of Sooryavanshi
Well from past few months Sonam is in news for her upcoming project "Ek Ladki Ko 'Ek Ladki Ko Dekha Toh Aisa Laga'. She is in news as her real father Anil Kapoor is going to play her on screen father.
Well this year its going to be busy year for Sonam as Bollywood filmmaker Rohit Shetty is looking forward to sign her opposite Akki in his upcoming most awaited project "Sooryavanshi".
According to sources maker of flick disclosed if everything goes according to plan than its going to be delight full moment for Sonam fans to watch her opposite Akshay Kumar.
Well above news still seems to be buzz as no one has come forward officially and confirmed about Sonam being part of Sooryavanshi.
Well it still seems we have to wait for sometime till filmmaker come forward and reveal entire star cast of Sooryavanshi.
Related Posts
 Makeover has become common trend these days in Bollywood, almost every star taking into consideration justifying role go for makeover.
This time you will witness Sonam Kapoor molding herself according to role, as we all know she is all set with Zoya Factor, for the same she going for curly hairs. We have always watched her with straight hairs, it's happening first time when she is going to transform his hairstyle.
Zoya factor is inspired from book with same name written by Anuja Chauhan. In this flick Sonam is going to ease role of Zoya Singh Solanki.
Zoya Factor is going to be first project of Sonam after marriage, before she was in Veer De Wedding, for the same she received great applause for her outstanding performance and for bold dialogue she went through criticism too.
In upcoming project Sonam is sharing screen space with Malayalam superstar Dalquer Salman, who is making his Bollywood debut with Zoya Factor.

After great success of "Veer Di Wedding" filmmaker Shashanka Ghosh is looking forward to sign Sonam Kapoor once again for his next project.
According to sources Shashanka is looking forward to reunite with Sonam Kapoor once again after success of "Veer Di Wedding". According to sources upcoming project will gaangster drama.
According to sources both filmmaker and actress discussed about making Hindi version of German blockbuster super duper hit thriller Run Lola Run in which lead role was played by Franka. In Hindi version Kapoor will play lead role.
Well if news is believed to be true than its going to be delight for fans to watch Shashanka and Sonam's magic on silver screen once again.
It's going to be first project of actress after her marriage.
We hope very soon viewers  will get chance to witness Sonam in never before avatar.
Bollywood actress Sonam Kapoor who recently tied knot with her beau Anand Ahuja, she made her second appearance on Cannes red carpet stunning everyone once again.
She was looking stunning and hot wearing beige off shoulder gown with a yellow tulle, her dress was designed by Vera Wang well known designer of USA.
As soon as she made her entry on red carpet all eyes were on her as she was looking elegant.
She was looking Perfect in summer collection, with a messy bun hairstyle adding makeup tone on eye lashes contrasting to her dress with a pair of Chopard earring adding charm to her look.
Sonam has once again proved about her dressing sense, that no one can beat her when it comes to dressing in Bollywood.
Her latest click from Cannes was shared
by Anand Ahuja and Rhea Kapoor on social media for her fans and followers.
It's for sure after watching her looks on Cannes red carpet will make her fans crazy.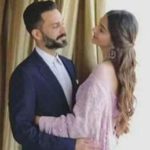 Well Bollywood royal wedding  is over, yes we are talking about Sonam Kapoor and Anand Abuja who recently got married.
Well number of fans of Sonam Kapoor were waiting for new clicks of newely couple, and it seems wait is over, as recently Mr. Ahuja shared an image in which they are seen huging each other ist they looking beautiful.
By going through latest picture you can feel the bliss and happiness of couple.
Recently Anand Abuja took social platform and shared latest picture of himself and Sonam with caption "It's wonderful to be loved. It's profound to be understood".
You can go through one more picture in which you can witness couple standing putting arms around each other, in this image couple is looking elegant in purple Sari and suit.
Well for sure after going through latest image her fans will feel happy and excited.
Well few days back we came across news of Sonam Kapoor getting married with her beau Anand Ahuja, in which it was disclosed they will tie knot in striking location in Switzerland, however latest development disclose they will tie knot in Mumbai and it will take place between 7th  and 10th  May.
According to latest report they have changed wedding venue due to some complicated reason, as making arrangement of travel and stay of around 150 persons was actually not working out, therefore they have now decided to make arrangement of stay of their family and friends in 5 star hotel in Mumbai.
Before it was reported that wedding has been postponed due to sudden death of Sridevi, well it seems Boney has given green signal to Anil Kapoor to proceed with marriage of his daughter Soonam Kapoor.
Keep visiting the space for further developments.
Some of may not be aware of fact that Sonam Kapoor was likely to tie knot with his beau Anand Ahuja, however due to sudden death of Sridevi, marriage was postponed.
According to latest reports actress is all set to tie knot with Anand in two days ceremony that will take place on 11th and 12th May 2018 in Geneva.
According to sources Kapoor family has booked venue for the marriage, on the other hand huge booking of airways is underway.
According to sources wedding planner has disclosed that Sangeet and Mehndi ceremony will be followed by traditional wedding.
Well before there was buzz doing around the corner that Kapoor family was looking forward to commence wedding in Jaipur and Udaipur, however later venue was shifted to Geneva.
According to sources Geneva was zeroed by actress during her visit to Geneva for endorsement of product.
The wedding ceremony will be headed by engagement ceremony which will be attended by family's, however the venue is not decided.
Few days back we came across news that Sonam Kapoor is all set to share screen with newcomer Dulquer Salmaan in upcoming project "Zoya Factor", however viewers were waiting for the first look of flick, now wait seems to be over as recently maker of flick revealed first look of flick, in which you can witness both the lead stars.
Going through first look you will witness both stars holding copy of novel with name of both the characters.
According to sources upcoming project Zoya Factor is story of girl named Zoya Singh Solanki who is an Rajput girl, who works as a executive in agency which work for advertisement, as story progress she come in contact with India Cricket through her job and ends up becoming a mascot for Indian Cricket team during 2010 World Cup. Story showcase how Zoya falls in love with Indian skipper Nikhil Khoda who is not superstitious by nature.
Movie is being directed by Abhishek Sharma produced by Fox Star Studios in collaboration with Adlabs Films.
Movie is all set to release next year on 5th April.
As we all are well aware of Akshay Kumar easing a role of Padman, but we didn't knew what kind of character Sonam Kapoor is going to ease.
Well it will be surprising to know that Sonam is going to ease a character of social activist and Tabla Player.
Recently actress came forward and disclosed about her character in Padman, she shared her picture on social media Instagram with caption "Every film gives me an opportunity to learn something new #Padman @padmanthefilm @akshaykumar @radhikaofficial.
According to sources actress took special tranining how to play tabla from Mukta Madan Raste a well known tabla player and percussionist.
While interacting with media actress disclosed "I am feeling happy every time I do any new project, I get to learn new things, this is why I love my profession".
In Padman Akshay will sharing screen with Radhika and Sonam. Movie is all set to release on 9th February.
From past few months' relationship between Sonam Kapoor and Anand Ahuja is being highlighted, however actress has put her fans in speculation and confusion, as she has neither denied or accepted the relationship creating confusion among her fans.
Recently speculation of ongoing relationship is becoming talk of the town due to their latest vacations pictures that got highlighted, according to report recently Sonam and Anand take off to London to celebrate New Year. Recently they shared most delightful images online. In latest image you can watch actor in stunning black outfit both are looking stunning and adorable.
On a professional front actress is all set with Twinkle Khanna's maiden production "PadMan" which is based on real time story in this flick she is sharing screen with Akshay Kumar and Radhika Apte in important roles.
We wish Sonam Happy New Year.
.
Most awaited bollywood project Veer Di Wedding starring Sonam Kapoor and Karenna Kapoor Khan's first look is out, first look of flick is creating excitement among viewers and fans.
Recently crew members of Veer Di Wedding released first look of flick online, going through first look you will get first glimpses of lady gang, you can watch both the stars in vibrant costumes and colors, it will absolutely capture you heart and you will feel excited.
According to reports first look of flick has take online by storm making viewers and fans excited and they have already started praising Veer Di Wedding.
According to reports shooting of flick is still on, recently first schedule of shooting has been wrapped which took place in Delhi.
Veer Di Wedding is presented by Ekta Kapoor's banner Balaji Motion Pictures collaborating with Anil Kapoor Film & Communication Network production.
advertisement
Subscribe Newsletter
Recent Posts
Tags