John Get Injured Performing Stunt
Recently Bollywood actor John Abraham got injured while performing action sequence on sets of his upcoming flick "Pagalpanti".
According to sources while performing stunt actor received arm injury, he got injured due to time gape. Immediately doctor was called after check up doctor advised actor to stay away from action for 20 days.
According to sources movie is almost on verge of wrap only ten percent of shoot is left. Well due to actors injury shooting of movie might get delayed.
According to source filmmaker disclosed we will confirming wrapping of flick once actor get recover and complete last schedule of shooting.
In upcoming project John is sharing screen space with Anil Kapoor, Arshad Warsi, Pulkit Samrat, Ileana D'Cruz and Kriti Kharbanda.
Actor is also busy with second series of his blockbuster project Satyameva Jayate.
Pagalpanti is all set to release on 22nd November.
Related Posts
Good news for fans of John Abraham who were waiting for poster of actors most awaited project titled "Mumbai Saga".
Well its going to be good news as recently John took social sharing platform Instagram and shared first poster of upcoming project Mumbai Saga in poster you can witness a unique factor made of guns with smoke coming out of guns. Well going through poster it seems upcoming project is going to be gangster drama.
Other co-stars of upcoming project are Emraan Hashmi, Jackie Shroff, Suniel Shetty, Pratiek Babar, Gulshan Grover along with Amole Gupte and Rohit Roy.
Upcoming project is going to be produced in collaboration with Sanjay Gupta and Bhushan Kumars production house White Feather Films and T-series.
Movie will showcase story how Bombay Became Mumbai set in back drops of 80's and 90's era
According to sources upcoming project will release on 19th June next year.
Few days back we came across news that John starrer  Batla House stuck in legal trouble when two accused of Batla House moved stay petition in Delhi High Court, petition was moved to stay release. However movie gets relief from Court.
According to sources taking into consideration that court might stay release of flick, maker of flick postponed special screening which was about to be done at 3 pm yesterday. News of special screening postpone was confirmed by co-producer of project Vinod Bhanushali he said on our lawyers advise we postponed special screening of Batla House.
According to sources in evening maker of flick received clearance certificate from Delhi High Court, according to sources after going through special screening Delhi High Court passed verdict.
According to sources filmmaker rescheduled special screening after receiving clearance from Court.
Now movie will release on his prescribed schedule which is 15th August.
Well after going through above news fans and viewers will be feeling excited to watch movie on 15th August.

Recently John Abraham's most anticipated project "Batla House" enter into a legal trouble, as main accuse has moved petition in Delhi High Court last week seeking stay on upcoming project "Batla House which is based on real incident adding releasing of movie will affect his trail that is pending in lower court.
According to sources after going through petition Justice Vibhu Bakhru has ordered special screening of flick in Delhi High Court today to establish will upcoming project "Batla House" will have any effect on trial of accused named Ariz Khan alias Junaid.
Other accused Shahzad Ahmed who is sentenced life imprisonment is also a part of petition, has asked court to stay movie release as it would affect his appeal and trail In the case connection to serial bomb blast that took place in 13th September 2008 in Delhi.
According to petitioner Ariz Khan upcoming project that is all stet to release on 15th August,  showcase link between bomb blast and encounter which will somehow affect his trail.
Well we think we have to wait till court go through special screening today, will it affect upcoming project or not.
Well when it comes to power pack action one name come in mind is John Abraham. According to sources actor-producer John is all set with another action thriller titled "Attack, upcoming fictional project is based on true event set against hostage crises that brought nation to its knees.
Recently actor confirmed making of "Attack" with caption "..a hostage crisis..a Nation on its knees..it's a race against time !! ATTACK- an action thriller inspired by true events, directed by debutant @LakshyaRajAnand. Shoot begins Dec'19. Really excited! @KytaProductions @johnabrahament @ajay0701 #DheerajWadhwan.
On work front actor is right now busy with his most anticipated and awaited project based on true event project "Batla House.
According to sources upcoming action flick will go on floor by the mid of December 2019.
Guys get ready to witness your favorite star in action in yet another real event based project.

Bollywood most happening stars John Abraham and Emraan Hashmi are going to collaborate with Sanjay Gupta's next gangster drama project.
Well before Sanjay Gupta has created thriller projects like Kaante, Shootout at Lokhandwala and Shootout at Wadala.
Sanjay is going to collaborate with John third time.
According to sources news was confirmed by filmmaker on News channel adding "I am feeling excited to collaborate with John third time, on other hand collaborating with Emraan is going to be dream come true. After gap of six years I 'am coming back with gangster drama which is my forte.
According to reports upcoming gangster drama is set in 80's and 90's when Bombay name was changed to Mumbai, movie will showcase number of time changing events.
According to source in upcoming project you will watch one actor easing role of cop and another as gangster, however its not clear who will playing which role.
Upcoming project will go on floor by mid of July and release next year.
Well from past few days there were reports doing around the corner that maker of Sarfarosh Sequel has signed John Abraham in lead for his upcoming sequel.
According to latest development recently filmmaker John Mathew Matthan came forward and disclosed things did not went accordingly therefore John is not going to be part of Sarfrosh sequel.
Well John was looking forward to act and co-produce Sarfarosh sequel however latest reports suggest he is not going to be part of sequel.
Well news of John acting and co-producing sequel came into light when in one of his interview with media he disclosed that he along with John Mathew Matthan is going to co-produce sequel and right now they are working on script and movie will go floor next year.
Well recently while interacting with media John Mathew disclosed I never announced I am  working with John Abraham and I have also not confirmed about star cast, I don't understand how this news came in to light. Well I want to make it clear nothing has been finalized yet I am still working on script once script get finish I will start searching for star-cast after that I will officially make announcement of my upcoming project.
On work front John is right now busy with his upcoming project "Batla House" and "Pagalpanti".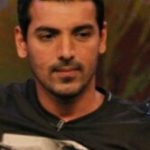 Guys get ready to witness Bollywood dashing actor John Abraham once again easing role of tough Cop in upcoming project "Officer Khan".
According to sources actor is all set with Cop drama "Officer Khan", in this flick he is playing role of tough cop.
According to sources upcoming project is inspired from thriller noval "Morya Re" and some reports suggest movie is based on common man who becomes cop and fight back evils and work for betterment of society.
Before we watched John easing role of Cop in number of flicks, recently we watched actor easing a role of cop in latest flick "Satyamev Jayate" for the same  he received great applause from viewers and critics for outstanding performance.
Well if news is believed to be true than its going to be delight for fans to watch John once again in Cop avatar.
Bollywood hunk John Abrahim who is great lover of soccer and owns football team "NorthEast united FC is all set with his dream project 1911.
According to sources upcoming project will be based on life story of Mohun Bagan captain " Shibdas Bhaduri" who made country proud in 1911 by wining IFA Shield Final in which Mohun Bagan team in guidance of Bhaduri manage to defeat East Yorkshire regiment taking title and become first Asian Team to win IFA match.
According to sources upcoming project is going to be directed Bollywoods versatile filmmaker Nikkhi Advani and produced by John Abraham's home production JA Entertainment in collaboration with Bushan Kumar's T-Series and Emmay Entertainment.
According to sources John Abraham's upcoming project 1911 will go floor by the end of next year, shooting of flick will commence in Kolkata. Movie will release by the mid of 2020.

Good news for John Abraham fans who were eagerly waiting for the news of "Batla House" going on floor, well shooting of flick has begun, same was confirmed by maker on social media.
Recently we watched John Abraham in "Satyameva Jayete" actor received positive reviews from critics and viewers for outstanding performance.
Once again John Abrahim is collaborating with Nikhil Advani and Bhushan Kumar for upcoming project "Batla House" before they collaborated for "Satyameva Jayate:.
Upcoming project is based on real time story which will showcase story on encounter that took place in Batla house in Jamia Nagar Delhi on 19th September 2008. It was well planed terrorist attack which was conducted by terrorist group mujahidin.
According to sources shooting of flick will commence in Delhi, Mumbai and Nepal.
Movie is all set to release on 15th August next year.
As we all know recently two bollywood multi-starrer projects got released on 15th August, one is Akshay Kumar's Gold and John Abraham starrer "Satyamev Jayate", and there was buzz doing the corner that John starrer "Satyameva Jayate" might have some adverse due to Akshay Kumar starrer "Gold",however  it not happened and "Satyamev Jayate" manage to collect 20 crore on opening day.
Recently Bollywood trade analyst Taran Adarsh took social media and Tweeted "SatyamevaJayate springs a BIG SURPRISE… Plexes are good, but single screens are ROCKING… Wed 20.52 cr. India biz.
Bushan kumar while interacting with media disclosed "He is feeling super excited that SatyamevaJayate has managed to collect huge collection on day one.
While interacting with Nikhil Advani disclosed "15th August was wonderful day for entire team of SatyamevaJayate, what a great opening we had, it all happened due to hard work of entire team, John and Manoj  has done full justice to there character's  which they portrayed in SatyamevaJayate.
advertisement
Subscribe Newsletter
Recent Posts
Tags