kangana And Rajkumar Roa In Crazy Mood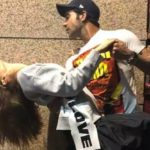 As we all are waiting eagerly for the release of Kangana Ranaut and Rajkumar Rao's most awaited flick "Mental Hai Kya".Well good news for viewers is, recently crew members of flick wrapped up shooting.
According to latest report both stars of Mental Hai Kya was witnessed in crazy mood as they were witnessed giving romantic pose on streets of London.
Recently romantic pick of both the stars was shared on social media Instagram on Kangana's social account with caption "Going #Mental on streets of London #Kangana Ranaut & @rajkumar_rao paint the town crazy at the wrap party up for the #Mental hai Kya shooting schedule in London @balajimotionpicture @ektaravikapoor @pkovelmudi #ShootDiaries @Karmamediaent. "
Best thing about upcoming project is that both the stars are sharing screen together second time, before they shared screen space in blockbuster hit "Queen".
However releasing date of flick is quite far, and  movie is already started making place in hearts of fans and viewers.
Other co-stars of this flick are Amyra Dastur and Satish Kaushik. Movie is all set to release on February 22nd 2019.
Related Posts
Manikarnika fame Kangana Ranaut was once again in news for her upcoming project "Mental Hai Kya", well there were reports doing around the corner that actress urged filmmaker to release her solo poster before the release of "Mental Hai Kya".
Well co-producer of flick Shailesh R Singh took social platform tweeter and tweeted, putting buzz in rest by adding "News of Kangana pressuring us to release her solo poster is baseless, I don't understand how these kinds of reports develop, I am surprised we don't have any information of actress seeking for solo poster, person who is not part of flick creating such a kind of news.
Well it seems after going through tweet of Shailesh R Singh, news come to rest.
In upcoming project actress is sharing screen space with RajKummar Rao, Jimmy Shergill and Amyra Dastur.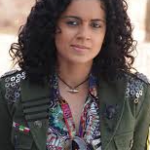 Some of us may not be aware of fact that Kangana is feeling hurt these days due to Bollywood celebrities not making up for special screening of her recent historical project Manikarnika : The Queen Of Jhansi.
According to sources actress is feeling upset as whenever any Bollywood celebrities came forward and asked her to watch screening she never backed out.
Recently she said she is not going to spare any one for conspiring  up against her by not watching screening of Manikarnika.
While interacting with media actress said before she used to talk about sexism, and nepotism in Bollywood cinema, but this time he will expose celebrities.
Well going through above report it seems actress is not happy with Bollywood industry for neglecting her during the screening of Manikarnika.
We hope her problem with celebrities get sorted out soon.

Recently lawyer filed petition in Bombay High Court seeking stay on release of Kangana Ranauts most awaited project Manikarnika – The Queen of Jhansi for showing wrongful contents which do not contain historical facts.
According to sources Advocate Vivek Tambe who in his petition claimed that he belongs to fifth generation of Rani Laxmibai's family, and therefore taking into consideration that Manikarnika project is showcasing wrongful historical facts. Giving example Advocate disclosed maker of flick showing wrong birth date of Rani Laxmibai where as she was born in 1835 and in biopic it showcase her birth in 1828.
According to sources CBFC counsel Advait Sethna appeared in front of Chief Justice N H Patil and Justice N M Jamdar today stating that examining committee has gone through all facts before giving noc to project. On the other hand movie contain disclaimer which states movie is it not intend to hurt sentiments of any person and community.
According to sources after going through all facts produced by filmmaker and CBFC Court desposed of case refusing interim relief.
Bollywood filmmaker Aanand L Rai who recently had a set back when his SRK starer Zero got flopped at box-office going to collaborate with Kangana again.
According to latest development filmmaker is right now looking forward to start new beginning with third instalment of Tanu Weds Manu with Manikarnika star Kangana Ranaut.
Recently interacting with media actress said she is feeling upset that she did not watched Ananad L Rai's Zero. However filmmaker has promised that he will watch first show of Manikarnika and he is also going to announce making of Tanu Weds Manu 3, well some of us may not be aware of fact that both Kangana and filmmaker was in tussel during the make of Tanu Weds Manu Returns.
Well if news of making of third instalment is believed to be true than its going to be delight for their fans to watch their collaboration once again.
As we all know release date of Kangana Ranaut's most awaited project Manikarnika is approaching near, actress visited Shakti Temple situated in Himachal Pradesh for taking blessings.
According to sources Kangana visited Temple along with her family, Temple she visited is ancestral temple.
According to latest development Kangana is looking forward to conduct special screening of Manikarnika for Indian President Ram Nath Kovind.
While interacting with media actress said working on life of Rani Laxmibai is dream come true, I thanks entire team for dedication and hard work that we are able to complete project in prescribed time, despite facing up and down during making of Manikarnika. She further said she is feeling happy that she has wrapped up her dream project. I hope viewers will appreciate hard work of Manikarnika team.
Manikarnika is all set to hit theaters on 25th January 2019.

Well everyone is waiting for kangana Ranauat's upcoming project Manikarnika: The Queen of Jhansi, which is all set to release on 25th January 2019.
Good news for viewers who were eagerly waiting for the release of first full-fledged trailer of flick, recently maker of flick came forward and announced release date of trailer, which is going to be December 18.
Apart from filmmaker Bollywood trade analyst Taran Adarsh took social platform twitter and tweeted sharing image of Kangana with caption "Trailer of #Manikarnika – The Queen Of Jhansi to be launched on 18 Dec 2018… Zee Studios to also release the film in #Tamil and #Telugu on 25 Jan 2019."
However shoot of movie got stuck into number of time, due to which speculation started building  that movie might get delay, however due to Kanganas hard work and patience made movie wrapped up in prescribed date.
So guys it's going to be great news for you as movie is releasing on prescribed date, and first trailer will be releasing on 18 December.
Nick Powell (Hollywood Action Director) praise Kangana Ranaut for her dedication toward her most awaited project "Manikarnika :The Queen Of Jhansi".
While interacting with media Nick disclosed taking into consideration of biopic he created stunt scenes on backdrop of 19th century, I have tried to look everything real from costumes, action to artillery.
Nick further said "In my entire life I have not seen such a dedicated actress, who left no stone unturned for getting perfection in sword fighting and horse riding. She did not took help of any body double, she has done all stunts of her own.
Nick has done action direction for Hollywood blockbuster flicks Gladiator and Sumurai.
While concluding his interaction with media Nick disclosed "He is feeling lucky that he got chance to work with such daring actress, who can break all limits getting into character.

Good news for Kangana's fans who were eagerly waiting for the wrap up of her upcoming project "Manikarnika : The Queen Jhansi".
Well few days back there was buzz doing around the corner that project might get delay due to Sonu Sood and Swati Semwa quitting project at last moment when Kangana took charge of production, However Kangana's fast decision on replacing Sonu and Swati has helped project to get wrapped up in prescribed time.
According to sources  crew members of flick along with Kangana was seen in happy moment on set as movie got wrapped up in time, for the same all the crew members including stars posed in a group photo which was clicked on sets of flick.
News of wrapping up of Manikarnika :The Queen Of Jhansi was shared by co-producer of Zee Studios on social platform twitter.
Upcoming project is all set to release on 25th January 2019.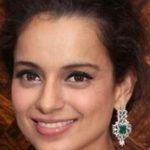 Few day back we came across news in which Kangana joined #MeToo moment and accused Vikas Bahl for sexual harassment. In her statement she said when ever she met Vikas during the shoot of queen he used to hug her tight and tuck his face in her neck hold her tight and breathing in the smell of her hair. It was used to be embarrassing moments each time he hugged me. He is not good guy, he should be punished for his ill-suited behavior
Recently actress came forward and raised question on Hrithik Roshan adding film industry should avoid working with such kind of actors. Who don't respect there wives, rather spend time with girlfriends.
Recently while interacting with media actress was asked about her views regarding Vikas Bahl's home production Phantom Films getting dissolved, she replied what is happening with vikas is right, he deserve it. I want to tell their are number of people in industry who take women granted and keep on sexually harassing and asulting them. I want everyone woman to come forward and open up about people who are harassing them in work places.
Well we all know Kangana and Hrithik are going through tussle from past few years due to their relationship.
Yesterday Kangana Ranauat released trailer of Manikarnika : The Queen Of Jhansi, well teaser is created in such a way that it gives glimpses of actress different avatar as warrior and mother.
Well Manikarnika : The Queen of Jhansi is a tribute to Rani Lakshmibai, who fought against East India Company, she was first Indian freedom fighter fight against British's .
While going through teaser you will witness important facts of Rani Lakshmibai, as how she came forward and fought with East India Company in 1857, which was first major revolution that took place in India against East India Company.
Going through teaser you will not stop yourself for praising Kangana for justifying role of Rani Lakshmibai.
It was believed that due to Sonu and Swati quitting project midway movie might get delayed, however sources disclosed as replacement is done in prescribed time therefore movie will not get delay and release on prescribed date 25th January 2019.
advertisement
Subscribe Newsletter
Recent Posts
Tags