Kangana Ranauat's Simran Trailer Is Out
Recently maker of Simran released official trailer of flick leaving all the controversies behind. In this flick Kangana is easing a lead role.
Going through trailer you will get impact of Queen, as her character is somehow resembled to her character which she eased in Queen.
In Simran Kangana is easing a character of Gujarati Kleptomaniac girl who have an addiction of gambling.
While interacting with media during the trailer release event she disclosed "Any how Simran was supposed to be Punjabi girl, however filmmaker was familiar with Gujarati culture, therefore he always wanted Simran to be Gujarati.
Simran showcase story of a young woman whose imbition of becoming rich lead her to crime.
Well going through trailer you will have nick about Simran's character
So guys it's going to be delight to take sneak peak of Simran by watching trailer.
Movie is all set to release on 15th September.
Related Posts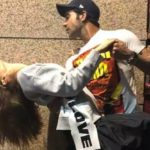 As we all are waiting eagerly for the release of Kangana Ranaut and Rajkumar Rao's most awaited flick "Mental Hai Kya".Well good news for viewers is, recently crew members of flick wrapped up shooting.
According to latest report both stars of Mental Hai Kya was witnessed in crazy mood as they were witnessed giving romantic pose on streets of London.
Recently romantic pick of both the stars was shared on social media Instagram on Kangana's social account with caption "Going #Mental on streets of London #Kangana Ranaut & @rajkumar_rao paint the town crazy at the wrap party up for the #Mental hai Kya shooting schedule in London @balajimotionpicture @ektaravikapoor @pkovelmudi #ShootDiaries @Karmamediaent. "
Best thing about upcoming project is that both the stars are sharing screen together second time, before they shared screen space in blockbuster hit "Queen".
However releasing date of flick is quite far, and  movie is already started making place in hearts of fans and viewers.
Other co-stars of this flick are Amyra Dastur and Satish Kaushik. Movie is all set to release on February 22nd 2019.

Well from very first day news of Kangana and RajKumar Rao collaborating once again for Mental physiological thriller came into light fans were  eagerly waiting for the release date of flick. Well it seems wait is now over as recently both the stars shared latest video on social media Twitter in which they are seen announcing release date.
In video you can witness Kangana wearing red Anarkali dress tapping on shoulder of Rajkumar  and asking each other "Mental Hai Kya?" and further they reveal release date adding movie will release on 22 February.
Before we watched Rao and Kangana in "Queen" they both received great applause for their outstanding performance from viewers and critics.
Other co-stars of Mental are Amyra Dastur and movie is directed by Prakash Kovelamudi. Movie is all set to release on 22nd February 2019, as revealed by Kangana and Rao.
Few days back we came across news that Kangana has declined offer of Iranian filmmaker for his upcoming project " Beyond The Clouds.
Recently filmmaker Majidi Majidi came forward and disclosed " Yes I approached Kangana and Deepika. However things didn't went accordingly and therefore I signed Malavika Mohanan.
Maker disclosed I came across news that Kangana is not feeling keen to work with me, therefore she rejected my offer, this was not true fact, for the same we tried to go through truth and we were surprised that it was not Kangana, it was her office that published this news of actress declining my offer.
News which was published was " Kangana declined Majidi's offer as she found her character "Submissive". Well it was all rubbish as this was not the reason, well I don't want to go in depth. But I want to make clear she is great actress I hope in future we will work together added Majidi.
Well talking about Deepika Majidi disclosed she was keen to work with me but due to her previous commitment she was unable to provide date's , as she was working for big project.
Kangana is all set to enter next level by making her entry on global stage with Michelle Obama and Oprah Winfrey.
According to sources coming August you will witness Kangana representing India in Ghandhi Goes Global Summit which will take place in New Jersey, best thing about this summit is that actress is going to share stage with world famous personalities Michelle Obama and Oprah Winfrey.
According to report upcoming Summit will focus on spreading Philosophy of Gandhi worldwide in form of interactive activities, educational programmes, motivational talks and cultural events.
According to sources upcoming Summit will be held on 18th and 19th August.
While interacting with media actress disclosed " I have always dreamt about making impact on society by contributing my thoughts, on the other hand sharing stage with world's well known personalities is dream come true. I am great fan of Oprah she is my idol. Well I will be preparing for my upcoming speech so that I can send right message to everyone.
Bollywood hit pair coming together again, yes we are talking about Kangana and Rajkummar Rao collaborating again for upcoming project "Mental Hai Kya".
Before we have watched Kangana and Rajkumar outstanding chemistry in "Queen" back in 2014.
According to report confirmation of both the star sharing screen together came into light when they both were spotted coming out of restaurant in Mumbai on Monday night. And recently maker of flick Ekta Kapoor came forward and confirmed the news while revealing first look of flick. She took social platform twitter shared first look with caption ""It's time to bring out the crazy in you.. Because Sanity is overrated! Here's the first look of #MentalHaiKya starring #KanganaRanaut and @RajkummarRao. @balajimotionpic
According to sources upcoming project "Mental Hai Kya" is a psychological thriller in this flick Kanagan is easing a role of girl who is a murderer going through mental illness.
Well its going to be great news of Kangana and Rao's fans to watch them together again after a long gap.
Right now actress is busy shooting for her most anticipated and awaited project "Manikarnika", after completing this project she will star shooting for Mental Hai Kya.
Well every girl has a wish that she get married with most beautiful person on this planet, some may be looking for tall, dark handsome and some may be looking for a person who have great humor, however bollywood queen has a dream to marry with a patriotic person.
While interacting with media Kangana discussed about what kind of person she will like to date or marry and how patriotic she is she disclosed "I have been like this always. I love my country, my motherland, I think only one person can attract me who has patriotism in his blood, while laughing she disclosed "If he doesn't have love toward motherland, I don't believe he will be worth for me. When it comes to country, I love it very much, you can say I am Indian by cast, I don't believe in cast.
Well going through above article, it seems Kangana is true patriotic.
On work front actress is right now working on last schedule of her upcoming project Manikarnika.
It was surprising moment for Kangana when Maharani of Bikaner Padma Kumari gave surprise visit to Kangana.
It all happened during the shoot of Kangana's upcoming project "The Queen Of Jhansi". According to sources Maharani of Bikaner is great fan of actress, she became her fans after watching her outstanding performance in Queen.
According to report actress was so excited to see Maharani on sets that she immediately clicked a picture with her.
Recently her flick stuck in controversy when Sarva Brahman group raised objection against the outfit and script of flick adding that its hearting sentiments of Brahmin community.
Later maker of flick came forward and interacted with media and clarified the doubts, after which Sarva Brahman gave green signal to flick, and shooting resumed.
Well going through above news it seems Kangana not only have huge fan following but she has great fan following.
From past few years we are watching number of flicks getting into controversy due to script or contents, you can say controversy has become common issue that is arising making flicks problematic.
Few days back we went through number of controversies that took place with "Padmaavat", this time its Kangana Ranuat's Manikarnika's turn.
According to latest report maker of Kangana's Manikarnika has received a letter from Brahmin outfit stating movie has objectionable contents, in letter they have threatened maker that they will hinder shooting stating movie has an offensive depiction of Rani Laxmibai a Brahmin.
According to report founder president of Sarva Brahmin Mahasabha Mr. Suresh Mishra has come forward and disclosed that film is showcasing wrongful content which show Rani having affair with Englishman. He further disclosed that some of contents are picked from a book written on Rani by London based author Jaishree Misra, same book has been banned by UP government, therefore we have objection as why maker of flick has taken content from a book which is banned.
While concluding his interaction with media Misra disclosed we have sent letter to maker of flick last month, but we have not received any response for the same.
Well going through above news it seems maker of flick has hurt sentiments of Brahmin community.
Bollywood queen Kangana is all set to romance Vicky Kaushal in upcoming project "Mental".
We have watched Vicky Kaushal in Masaan and opposite Alia Bhatt, this time he is going to share screen space with Kangana.
According to sources in upcoming project you will watch Kangana in dark role, Vicky will be seen playing her opponent.
According to report after going through script Vicky immediately gave node to project, according to sources maker of flick was looking forward for a actor who can give tough fight to main character and he ended up signing Vicky for the same.
Movie will go on floor in August, according to report actor has been given fifteen days time to gain some extra weight for justifying his character.
According to report final schedule of flick will be revealed in coming days and detail of flick will also be revealed.
Kangana Ranaut has owned success due to her hard slog and she has managed to become fruitful actress due to her immense willpower and grit.
She has made place in heart of viewers due to her focus on acting and hard work, and she has taught her fans and viewers how to fight difficult time.
As we all are aware of the fact that she is right now busy with shooting of most awaited flick Manikarnika – The Queen of Jhansi, keeping in mind giving justice to her character she is leaving no stone unturned, for this she did horse riding, sword fighting and she has got injured number of time performing fight sequences.
Right now she is shooting in remote location situated in Bikaner fighting cold winter in rainy weather. Kangana and her crew members are working nonstop keeping all the difficulties aside focusing on a time schedule to finish shooting in time.
Well you can say a brave onscreen Queen is going to portray a real brave queen.
advertisement
Subscribe Newsletter
Recent Posts
Tags