Kapil Is Not Doing Well
From past two weeks we have not witnessed comedy show "The Kapil Sharma Show" however some consider show went off air due to low TRP , however reports reveles show went off air due to Kapil's ill health.
Recently comedian came forward and revealed that he has taken few days break so that he can get rid of his illness.
Recently in leading daily news paper disclosed "We've taken a temporary break. Because my body and mind needed to repair and heal." He further revealed to the paper that he is currently at an ayurvedic clinic for complete detoxification of his body. And while doctors have asked Kapil to be admitted for 40 days, he is NOT willing to stay for that long…
Actor also disclosed that its nothing to worry I am fine " Main thoda phisal gaya tha. Ab sambhal gaya hoon. Health issues hain. I am taking treatment from Ayurveda clinic for complete detoxification. They are saying I have to stay here for 40 days. But I won't be able to stay that long. I have a film coming up in November."
Actor further disclosed he got ill due to work overload, as he was doing up and down frequently due to his upcoming film and my ongoing comedy show, I was not eating and sleeping in time, due to which I had reverse effect on my health, I ask my fans to pray for me, so that I come a back strongly and give my hundered percent.
Related Posts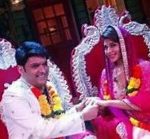 Recently Stand-up comedian turned Bollywood actor Kapil Sharma tied knot with her girlfriend Ginni Chatrath on 12th and 13th December. Marriage was solomolized in Hindu and Sikh tradition  On 12th marriage was solomolized with Hindu rituals and on 13th marriage was solomolized with Sikh rituals.
According to sources Kapils close friends Bharti Sharma and Krushna Abhishek along with other celebrities attended  wedding event.
Recently Kapil Sharma took social platform and shared latest clicks of wedding with his fans, which are making fans crazy.
According to sources Punjabi singing sensation Gurdass Maan made event interesting and exciting with outstanding performance.
According to sources yesterday actor hosted reception party in which Daler Mehndi  performed, according to sources Mr. Sharna is going to host second reception party on 24 December in Mumbai for Bollywood celebrities.
We wish Kapil and Ginni happy married life.
Standup Comedian turned actor-producer Kapil Sharma who was away from camera from past few months due to ill health, is all set to make his comeback with "The Kapil Sharma Show" is all set to tie knot with his girlfriend Ginni Chatrath.
According to latest reports recently Mr. Sharma  took social platform Instagram for confirming news of his wedding with Ginni Chatrath actor wrote he is going to tie knot with Ginni on 12th December and reception party will be held in Mumbai.
According to sources Mr.Sharma and Ginni first met  13 years back when Mr. Sharma visited Ginni's collage got audition.
Well we hope after going through conformation of  Sharma's wedding his fans will be feeling delight to watch Kapil and Ginni becoming couple.
We congratulate both of them for their upcoming historical event, and we wish good luck to Kapil Sharma for returning back to work.

Well recently we shared good news for Kapil Sharma's fan club, that actor is all set to make his comeback with refresh comedy show very soon on Sony TV, after a long period. He was away from camera due to ill health and financial setback.
Well there is another good news for Kapil Sharma's fan club, yes you heard right its good news, as actor is looking forward to tie knot with Ginni Chatrath, with whom he is in relationship from past few years.
According to sources Kapil will tie knot with Ginni in Amritsar in December 2018 for the same he has finalized venue in Amritsar, after wedding he is going to organize reception party for his family, friends and colleagues in Mumbai.
Well some of us may not be aware of fact that in March 2017 Mr. Sharma came forward and shared a photograph along Ginni Chatrath on social media confirming relationship officially.
Well if news is believed to be true than it's going to be delight for his fans to witness actors getting back on track both on professional and personal front.

Stand up comedian turned bollywood actor-producer Kapil Sharma who was away from silver screen from past few months due to fight with crew members of Comedy show, is all set to make his comeback.
Well from past few months there were reports doing around the corner that due to rough phase Kapil is not doing well, he is going through mental stress for the same he is staying with his family putting work aside, and it was also believed that it all happened when his project "Firangi" got flopped at box-office.
However recently Kapil came forward and confirmed his comeback, for the same actor took social media twitter and disclosed "Guys get ready for my brand new season of "The Kapil Sharma Show" which will aired on Sony TV very soon. Well we believe actor will be back with old crew members.
Well we hope after going through tweet of Kapil Sharma returning back with "The Kapil Sharma Show" his fans will be feeling eager to watch him on silver screen.

Well we all Know Kapil Sharma and Sunil Grover entered into conflict when they both had mid-air fight while returning back from Australia in 2017, it was said that Kapil misbehaved with actor and entire team, we came across number of news which suggested that both kapil and Sunil has become bitter enemies they don't like seeing each other face, however recent Tweet of Kapil has surprised fans, who believed they will not become friend again, in recent tweet Sharma came forward and wished great success for Sunil's upcoming project "Pataakha"he wrote Congratulations n best wishes Paji @WhoSunilGrover n my Favourite @VishalBhardwaj sir n @rekha_bhardwaj Mam n the whole team of #Pataakha lots of love n best wishes.
According to sources soon after Sharma's tweet Sunil took social platform twitter and thanked Kapil and wished him good luck for his upcoming production "Son Of Manjit", Sunil wrote Thank you bha ji for your wishes. All the best for 'Son of Manjit Singh'.
However Mr. Sharma made his comeback with Family Time with Kapil, but due to lack of Sunil Grover and other members of The Kapil Sharma Show, show got flopped and got out of air
Well if we believe Kapil and Sunil rivalry is over, than its going to be delight for their fans who were looking forward to watch they together on silver screen.
Good news for fans comedian turned actor producer Kapil Sharma who were eagerly waiting for his comeback, well Kapil is all set to make his comeback with Shilpa Shinde, Krushna Abhishek and Bharati Singh.
Well we all know Kapil was away from camera due to ill health, as he was going through depression due to sudden financial setback, however he made his comeback few months back with comedy project, but due to health problem show was not able to get TRP and show got canceled, as he was not in condition to work.
According to sources Kapil is back in figure, and he is looking forward to come with bang.
While interacting with media Kapil disclosed "Guys get ready to witness laughter riot with my new season of "The Kapil Sharma Show" he also disclosed that he was away from work and was with him family and friends spending some time getting back in shape fighting depression.
On work front actor is all set with his next production "Son Of Manjeet Singh" which will showcase bounding between son and father, movie is all set to release on 18th August this year.
Stand-up comedian turned Bollywood actor Kapil Sharma is going to make his comeback with his upcoming Punjabi production venture "Son Of Manjeet Singh".
Recently actor confirmed his comeback on social media Twitter actor tweeted "I am coming up with story which will showcase father son bounding titled Son Of Manjeet Singh and it will release on 12th October this year".
Well from past few months actor was going through  depression due to personal reason, he was away from limelight, well if we go by latest reports it suggest actor is looking forward to change his avatar , for the same he will engage special trainer who will help actor to get fit and back on track.
Well if news of Kapil Sharma's come back is believed to be true than its going to be delight for his fans.
We wish good luck to actor for his comeback with Punjabi flick.
Kapil Sharma's latest project got fatal at the box office making distributers cry, yes we are talking about "Firangi" getting flop at the box office.
According to reports owner of Gaiety-Galaxy came forward and disclosed, "I am having a long weekend from Friday morning and you know what I mean."  Itna nasha hai is aadmi ko Bollywood ka that he has wasted nearly Rs 35-40 crore in this stupid film.
According to Gaitey-Galaxy owner reason behind flick getting flop is collaborating with non-director Rajiv Dhingra who is always spotted around actor giving him stupid advice.
According to trade analyst Amod Mehra disclosed I feel he should move back to small screen and leave acting behind, he further told he went out to watch Ist day first show of Firangi he was shocked there were only 5 viewers in entire theatre. however Komal Nahata has different opinion he said its not Kapil's fault it was fault of script as script was not up to mark, due to which flick got flopped  script had no emotions and partriotism it was only comedy that somehow made some scenes worthy. On the other hand  PVR owner Ravi Sibbal managed to run all shows with only 12 percent opening which is very low for any bollywood movie till date.
According to Manoj Desia actor has no ability to handle silver screen, on the other hand he has lost small screen TRP/, he lost his charm on small screen too when he started making bigot jokes, due to which he lost his most of fan following as people were not able to watch his comedy show with their family.
Though we have watch every bollywood star visiting Kapil Sharma's reality show for the promotion of their flicks, and Kapil is doing the same.
Actor is leaving no stone unturned to promote "Firangi" by visiting other reality shows, recently actor was spotted shooting for promotional event with Akshay Kumar on reality show "The Great Indian Laughter Challenge on Tuesday. Sharma shared his image along with Akshay Kumar from the sets of TGILC.
Sharma shared Image along with Akshay and tweeted "Felt Like home at laughter challenge #starplus. Thanks you so much for love and respect. And don't forget to catch Firangi on 1st December.
Before Kapil visited Salman Khan on sets of Big Boss for promotion and know he is all set with The Great India Laughter Challenge.
Apart from this Kapil has also shot exclusive show with Sony TV titled "Oye Firangi" and this show will be telecast on Saturday 25th November 2017, and in this show you will get chance to meet all the crew members of 'Firangi' doing promotion.
Few days back we went through first official trailer of upcoming Kapil Sharma's Frangi, and recently first song of flick "Oye Firangi" was released by fillmaker.
Latest song "Oye Firangi" is sung by Sunidhi Chauhan, music is composed by Jatinder Shan lyrics are penned down by Dr. Devedra Kafir.
Upcoming project Firangi will showcase verbal fight, movie is set in era when British rulers were ruling India. Viewers are going to witness the verbal and funny fight.
So guys what you are waiting for go online and have first glimses of "Oye Firangi"
Movie is being produced by home production of Kapil Sharma K9 Films. Before he produced his own comedy show under this banner.
Recently Kapil took social platform and tweeted, get ready guys to watch  most awaited Farangi, coming soon.
Movie is all set to release on 24th November 2017.
advertisement
Subscribe Newsletter
Recent Posts
Tags