Kar Har Maidaan Fateh From Sanju Is Out
Raj kumar Hirani recently released new song from his upcoming most awaited biopic "Sanju" titled , 'Kar Har Maidaan Fateh' this song showcase Sanjay Dutt's journey when actor was Into drug addiction and he was fighting back fighting to get out of drug abuse.
From the very first day biopic went on floor Filmmaker is considerably revealing number of glimpses from biopic which is creating curiosity among viewers and fans.
Upcoming motivational song showcasing Sanjay fighting to come out of drug abuse is sung by Sukhwinder Singh and Shreya Ghoshal, this song is backbone of biopic which will showcase Sonam Kapoor, Anushka Sharma, Dia Mirza, Vicky Kaushal in one frame.
All the songs are being composed by AR Rahman ,Rohan-Rohan and Vikram Montrose.
Well we hope after listening latest track "Kar Har Maidaan Fateh" from upcoming biopic Sanju you will fall in love with actor.
Related Posts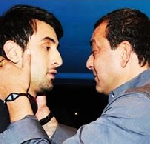 Omg Sanju turns to be winner, yes you heard right bollywood biopic "Sanju" wins four awards in row at Indian Film Festival that took place in Melbourne. Apart from winning award and crossing 300 marks, biopic is receiving great applause from viewers and critics.
Well from the very first "Sanju" hit theater it's creating new records at the box-office by crossing 300 crore mark that too in only two weeks and recently it created record by winning four awards in a row.
According to sources biopic win awards in category of Best Film and Rajkumar Hirani for Best Director award and Vicky Kaushal for best supporting actor award and Ranbir Kapoor for justifying Sanjay Dutt's role.
According to sources due to hard work of crew members of flicks and Ranbir Singh along with  strong storyline biopic has managed to become blockbuster hit of 2018.
We congratulate entire team of Sanju for crossing 300 crore mark and receiving four awards in a row.
Bollywood latest biopic "Sanju" has managed to enter 100 crore club by breaking all box-office records. On the opening day biopic managed to earn 34.75 crore. Second day it managed to collect ₹ 38.60 crore on Sunday it collected 46.71 cr. Within four days biopic crossed 100 crore mark by collecting 120.06 crore.
Well Sanju has managed to overtake take 3 days record of latest flick Race 3, and has become biggest opener of 2018.
According to trade analyst in coming days biopic is going to create new records at box-office as there is no big competitor is on card for next one week.
According to report biopic is receiving positive reviews from critics and viewers. Apart from this Sanjay Dutt is receiving great love from fans and critics.
Bollywood filmmaker Rajkumar Hirani has once again proved his versatility in film making, that no one can beat him in direction.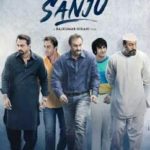 Releasing :  29th June
Genre       : Biopic
Producer  :Vidhu Vinod Chopra,Rajkumar Hirani
Director   : Rajkumar Hirani
Star Cast : Ranbir Kapoor,Manisha Koirala,Paresh Rawal,Dia Mirza,Sonam Kapoor,Vicky Kaushal,Jim Sarbh,Anushka Sharma
Music   : A.R Rahman
Sanju is a biopic based on real life story of Bollywood controversial actor Sanjay Dutt, lead role is played by Ranbir Kapoor. To watch life story of Sanjay visit your nearest theater on 29th June.

OMG most awaited biopic "Sanju" gets into trouble for Toilet leaking scene.
According to latest development activist Prithivi Mhaske came forward and objected, "the toilet leakage scene in the barrack of jail shown in Sanju, is putting bad impression about Indian Jails and authorities.
Recently one of trailer got released in which one can witness actor shouting inside a prison for seeking help when the toilet starts overflowing. According to report after going through said scene Mhaske got upset and wrote a letter to CBFC adding according to him almost every jail authority is taking good care of all the barracks of the jails. We have never come across such incident, so I request CBFC to cut this scene from biopic. We have never heard of any such incidents, this will only put bad impression on our Country. He further said if CBFC will not delete this scene he will move to court for legal action.
Biopic is all set to release on June 29.
As we all know about upcoming project Sanju which is based on life story of Sanjay Dutt. Recently filmmaker Raj Kumar Hirani revealed another poster. Before filmmaker revealed poster in which you witnessed farther son bonding and latest poster showcase actors friendship.
While sharing poster maker captioned "Meet Vicky Kaushal. Such a refined actor and pure joy to work with him. He plays Sanju's best buddy. #SanjuTrailer out in 2 days on 30th May! #RanbirKapoor @vickykaushal09 #RajkumarHiraniFilms @foxstarhindi @VVCFilms".
Upcoming biopic is going to showcase different phase of actors life.
Best thing about upcoming biopic is Ranbir Kapoors looks, which somehow resembles to Sanjay Dutt, actor seems given his hundred percent for justifying biopic.
Till date Raj kumar Hirani has revealed number of poster, which has managed to create excitment among viewers, all the posters has received positive reviews from viewers and critics.
We hope after going through latest poster viewers will get more excited.
Biopic is all set to be released on 29th June 2018.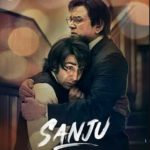 Upcoming most awaited and anticipated biopic Sanju is going to be biggest biopic of 2018, recently maker of biopic released new poster.
Few days back maker revealed first look of Sonam kapoor which created curiosity among viewers and recently maker revealed first look of Paresh Rawal, who is going to ease role of Sunil Dutt.
Going through poster you can witness Sanjay Dutt character eased by Ranveer Kapoor hugging Sunil Dutt character eased by Paresh Rawal. Going through poster it seems scene is setup when Sanju was drug addict and need help to come out of addiction.
While interacting with media Paresh Rawal disclosed "Becoming part of Sanju is quite exciting and playing role of Sunil Dutt is dream come, as I am great admirer of actor, I thanks maker for having faith in me and giving me chance to play role of Sunil Dutt.
Recently treasure of upcoming biopic "The Sanju" got released and for surprise it has managed to get 150 million views worldwide, creating new records. Apart from 150 million views it has become most searched teasure on Google.
Maker of biopic Rajkumar Hirani is feeling surprised and happy that teaser has created online record by crossing 30 million views in just 48 hours.
Within 48 hours teaser has put YouTube on fire with 30 million views, apart from social tube teaser also put Twitter on fire. As number of fans of Ranbir Kapoor and Sanjay Dutt complimented actor and director for their outstanding work.
Best thing about teaser is Ranbirs looks which to some extent resemble with Sanjay Dutt.
Biopic is written and directed by Rajkumar Hirani. Maker did great research before creating it. Co-stars of this biopic are Anushka Sharma, Paresh Rawal, Sonam Kapoor, Dia Mirza, Karishma Tanna, Manisha Koirala, Jim Sarbh, Vicky Kaushal and Boman Irani.
Biopic is all set to be release on 29th June.
advertisement
Subscribe Newsletter
Recent Posts
Tags