Karan Praising Manmarziyaan Team

Recently Karan Johar watched special screening of Manmarziyaan, well movie is releasing today. After watching special screening  Karan Johar got so impressed with performance of entire cast that he could not resist himself from coming forward and praising  all the members of flick.
Karan Johar took social platform twitter and tweeted "I am feeling so happy for Abhishek Bachchan has done full justice to his character. Filmmaker Anurag Kashyap has created brilliant project full of emotions and fun. Kanika Dhillion has written amazing script what a brilliant writer she is.
Karan further said Vicky Kaushal has done full justice to his role, Taapsee Pannu has  done full justice to her role what a versatile actress she is, I loved watching her performance.
Well going through above article it seems that Manmarziyaan has already won heart of Karan Johar and today viewers will decide faith of flick.
Related Posts
Bollywood versatile filmmaker Karan Johar praised Bollywood versatile actress Alia Bhatt for her hard work that she has done in upcoming project "Kalank".
Recently while interacting with media filmmaker said "Actress has done full justice to her role, number of time i got emotional watching her outstanding performance, I am feeling proud about her, I thanks are for being part of Kalank.
Filmmaker further disclosed when ever I watch Alia performing I always feel like my daughter is performing.
Well we all know Alia was introduced in Bollywood by KJ in Student of the Year, that's why actor share great bonding with her.
In upcoming project Alia is sharing screen space with Varun Dhawan again before we have watched them together in Student of the Year and Badrinath ki Dulhania, both stars share immense chemistry.
Kalank is all set to release on 19th April 2019.

Well web-series have become first choice of almost every filmmaker, and we have witnessed number of series on Netflix which have become first choice of online users.
According to sources Bollywood most happening filmmaker Karan Johar is looking forward to work on Web-series.
According to sources Karan Johar is right now working on web-series script, and very soon he will be creating web-series under his home production "Dharma Production".
According to source recently KJo came forward and confirmed the news of entering digital industry he said" Yes I am looking forward to expand my business by entering into web-series, I am right now working on content, if everything goes according to plan then very soon you will witness my first web-series in the beginning of next year. He further said he is looking forward to produce small series and flicks on digital platform like Netflix and other digital platforms.
Simple Kapadia's son Karan Kapadia is all set to make his bollywood debut opposite Sunny Deol in upcoming project "Blank" which is going to be action thriller project.
Actor is nephew of Bollywood legendry actress Dimple Kapadia.
According to sources Karan has taken acting training from Jeff Goldberg Studio.
According to sources for getting into skin of character he is taking training in Horse riding, Swimming and martial art.
News of Karan Kapdia making his bollywood debut was recently confirmed by trade analyst Taran Adarsh on a twitter with tweet "Dimple Kapadia's nephew Karan Kapadia to make his acting debut with #Blank… Stars Sunny Deol in a pivotal role… Directed by Behzad Khambata… Produced by Dr. Shrikant Bhasi, Nishant Pitti, Tony D'Souza and Vishal Rana… 11 Jan 2019 release.
According to sources Karan's brother-in-law Akshay Kumar is going to make special appreance in "Blank".

Bollywood versatile filmmaker Karan Johar is all set with sequel of his super-hit project Dostana, which released way back in 2008, in this flick Abhishek Bachchan, John Abrham played lead opposite Priyanka Chopra. Both Abhishek and John faced lots of criticism for their role.
Well according to latest development Dhadak actress Jhanvi Kapoor might share screen space with Sidharth Malhotra.
According to sources script work of Dostana 2 is complete, and maker of flick is looking forward to do sitting with star-cast for narrating script, and for the same Karan has signed Jhanvi and Sidharth as lead pair of Dostana 2.
Well if news of Jhanvi and Sidharth playing lead in KJ upcoming Dostana Sequel is believed to be true than its going to be delight to watch new pairing in sequel.
If Jhanvi becomes part of Dostana 2 than its going be her third project in row with Karan Johar.
Well news still seems to be buzz as KJ  has not come forward and disclosed it officially, it will only be confirmed one KJ come forward and disclose it officially. Well till then we have to wait.

Good news for Karan Johar fans, yes it's going to be good news as he is all set with mega project "Takht".
For confirming making of "Takht" Karan took social platform Twitter and tweeted "An incredible story embedded in history…An epic battle for the majestic Mughal throne… A story of a family, of ambition, of greed, of betrayal, of love & of succession…TAKHT is about WAR for LOVE….@dharmamovies @apoorvamehta18"
Star-cast of upcoming mega project includes Ranveer Singh, Anil Kapoor, Kareena Kapoor Khan, Alia Bhatt, Janhvi Kapoor, Bhumi Pednekar and Vicky Kaushal.
Alia is going to work with Karan in two projects in a row project are Takht and Kalank, it was Karan who introduced her to bollywood with "Student Of The Year", both Karan and Alia share great bonding in terms of profession.
Upcoming project is being penned by Sumit Roy and will be produced under the banner of Dharma Movies.
Well guys to watch "Takht" you have to wait till 2020
---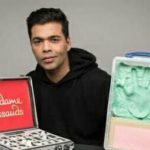 Bollywood versatile filmmaker Karan Johar feeling honored to become first filmmaker of Bollywood who will have his wax statue at wax museum Madame Tussaud's.
According to report actor felt too excited that he took social platform Twitter and posted a picture holding a briefcase in one hand and wax imprint of his palm in another hand with caption "Honored to be the first filmmaker from India at the prestigious Madame Tussaud's. Thanks to entire team of Madame Tussaud's working tirelessly creating a wax statue.. If get some further information will share too.
According to sources however officially there are no details available when wax statue will be installed in meusuem.
Well this news is going to be delight for his fans as short they will get chance to witness their favorite filmmaker wax statue at Madame Tussaud's.
We congratulate Karan for the same.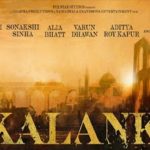 October actor Varun is all set to share screen with Alia again in Karan Johar's upcoming project "Kalank", in this flick Sanjay Dutt will be seen opposite Madhuri after decades. Other co-stars of this flick are Aditya Roy Kapur and Sonakshi Sinha, so it's going to be mega project. Recently maker of flick shared first poster of Kalank.
According to sources upcoming project is periodic drama set in 1940's era. And it is going to be helmed by 2 States fame Abhishek Varman.
Recently Karan took social platform Twitter and wrote "Proud & excited to announce our EPIC DRAMA #KALANK Releasing April 19th, 2019, Directed by Abhishek Varman, Starring @MadhuriDixit @sonakshisinha @aliaa08 @Varun_dvn #AdityaRoyKapur & @duttsanjay!"
According to sources Kalank is dream project of Karan and his father which was conceptualised fifteen years ago.
So folks get ready to watch mega project of Karan soon.
Well when we talk about newcomer with perfect look and perfect physic in bollywood, then Karan Singh Grover's name comes into mind, actor has so dashing personalities that girls keel over his looks.
Actor not only proved that he has great physic, but he has also managed to prove that he is a great actor with his immense acting on small screen and silver screen. Apart from physic and acting one thing that actor is being adored is for is his voice.
According to sources maker of animated flick has approached actor for lending voice to lead characters, according to sources maker of flick believe actor has a great voice, which will have great impact on his animated project.
According to sources karan has shown his keenness for lending voice to animated project as he is great fan of animated flicks. And there are chances that he will start dubbing by the mid of this year.
Right now actor is busy with his upcoming action thriller "Firrkie" opposite Jacky Shroff, Neil Nitin Mukesh, Kay Kay Menon and Sandeepa Dhar.
Movie is all set to release on July 1, 2018.
Once again history is going to repeat, yes you heard right according to latest development Saif and Amrita's daughter Sara is going to share screen with Sunny Deol's son Karan in sequel of Betaab, which was debut flick of Amrita and Sunny Deol.
Before we have watched Amrita and Sunny making their bollywood debut with Betaab in 1983 and now their kids are going to share screen space in sequel, which is quite interesting.
As we all know Sara is making her debut opposite Sushant Singh Rajput in "Kedarnath", but there is buzz doing that she might first make debut opposite Karan in "Betaab" sequel.
According to sources if everything goes according to plan than it's going to be delight for Amrita and Sunny's fans to watch their kids making debut with "Betaab" Sequel.
Well we think we have to wait for some time until someone come forward and disclosed it officially.
We have been talking about nepotism from past few years; we have watched number of relatives of stars making their debut in Bollywood. Well we think once again we are going to get example of nepotism again.
According to latest report nephew of legendry actress Dimple Kapadia Mr. Karan Kapadia is going to make his bollywood debut with Tony Dsouza's and Vishal Rana's upcoming project.
According to report Karan shares great bonding with Akshay and Twinkle Khanna and they both are looking forward to watch Karan on silver screen.
While interacting with media Karan revealed he has assisted D'Souza in Akshay Kumar starrer Boss. He further said he was overweight, however following regular workout regime he has manage to take his weight from 112 Kgs to 88 Kgs. I am great fan of Akshay due to this I have learned horse riding, martial art, and I have taken acting classes from Jeff Goldberg Studio and yes I am all set to make my bollywood debut with Behzad Khambata directorial venture.
According to sources movie will release by the mid of this year.
advertisement
Subscribe Newsletter
Recent Posts
Tags