Katrina Kaif Say No To Body Double In Her Upcoming Flick Phantom
These days in bollywood we are witnessing actresses competing actors in stunts, though before we have only seen actors performing stunts without taking help of body double, but these day actress are not far behind they are also doing stunt in movies without taking help of body double.
According to latest reports bollywood most happening actress Katrina Kaif is doing almost every stunt of her own without taking help of body double in her upcoming movie "Phantom".
Though filmmaker always prefer   body double for actors in movies while performing stunts, as they always want to make sure that his actor or actress don't get injured while performing stunts as it have bad impact on movies, but according to latest reports Katrina has refused to take help of body double while performing heart throbbing stunts in movie. It seems she wants to prove herself as an action girl, though it seems a negligence taken by any star doing stunts without taking help of body double as it can land to serious injuries, but in time of great competition it seems realistic.
Related Posts
Katrina Kaif has denied reports of being engaged with Ranbir Kapoor, she adds it's all rumor, she has no plans of marriage till date.
During the interaction with public while launching "Phantom" trailer Katrina said, I am happy that you guys asked me about my engagement, and you all seemed to be concerned about my marriage, but I want to make it clear that I am not engaged and I have no marriage plans ahead, so guys you have to wait for some time.
Rumor of Katrina's engagement started on her  birthday when there was news doing around the corner that Ranbir has made special arrangements to celebrate Kats birthday at Alibaug, during this course of time it was believed that Ranbir proposed her and gifted her platinum and diamond ring.
Katrina said she is not engaged; right now she is focusing on her acting career.
Bollywood actress Katrina Kaif is playing a role of Pakistani in her upcoming flick "Fitoor"it's not first time she is playing a role of Pakistani, before also she played role of Pakistani Spy in Salman starrier "Ek Tha Tiger". Katrina received great applause for her role in "Ek Tha Tiger", let's see if this time she manage to impress audience with her Pakistani character.
According to latest reports movie revolves around three character named Noor played by (Aditya), Firdaus Played by (Kitrina) and Begum Played by (Rekha) according to reports "Fitoor"contains modern touch of Charles Dickens most happening novel "The Great Expectations". Movie is being directed by Abhishek Kapoor.
In Fitoor Rahul Bhatt is easing a role of Bilal and he is going to be part of love story, another good thing about this movie is that in this movie three celebrities are doing guest appearance and they are Ajay Devgn, Lara Dutta and Talat Aziz.
Bang Bang actress Katrina Kaif is all set to share screen with Ashique 2 fame Aditya Roy Kapur in her upcoming flick Fitoor.
While interacting with media Kat said Aditya is very versatile and dynamic actor, she further said I have seen Adiya's "Ashiqui 2" in this movie he did outstanding job, he is very good actor and I feeling happy that I going to share screen with him. What I like most about Aditya is he is very silent performer whose work speaks on-screen.
Post her success in Bang Bang she will straight away start shooting for Fitoor. Aditya was last seen in Daawat-E-Ishq in this movie he did an outstanding performance for this he received great appreciation from viewers as well as critics.
Katrina will be working with Aditya, while joking Katrina adds I will Push him around and be mean to him,she laughs and adds  its just joke, I am happy that I will get something new to learn from Aditya.
It was shocking to hear that TV actress Kishwer Merchant was found criticizing Bollywood most happening star Katrina Kaif on tweeter over her acting skill.
According to reports TV actress Kishwer Merchant shocked bollywood by her tweet adding "I knw i will get a lot of haters but #katrinakaif pls stick to dng just item songs coz u are nt an actor .. thank u." It seems she  tweeted this after watching Katrina's latest release 'Bang Bang'. It was found after reading tweet; number of Katrina Kaif's fans came forward and criticized Kishwer for doing such kind of criticism.
Further answer to the tweet of Katrina Kaif's fans Kishwer tweeted , "People whk are nt katrina kaif are reacting to my tweet more than katrina..woh toh ghar mien aaram se dinner kar rahi hogi..it seems Kishwer is doing this stunt to grab attention from the actress, whatsoever, it's going to be surprise to kishwer to know that Katrina is not on twitter.


According to latest buzz filmmaker Sujoy Ghosh has contacted Katrina Kaif for his upcoming flick. If we consider buzz to be true then Sujoy Ghosh has apparently started working on his upcoming flick which is said to be based on Japanese novel "The Devotion of Suspect X".
According to sources Sujoy Ghosh after contacting Katrina Kaif have provided her novel to read and decide. According to buzz Katrina has gone through novel and  has liked the story, though official announcement is still awaited from both the sides.
If buzz is believe to be true then it's going to happen first time when Katrina will be working under "Kahanni" director Sujoy Ghoush, it's not happening first time when she has come in contact with Sujoy Ghoush, as he has written screenplay for her upcoming most awaited Hrithik Roshan starrer "Bang Bang". According to reports Sujoy Ghoush upcoming untitled Katrina Kaif starrer movie will be produced by Ekta Kapoor. Movie will go on floor in 2015.
If  buzz is to be believed than its going to be delight for SRK and Katrina's fans to watch their favorite stars sharing screen together, they were last seen together in "Jab Tak Hai Jaan" chemistry between both of them received great appreciation from critics and viewers.
According to reports  SRK and Katrina Kaif will be seen together in Rohit Shetty's upcoming flick. Movie is going to be produced by SRK himself, according to reports movie will go on floor by the end of this year.
Though before there were also reports that SRK and Katrina are going to share silver-screen in "Raees" anyhow Katrina came forward and denied such reports, while denying report she added I don't understand from where this new came, i want to make clear that i am not doing "Raees" with SRK.
But if this news comes out to be true, then its predicted that movie will be big hit at the box-office, as we remember previous flick of SRK and Rohit Shetty Chennai-Express breaked all the records at box-office.
Bollywood actress Katrina Kaif will be seen in new avatar in her upcoming movie "Phantom", in this movie she is sharing screen with Saif Ali Khan. After performing sizzling dance in Dhoom3, this time she will be seen in challenging role.
According to reports Katrina is going to play a role of Pakistani doctor in Phantom. According to latest reports Katrina was seen dressed in Pakistani traditional wear Salwar-suit during the shot of movie in Malerkotla (Punjab). According to reports shooting of movie is been taking place in Malerkotal where city market has been transformed into a market street to showcase as Pakistani market street.
According to reports after completing shooting in Malerkotla, they will movie to Chandigarh as there they will be shooting a school sequence, shooting of school sequence will take place in sector-45 in one of school by changing school name to Government Islamia High School, in school Katrina will be seen playing a role of doctor who organize a medical camp.
Phantom is spy-thriller movie directed by Kabir Khan.
Bollywood actress Katrina Kaif is in news regarding sharing screen with SRK once again. Though it's not clear is it's buzz or reality that Katrina is going to share screen with SRK. But there are murmur's doing around the corner.
According to murmur it has come forward that Katrina has signed "Raees" to play lead role opposite SRK.
According to reports murmur is taking place that Katrina is to play lead role in "Raees", though the discussion of Katrina and SRK sharing screen together is not new, but according to latest reports Katrina has agreed to do movie opposite SRK. Before Katrina did "Jab Tak Hai Jaan" with SRK. Her acting in "Jab Tak Hai Jaan" received great appreciation from audience after this movie chemistry between her and SRK became talk of the town.
According to reports when Katrina was asked is she going to share screen with SRK, Katrina denied any such report regarding sharing screen with SRK in "Raees" on the other hand director of movie also kept mum.
Katrina Kaif once again managed to become world's sexiest Asian women, during the polling of weekly magazine she was selected first World's sexiest Asian Woman, she has won this title fourth time and that to for the fourth consecutive year.
According to latest reports Katrina Kaif defeated Priynaka  Chopra, Deepika Padukone and Drashti Dhami a well-known TV star by narrow margin.
Kartina Kaif mange to spot first rank in list of world's 50 Sexiest Asian Women Magazine.  Though Katrina was not seen for a year in bollywood still she manages to grab first rank.
His fourth Consecutive win came when she is near by hitting silver screen once again with her upcoming movie Dhoom3 with Aamir Khan.  So one can say she is a lucky girl.
According to Asjad Nazir chairman of magazine's judging panel it was a tough competition between Katrin and Priyanka therefore Katrin Kaif manage to win with narrow margin and became World's Sexiest Asian Women for the fourth time in a row.
Other TV star who made through the competition was Nia Sharma, Jennifer Winget, Asha Negi, Krystle D'Souza and Rubina Dilaik.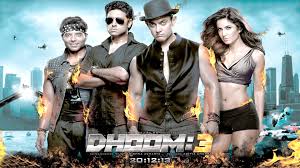 Releasing : 20th Dec 2013
Genre        : Action, Thriller
Producer  : Aditya Chopra
Director   : Vijay Krishan Acharya
Star Cast  : Aamir Khan, Abhishek Bachchan, Uday Chopra, Katrina Kaif, Jackie Shroff
Music       : Pritam Chakraborty
Dhoom3 is action and thriller oriented movie directed by Vijay Krishna Acharya. Dhoom3 is third installment of Dhoom series, its happening first time in bollywood that any movie has made song at whooping budget of 5 crore. In Dhoom3 Aamir is playing a dynamic role. This movie is made in IMAX format, before this format was used in Hollywood.
advertisement
Subscribe Newsletter
Recent Posts
Tags