Krushna To Play Lead Role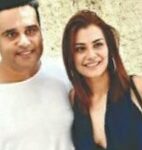 Good news for Krushna Abhishek fans, yes you heard right Krushna is all set to play lead role in upcoming project "Teri Bhabhi Hain Pagal".
Though we have watched Govind and Sanjay duty on screen chemistry, but this time you will get chance to witness Govinda's nephew and Sanjay Dutt's niece Nazia Hussain on screen chemistry.
While interacting with media filmmaker Vinod Tiwari disclosed though viewers has watched on screen chemistry of duo, but watching their nephew and niece on screen chemistry is going to be delight for their fans.
Upcoming comedy drama is going to be directed by Vinod Tiwari and other co-stars of Rajniesh Duggall, Deepshika Nagpal, Khayali Ram, Sunil Pal, Nancy Marwah and Aman Verma.
Upcoming comedy drama directed by Vinod Tiwari, and going to be produced by Raj Nostrum in collaboration with Haresh Kumar Nor and Vinod Tiwari.
Movie is all set to release on 13th July, 2018.
Related Posts
Standup comedian turned Bollywood actor, Krushna Abhishek and Bollywood diva Kashmira has become parents of twins last year.
According to sources Krushna Abhishek  and Kashmira has become parents of twins, who were born through surrogacy  about a year ago.
Though Krushna disclosed that he has become parent of twin last year, but he didn't disclosed picture and name of twins.
Same news was revealed by Kashmira that she has become mother of twin through surrogacy.
Recently both Krushna and Kashmira came for and took social media and shared their  image with their twin kids with caption " introducing Rayaan K Sharma and Krishaang K Sharma".
Well we believe after going through above news their fans will be feeling happy to see them with their twins having fun.
In picture both kids are looking so cute wearing same dress having fun with their parents.
advertisement
Subscribe Newsletter
Recent Posts
Tags