Mouni Roy Get One More Big Project.
Mouni Roy who made her bollywood debut with Gold, has bagged one more big budget flick Brahmastra opposite Ranbir Kapoor, Alia Bhatt and Big B.
However her debut flick is yet to release still she has managed to grab second big budget project.
According to reports she will start shooting of flick next year and movie is scheduled to release by 15th August 2019. However maker of flick Ayan has kept her role under wraps, however her fans may be eager to know what type of character she is going to ease in Brahmastra, well it seems they have to wait for some time.
However right now everyone is looking forward to watch her first big project Gold, few days back she was seen in special promo of upcoming series of Bigg Boss opposite Salman Khan.
Recently she was in news when rumours of her split with her alleged beau Mohit Rana came into light; however rumour was rest in peace, when they both were found having great time with each other at recent Diwali bash.
Related Posts
Bad news for Mouni Roy fans who were eagerly waiting to watch her opposite Bollywood versatile actor Nawazzuddin Siddiqui in upcoming project Bole Chudiyan.
Well actress became star overnight with her outstanding performance in TV serial Nagin.
According to sources filmmaker has signed another actress in place of Mouni Roy, however name of actress replacing Mouni Roy is still kept under wrap.
Well reason behind actress quitting project "it's being said main reason behind actress quitting project is difference between filmmaker, on the other hand filmmaker gave a excuse about Mouni being dropped out is due to her unprofessional attitude.
Well few days back we came across news in which Filmmaker said "We have invested big amount of money and if asking someone in a civil manner to be professional and committed to the role is being rude than sorry we are in the serious business of making movies with high stakes and it's not a hobby.
Well it seems we have to wait for sometime till filmmaker come forward and announce name of actress who replaced Mouni Roy in Bole Chudiyan
OMG Mouni Roy quit Bole Chudiyan due to filmmakers unprofessional and bad behavior.
According to reports actress quit Bole Chudiyan as she was not happy with behavior of filmmaker, on the other hand filmmaker has blamed actress for her bad behavior.
In upcoming project Mouni was all set to share screen space with Bollywood versatile actor Nawazuddin Siddique.
According to latest reports maker of flick Mr Rajesh Bhatia disclosed that it was Mouni Roys "irresponsible" behavior that made her quit project, but actress spokesperson revealed that filmmaker was on fault as he was behaving unprofessionally with actress due to which she made this decision.
Recently while interacting with media filmmaker disclosed "I have invested huge money in my upcoming project well if one ask his star cast in civil manner to be professional and dedicated toward role means bad behavior than it's ok we are here to make movies, we are not here for hobby classes.
He further said i did my level best and gave reason that she is not taking work seriously and not showing dedication, however taking it in a positive note she lost her calm and started behaving rude.
On the other hand spokesperson of actress has disclosed its no way of quitting project as she has not signed contract yet due to "discrepancies".
Well its not clear who is on fault.
As we all know Mouni Roy is part of Alia and Ranbir Kapoor starer "Brahmastra", thought it was not clear what type of role she will be seen playing, recently she came forward and revealed that in upcoming project she is easing a role of villain.
While interacting with media actress disclosed from the very first day she made her Bollywood debut she promised herself that she will become versatile actress by easing different roles, I am feeling happy that I am playing a new avatar, in upcoming project and that too negative role, well before signing flick I was not aware of my role, but soon after signing project filmmaker told me that I am going to play main villain role, I was bit surprised but happy that I got chance to showcase my acting skills.
She further said playing different avatars make you perfect and unique, I thanks Ayan Mukherji for giving me chance to play different avatar. I am feeling lucky that I got chance to share screen space with Bollywood super star Amitabh Bachchan. Sharing screen space with Alia and Ranbir is delight.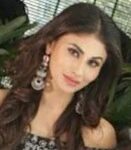 TV actress turned Bollywood star  Mouni Roy who recently made her Bollywood debut opposite Akshay Kumar in Gold, recently signed her another project.
According to sources maker of upcoming project Bole Chudiyan has signed Mouni Roy opposite Bollywood versatile actor Nawazudin Saddiqui.
Recently actress expressed her excitement working with Nawazudin Siddiqui actress said " I am feeling happy that I am going to share screen space with versatile and talented actor, I am great fan of actor, he is very talented, sharing screen with him will be great experience as i will get chance to learn lot from him.
Well it's going to be delight full moment for Mouni's fans to watch her opposite versatile actor.
In work front actress is all set with Jackie Shroff's upcoming project Romeo Akbar Walter.
We wish Mouni Roy  good luck for her upcoming  projects.
Mouni Roy is riding high due to two mega projects in her kitty, she made her bollywood debut with Akshay Kumar starrer Gold which is on floor. And there is news doing around the corner that actress has got one more project titled "Brahamastra".
According to sources in Brahmastra she is going to share screen with Alia but Ranbir.
Movie is going to be fantasy adventure flick, shooting of flick will commence very soon and there are chances that viewers will get chance to watch flick on 15th August 2019, which is quite far, but we hope her fans will be feeling excited to watch her opposite Alia and Ranbir. Mouni's second project will be directed by  Ayan Mukerji in collaboration with Dharma Productions and Fox Fox Star Studios and in collaboration with Namit Malhotra.
While interacting with media she disclosed she is feeling excited about her debut flick Gold and Brahamastra, I hope I will manage to impress audience.
advertisement
Subscribe Newsletter
Recent Posts
Tags