OMG Mithun's Son And Wife In Legal Trouble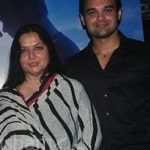 OMG Mithun's son Mahaakshay and Yogita  in big trouble, yes you heard right as local court in Rohini has directed police to lodge FIR against Mahaakshay and his mom Yogita Bali.
According to report complainant has given written statement to court that both son and mother has ruined her life by raping. Cheating and miscarriaging. She further said she came in contact with Mahaakshay in April 2015. They both were in touch on phone. She further disclosed Mahaakshay one day invited her to his flat there he gave her something to drink after which she got concious and later he raped her.
Further she disclosed Mahaakshay raped her for four consecutive years promising her that he will marry her, however when she got pregnant he got upset and gave some medicine due to which she had miscarriage. She further disclosed reason behind giving me medicine was that he did not want problem in his family and career.
According to police officials Mithun Chakraborty's wife Yogita Bali threatened complainant with dire consequences and warned her to stay away from her son.
According to sources case has been filled against Mithun's son and wife under Section 90, 375, 114-A, 415, 25 of the IPC. Further investigation is on.
Related Posts
No related posts found!
advertisement
Subscribe Newsletter
Recent Posts
Tags