Omg Salman Is Threatened By Garry Shooter
Omg Bollywood superstar Salman is being threatened by Garry Shooter, well recently actor received threat on social media, according to sources threat was posted on Facebook page run by Student Organization of Punjab University (Sopu) few days back, soon after post got viral on internet Police immediately started investigating the matter and Police is on alert.
Threatening post which got viral on Facebook has a picture of actor with cross mark on it containing caption "Salman, think, you can save yourself from Indian law, however, Vishnoi Samaj and Sopu Party has announced death sentence for you. You are an accused in Sopu's court."
As we all know actor is accused in blackbuck killing case for the same he was sentenced for five year imprisonment, however right now he is on bail.
Actor is all set to appear before court on 27th September.
Related Posts

There is buzz doing around the corner that Salman Khan is all set to play character Radhe, before actor has played same character twice in flicks "Tere Naam" released in 2003 and thereafter he played Radhe character in Super duper flick "Wanted".
Well latest buzz utter actor is all set to do flick titled "Radhe" and this flick will go on floor next year and will release on Eid and it will be directed by Dabangg 3 director Prabhu Deva.
Well recently we came across news that actor is all set to full fill his promise meeting his fans on next Eid after SLB dropped actor from his upcoming project Inshallah which has been postponed. Well it seems actor is all set to fulfill his commitment of meeting his fans next Eid with upcoming project "Radhe".
Well news still seems to be buzz as no one has come forward and confirmed it officially, it seems we have to wait for some time till actor himself or filmmaker come forward and announce making of Radhe officially.

After great success of "Bharat" Salman is all set with third installment of super duper franchise Dabangg.
Once again actor is collaborating with Sonakshi Sinha in third installment of Dabangg franchise.
Well from the very first day making of Dabangg3 came into existence viewers were eagerly waiting for the glimpses of first trailer of flick. We'll wait seems to be over as according to sources maker of upcoming project is looking forward to connect trailer with Tiger and Hrithik starrer action thriller War trailer which is all set to release next month on second October.
In upcoming third installment Pramod Khanna will replace late Vinod Khanna.
South Super star Sudeep is also part of upcoming project.
Best thing about upcoming project is its going to be released in four languages Hindi, Telugu, Kannada and Tamil.
Movie is all set to release in month December.

Well recently we came across news that Sanjay Leela Banshali has postponed his most awaited project Inshallah in which Salman was supposed to play lead role opposite Alia Bhatt, reports also suggest that Hrithik might replace Salman in Inshallah, however considering that Salman has promised his fans that he will meet them on Eid 2020, has requested Filmmaker Prabhudheva to find an interesting script.
According to latest development Salman is looking forward to go for Hindi Remake of Korean super duper project Veteran, and for the same his brother-in-law Atul Agnihotire has purchased copyright of Korean project.
Reports suggest if actor don't get chance to work on remake of south project, he will start working on remake of south Korean project.
Well if above news is believed to be true than its going to be delight for his fans who were feeling dishearten, to know that actor will surely meet then on Eid 2020 with new project.
On work front actor is right now busy with third installment of Dabangg franchise, which will release on December 20th 2019.

Taking into consideration that movies do get leak online due to which movies face great loss, Salman decided to put high security on sets of his upcoming flick Dabaang3, another reason for increasing security is, few days back one sequence of dance got leaked with some stills of movie on online.
According to sources recently actor had meeting with crew members of his upcoming project and marketing team, in which actor urged Dabangg 3 team to increase wall height around set so that no one has access to sets, apart from this actor has also requested crew members not to carry mobile phones on set same measures were taken by actor during the making of his most anticipated project "Bharat".
In upcoming third series of Dabaang 3 Sonakshi is once again collaborating with Salman.
Upcoming project is all set release on 20th December.

OMG Salman get warning if he work with Punjabi singer turned Bollywood singer Mika Singh he will be also be banned, according to sources recently All India Cine Workers Association (AICWA) and (FWICE) banned singer after he performed in Karachi recently.
According to sources AICWA along with FWICE has sent strict notice warning t0 entire Industry to avoid working with Mika Singh, according to sources taking into consideration that Salman is going to collaborate with Mika Singh in upcoming concert that will take place in Huston next week AICWA and FWICE advised actor not collaborate with Mika.
According to sources general secretary of FWICE Ashok Dubey, has confirmed it does not matter how big star is if someone work with Mika Singh setting aside ban he too will be banned to work in Industry. Ban means ban it implement on everyone working in Industry.
Well going through above news it seems Mika has stuck himself in big trouble.

Good news for Kick fans, yes it's going to be good news as Kick star Salman Khan is all set to collaborate with Sajid Nadiadwala for sequel.
News of sequel came into light when Filmmaker Sajid while interacting with media disclosed "Its a nostalgic day for me, as I have begun script of sequel of Kick, half of the script is ready, and very soon I will completed entire script, I am feeling excited to work on second installment with Salman soon, get ready to met The Devil (Devi Lal Singh) again.
Recently trade analyst Taran Adarsh took twitter to confirm making of Kick 2 he tweeted "Mere Baare Main Itna Mat Sochna… Aap Devil Ke Peeche, Devil Aapke Peeche… Salman Khan starrer #Kick, which marked the directorial debut of Sajid Nadiadwala, was released 5 years ago to superb BO earnings… Now awaiting #Kick2, which is expected to roll in 2020. #5YearsOfKick
Well after going through above news Salman fans will be feeling eager to watch him in Kick sequel again.
Well when to come to introducing newcomers in Bollywood, one name comes in mind is that of Salman Khan, well till date actor has introduced number of newcomers to Bollywood, this time he is introducing Mahesh Manjrekar's daughter Saiee in his upcoming project Dabangg 3.
Few days back we came across news that in upcoming third installment of Dabangg franchise actor is going to ease two different avatars as he is going to ease role of 20 year old young man to mature guy.
According to sources in upcoming project you will witness actor romancing debutant actress Saiee and Sonakshi Sinha, in younger avatar he will be seen romancing Saiee and in mature avatar he will be seen romancing Sonakshi.
Recently actor received great applause for his outstanding performance in "Bharat"
Upcoming project is being directed by Prabhu Deva.
Movie is all set to release in December 2019 on Christmas Eve.
Salman Khan Starrer most anticipated project "Bharat" after getting into number of controversies movie got released on 5th June, Movie  is heading toward becoming blockbuster with great opening.
On an opening day movie managed to collect 42.3 crore's and on day two movie managed to cross 73.3 crore mark.
Well we all know Katrina played a role of savior when Priyanka at last minute quit the project due to her wedding.
Well going through collection of "Bharat" it seems very soon movie will break many records and create new record.
According to number of Bollywood traded Analyst movie is going to do good business in coming days.
Bharat is inspired from South Korean super duper hit "Ode to My Father", in this flick Salman is easing 18 years young boy to 70 years old man character. Co-stars of this flick are Sunil Grover, Sonali Kulkarni, Jackie Shroff and Disha Patani.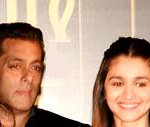 Well from the very day Salman and Alia starrer SLB's upcoming project "Inshallah" came into existence fans and viewers are eagerly waiting to know about release date of flick.
Well this Eid you witnessed Salman's Bharat and next Eid you are going to witness "Inshallah".
It's happening first time when Alia is going to share screen space with Salman Khan.
Well right now actor is enjoying great success of his most anticipated project "Bharat" which is doing good business at the box-office.
Recently maker of Salman and Alia's upcoming project Sanjay Leela Bhansali came forward and revealed movie will release on Eid 2020. Apart from maker Alia also revealed releasing date of flick with caption "Agli Eid – Inshallah ".
Well going through above news it seems fans of Salman Khan who were eagerly waiting to know release date of his upcoming project "Inshallah", will be feeling excited to watch his next movie on Eid 2020.

Though Salman Khan starrer "Bharat" is still to release, despite this movie has managed to get huge advance booking as fans and viewers are feeling eager to watch their favorite star in action, taking into consideration that ticket counter are going to witness huge rush, fans and viewers has booked ticked in advance making flick hit before release.
There are reports doing around the corner that in some cities actors fans has booked entire theater or number of seats to show their love towards Salman.
According to reports "Bharat" has created history in Indian Cinema prior to released due to massive advance booking.
In upcoming project you are going to witness actor transforming journey from 18 years young boy to 70 years old man.
In upcoming project actor is sharing screen space with Katrina Kaif, Tabu, Disha Patani, Sunil Grover and Jackie Shroff.
Movie is all set to release on 5th June.
advertisement
Subscribe Newsletter
Recent Posts
Tags