OMG Sridevi Has Painting Talent
OMG Bollywood actress Sridevi have hidden art of painting, recently she made a painting of Sonam Kapoor.
According to sources actress has found Sonam Kapoor so beautiful that she has made painting of her . Best thing about this painting is that people are looking forward to pay huge money to buy the painting. According to sources Sridevi has made portrait taking pose from Sonam's popular flick Saawariya.
Apart from Miss Kapoor's portrait she has also made portrait of dance icon Michal Jackson, reports suggest both the portrait are going to auctioned between 8 to 10 lacs, according to sources starting price of Miss Kapoor's portrait will be 10 lacs.
Well Sridevi once again proved whatever she do she do she give her hundred percent.
On the other hand there is buzz doing around the corner that Sonam is all set to tie Knot with beau Anand Ahuja by the mid of 2018.
Related Posts
As we all know Sridevi is coming up with family thriller drama "MOM", she recently revealed a poster of her upcoming flick which showcase Akshay Khanna's intense look.
While taking social platform Sridevi shared a poster with caption ""Don't believe what your eyes tell you. #AkshayeKhanna #LooksCanBeDeceptive @MOMTheMovie @ZeeStudios_."
Few days back Nawazuddin first look from "MOM"was revealed which stunned everyone.
Going through Akshaye Khanna as look in poster it seem he is playing a pivot role.
In "MOM" you will watch Sridevi easing a character of mother she is protective about her daughter, as she come forward saving her daughter from getting conspired.
Before we have watched her outstanding performance in English Vinglish, in this flick also she eased a character of mother.
We hope this time she once again manage to impress her fans with heart capturing performance like English Vinglish.
Sridevi is coming back on Big screen after a long break, she was last seen in "English Vinglish" for this flick she received great applause from audience and critics.
Recently Sridevi took social platform media and revealed first look of her most awaited upcoming venture "Mom".
Actress shared Mom poster on social media with caption "When a women is challenged… Here presenting first look of MOM.#MOMFirstLook". Going through poster it seems movie is going to be wired and interesting.
According to sources in Mom Sridevi is playing lead role opposite Akshay Khana, Abhimanyu Singh and Vikas Verma, in this flick cameo is going to be played by bollywood most versatile actor Nawazuddin Siddiqui.
According to sources child actors role will be played by Pakistani child artist Adnan Siddiqui and Sajal Aly, they both will easing role of Sridevi's children.
Mom is being directed by Ravi Udyawar, movie is all set to release on 14th July.
So guys it's going to be delight for you to watch Sridevi on Big Screen after a long break.
According to latest buzz bollywood actress Sridevi is going to share screen with Hollywood actress Meryl Streep. According to reports two renowned Hollywood producers Jeremy Wall and Jerry Leider were making up their mind to introduce two super stars together on silver screen. According to producers of movie if everything went according to plan then that day is not far when two super stars will be seen together on same screen. The name of this movie is Cowboys And Indians and this movie is going to be directed by Amy Redford an Hollywood legend Robert Redford's daughter.
According to reports in this movie Sridevi will characterize Indians and Meryl will be characterizing cowboys.
Bonny Kapoor in his interview said, its very much true that Sridevi is going to share screen with Hollywood star, as she has received the script of the movie. This is going to be her second movie after a long period of gap her first one was English Vinglish which was very much appreciated by audience as well as critics.
Bollywood Actress Sridevi who captured the heart of audience by doing fabulous acting in English Vinglish. Is once more set for capturing the heart of audience by performing in upcoming 14th IIFA awards night this weekend.
According to source she will be performing with choreographer-director Prabhudheva in the IIFA awards night.
When asked about the Performance, she replied that she will performing on the stage after a gap of 20 years. Therefore she is very much excited as it is going to be her first stage performance after 20 years.
She will be accompanied with her daughters and husband at the 14th IIFA award night   .
"Filmmakers along the years have wanted to cast them together. Unfortunately, it never worked out. After Sridevi made her comeback, Kamal has now taken things into his own hands."
According to sources, almost after three decades Kamal Haasan is writing a film script that could star him and Sridevi together once again.
Kamal Haasan confirmed the news and said, "Yes, I want to work with Sridevi. I'm writing a script for her, so that both of us can act in the film." And incidentally, Sridevi already knows of Kamal Haasan's plans.
The actress is looking forward to the film." The 1983 film Sadma was one of Sridevi's and her co-star Kamal Haasan's biggest hits. And looks like history could soon repeat itself
This year's list of civilian honours is likely to feature actors Rajesh Khanna and Sharmila Tagore, who were a hit Bollywood couple in the '70s. Mr Khanna and Ms Tagore, who starred together in movies like Aradhana and Amar Prem, will reportedly receive the Padma Bhushan, India's third highest civilian award. Rajesh Khanna died on July 18, 2012 and will receive the award posthumously.
Actress Sridevi, who made a searing movie comeback in English Vinglish last year, will reportedly receive the Padma Shri, the fourth highest civilian award.
The official list of honours will be announced later today.
The selection committee this year included actress Ratna Pathak Shah, scientist Anil Kakodkar and home secretary R K Singh, among others.
Bollywood legendry actress Sridevi have achieving great success in her  movie English Vinglish it has been found that both Bonney Kapoor and R Balki are too eager to do another film with Sridevi, but according to sources Sridevi hasn't made up her mind yet about her next venture.
According to source R Balki is planning to launch once again Sridevi in a sequel of English Vinglish, on the other hand Boney kapoor is all set to produce another film that would do justice to his wife Sridevi.
According to sources though Sridevi is not against doing any new film right know, but as well she wants her next movie to be a special as her come back movie. According to sources she is waiting for both Boney Kapoor and R Balki to come forward with a script which would take her beyond English Vinglish.
Further sources disclosed that Sridevi just doesn't want to indulge in any new venture but wants one that would take her to new heights. As she is eager for more success than her previous success in movie English Vinglish.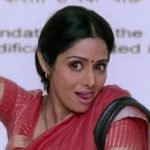 Shashi Godbole(Sridevi) is your average, upper-middle-class mother of two, whose special skills also include making ladoos. In fact, she's so good in her sweetmeat that she even markets it.
But one skill that Shashi lacks is speaking English. This makes her the constant butt of jokes and rebuttal with her husband and teenage daughter . The film drives home the point that those who speak English fluently usually adapt a condescending attitude towards those who don't.
Shashi is not your average Jane. When opportunity takes her to New York for a niece's wedding; the sari-clad Shashi, steals a few hours each day and enrolls for a four-week crash course in English.
The students of the English class also act as a support system to the protagonist, who despite her own dedication, finds that complacency has slipped into her marriage and there's self-respect lacking in her relationship with her teenage daughter.
Gauri Shinde, who made advertising films before she ventured into the feature area; proves she's an ace cinema writer-director. The result is a sweet, sensitive and superlative film that makes you laugh, cry and smile. Every emotion is identifiable. The characters are real, the performances effortless.
Amit Trivedi's music is hummable. The beauty of the soundtrack is that flows naturally, without disturbing the narrative. joy in simplicity.
Sridevi is the backbone of EV. Anxiety, anger, arrogance, anguish, attraction, the actress conveys emotions effortlessly with or without words.
one of the best films on 2012; is tale of  empowerment.  It is bound to empower every viewer because it strikes a chord, right from the start to the end titles. It's the movie to which you must take your grandmother, mother, sister, wife, sweetheart and saas.
Dancing diva Madhuri Dixit paid a tribute to evergreen beauty Sridevi in the initial promos of reality show.
Sridevi will be a part of the celebrity dance show's grand finale, to be aired on Colors on Sep 30, sources confirmed. Once competitors on the big screen,
Two Bollywood beauties are set to share the stage on the Jhalak Dikhhla Jaa 5. They danced to each other's songs – Sridevi boogied to Dhak Dhak Karne Laga and Madhuri showed her jalwa with Mere Haathon Main Nau Nau.
Sridevi will make a visit to the sets of the show to promote her forthcoming film English Vinglish, which marks her comeback to cinema after 15 years. The movie received a positive response at the recently held Toronto International Film Festival.
Madhuri is one of the judges on the show, with filmmaker Karan Johar and choreographer Remo D'Souza.
Madhuri had shot promos, paying a tribute to Bollywood's screen divas, by dancing to their popular numbers. She recreated Sridevi's look from the song Kaante nahin kat te.
After 15 long years, Sridevi, the No. 1 actress of her time is making a comeback with the release of the film, English Vinglish. She is reaching new heights even before the actual release.
The film is a directorial debut of wife of film-maker R. Balki, Gauri Shinde, also the producer of the film. The Sridevi, Adil Hussain, Mehdi Nebbou and Priya Anand starrer film is scheduled to be premiered on September 14. It is to be a part of the highly coveted Galas' section for a world premiere. Thala Ajith, the actress of the Tamil version of the film will beside her during the premier.
While the Hindi and Tamil versions of English Vinglish would be identical, in the hindi version the Man  In The Plane with Sridevi will be Big B while in the Tamil-Telugu version the man will be Ajith
Toronto is hosting its international film festival from September 6 to 16. What better than Foreign festivals to promote films and the prestigious film festival like Toronto's is the best. Most filmmakers look out for such an opportunity. And that's exactly what debutante director Gauri Shinde and producer R Balki did. The festival announced recently that it will host the world premiere of filmmaker Deepa Mehta's Midnight's Children.
The Toronto film festival's organising committee had decided not to premier Indian films after the Shahid Kapoor and Sonam Kapoor starrer film Mausam fiasco the previous year. The film had failed to make it to the premiere since it was incomplete. However, upon watching portions of English Vinglish, they changed their mind and decided to premiere it.
English Vinglish is a story of a woman who struggles with the English language and the insecurities she faces due to it. The film is shot mostly in New York and captures her transformational journey. It's all Hilarious, touching and sensitive.
When contacted, Balki says, "I and the team is thrilled and excited at the fact that our film has been chosen in the 'Galas' selection for a world premiere at the Toronto Film Festival. It's an honour for us as our film is being showcased alongside films by Billy Bob Thornton, Roger Michell, Robert Redford, Mike Newell, Ben Affleck and Mira Nair. We hope the world likes the comeback of Sridevi — the only true Indian female superstar.
advertisement
Subscribe Newsletter
Recent Posts
Tags