R Madhavan A Proud Father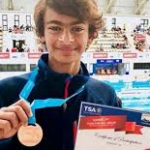 We have watched R Madhavan making everyone proud with his immense acting, however this time it was his son who made country proud.
Recently R Madhavan son Vedaant who is 12 years old made Nation proud by wining bronze medal at Thailand Age Group Swimming Championship 2018. He won bronze medal in 1500 meter freestyle
R Madhavan took social media Instagram and shared his son's photograph holding medal in his hand along with certificate with caption " It was Proud moment for Sarita(my wife) and I as Vedaant wins his first medal for India in an international swim meet in Thailand today. Thank you for all your blessings .
We congratulate actor for his son's for great achievement for making country proud by wining bronze medal at Thailand Age Group Swimming Championship 2018 that took place on Monday.
Right now actor is recovering from his shoulder Injury.
Related Posts
Get ready to watch R. Madhavan in dreadful avatar in 7th episode of Amazon Prime Originals series "Breathe", which is releasing today.
Well his fans will get chance to watch actor in dreadful avatar which is constant from 6th episode.
From the very 5th episode "Breathe" has managed to enthrall viewers and its continuing till date.
The chain has managed to create vast hum due to enthralling subject. From the very first day Breathe series came into existence it has managed to receive applause from viewers and critics.
Breathe is becoming popular day by day due to fresh ingredients and interesting script.
Breathe showcase story of father who is on mission to save his sons life, its a phychological thriller. This series is available in three languages Hindi, Tamil and Telugu. Madhavan has proved again that no one can beat him in versatility.
Series is being produced by Abundantia Entertainment and it went on air in month of January.
So guys get ready to watch 7th episode which will be on air today.
R Madhavan is all set to stun his fans with new looks, as these days  he is looking quite fit with lean physic and his fitness going to stun every fitness freak and his fans.
According to reports actor has reduced 11 Kg, for his upcoming Tamil Flick Vikram Veda. Reports further suggest actor is on special diet, however actor is in no mood to share is diet schedule, as he want to keep it secret.
While interacting with media actor disclosed people might think I am sweating out and doing hard gym no I am not doing so, I am able to get lean look only by my secret diet and schedule as I don't eat after 6 Pm.
Actor further disclosed about his role adding In Vikram Veda I am easing a character of encounter specialist, for giving full justice to my role, I reduced my weight. I hope viewer will enjoy my new look.
These days bollywood stars are not leaving any stone unturned while performing in movie, as they believe in giving hundred percent for this they go for special training, loss weight etc.
According to latest reports R. Madhavan has lost about 15 Kg weight, as he is going to play role of boxer in his upcoming movie "Laal". According to reports R. Madhavan is taking special training in Los Angeles from past six months.
While disclosing his experience actor added that he is feeling as he is been overhauled as my entire body structure and body language has changed. Right now I am feeling like a athlete.
According to reports story of "Laal" is to some extent inspired by boxing legend Muhammad Ali's life story. According to source engaged in "Laal" project director of movie has taken the central part of Muhammad Ali's life in the ring by adding imaginary add-ons. Its happening first time in Bollywood when any movie is inspired by International athlete's life story.
We have seen number of sports person making entry into bollywood film industry though none of them has succeeded in becoming a super star. These days murmur is going on around the corner that cricketer Harbhajan Singh is going to make entry into bollywood.
Before we have seen Harbhajan Singh making special appearance in bollywood still, but this time he is ready to play complete role. According to reports he has been selected by Vinod Bachchan for his upcoming movie.
Though official publication of this movie is yet to made as nothing has been finalized yet. According to reports Vinod Bachchan has approached R Madhavan and Jimmy Shergill to make them part of his upcoming movie. On the other hand  Vinod  Bachchan has approached Nargis Fakhri for lead lady role in his upcoming movie.
On the other hand there is murmur going around the corner that Harbhajan Singh is going to star in Punjabi movie which is going to be produced by Akshay Kumar and Ashvini Yardi.
advertisement
Subscribe Newsletter
Recent Posts
Tags