Randeep Hooda Is Champion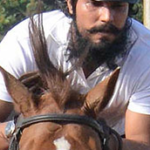 As we all Know Bollywood actor Randeep Hooda is fascinated towards horses actor owns number of horses, being a horse lover he has taken special training in Equestrian sports, recently actor won Silver medal at the National Equestrian Championship.
Recently actor took social platform twitter and shared once click of National Equestrian Championship with caption"I am feeling proud to win Silver medal at NEC, I want to thanks all my team mates who are from Indian Army  (Remount and Veterinary Corps), I am feeling happy and excited to receive medal from QMG Gen Ambre, and I thanks to all who took care of my horses.
On work front actor is right now busy with his upcoming project "Dhaka" which is going to be international project in which actor is going to share screen space with Chris Hemsworth, David Harbour and Manoj Bajpayee.
We congratulate actor for winning Silver Medal in Equestrian sports.
Related Posts
Bollywood versatile actor Randeep Hooda is on special mission, yes you heard right actor is on a visit to Chopra village in Uttarakhand which comes under British Colonial, situated near Jim Corbett park. From past four days actor is there to bring happiness in life of villagers, who are surviving without electricity, water and roads from past many years.
While interacting with media Randeep disclosed he is looking forward to work for welfare of Chopra village to bring change in their lives. Therefore I decided  visited the village to find if they have some hidden talent so that training should be provided to them so that they can earn livelihood and live with pride.
Everyone has right to access whether it be roads, electricity or water, all these things comes under  neccesity, why villagers are living so difficult life, it is our duty to help them live life full of pride.
Well we salute him for his step that he has taken for the welfare of villagers living in Uttarakhand village.
Bollywood actor Randeep Hooda who has manage to set standard for biopics, with his outstanding performance in biopic "Sarbjit", is all set with another episodic action-drama which is going to be based on historical event battle of Saragarhi.
According to sources in battle of Saragarhi, Randeep is going to ease a character of Havildar Ishar Singh, a military commander of 36th Sikhs, which is now known as Fourth Battalion of the Sikh Regiment in Indian Army.
According to sources Randeep for next One and half month will be going through Sikh history under guidance of guru, he will learn sword fighting and learn how two shoot traditional rifles. However he is well trained horse rider, so he will be seen giving perfection to his role.
Going through his looks in Saragarhi he seems giving full justice to his role by resembling Ishar Singh, for this he has started growing his hairs and bread added filmmaker Rahut Mitra.
So its going to be delight for his fans to know that he is coming up with strong character once again.

Sarabjit fame Randeep Hooda is all set to impress audience once again with new avatar, before he surprised everyone with unbelievable weight lose which he did for biopic "Sarabjit".
According to source Hooda is all set to impress his fans and viewers with his upcoming new avatar which he is going to play in "Do Lafzon Ki Kahani", in this flick you will watch him doing Mixed Martial Art.
According to reports for giving full justice to his character Randeep took special training in MMA, for this filmmaker hired MMA experts from Bangkok. Hooda did training for almost 4 hours a day, despite his hectic commitments, so that he can give full justice to his character, he also took training from Indian MMA champion Irfan Khan.
Randeep is receiving great applause from audience for his remarkable performance in "Sarabjit", he has once again showed that it doesn't matter if you are super star or not, what matters is the dedication and hard-work which surely pays you back.
Bollywood actor Randeep Hooda who is all set to portray character of Sarabjit in Sarabjit biopic, is all set to stun his fans with his new sensation, it has come forward that actor has rapped a song for his upcoming flick "Laal Rang".
According to sources engaged in project "Laal Rang" has disclosed that Randeep has rapped a song "Kharch Karod". According to sources for giving perfection to his singing sensation actor has done hard , and his hard work will add extra flavor to his movie "Laal Rang".
According to reports song which Randeep has rapped is remix edition of Vipan Patwa's composition, which was sung by Vikas Kumar, who is well known Haryanvi folk singing, on the other hand Haryanvi rapper Fazilpuria who sang popular bollywood song "Ladki Beautiful Kargayi Chull, will be seen rapping with Randeep in "Kharch Karod".
Hey guys what you are waiting for get ready to hear rapping from your favorite star Randeep Hooda.
Recently Randeep was announced face of Mumbai Fire Brigade.

Bollywood most controversial movie "Rang Rasiya" seems full of controversies. Rang Rasiya is bollywood first movie which got delayed for about 6 years due to controversies.
Though Rang Rasiya is releasing today, but due to recent leak of uncensored song from Rang Rasiay showing lovemaking sensual scene between Randeep and Nandana Sen, this movie has become talk of the town once again.
According to reports Rang Rasiya is based on life story of painter Raja Ravi Verma, who went out breaking norms of society taking art and passion to next level. On the other hand this movie portrays Raja Ravi Varma having relationship with a devdasi named Sugandha which is reason behind controversy.
Uncensored video which got viral on YouTube before the release of movie is song sequence between Randeep and Nandana and this video once again landed into controversy due to its bold contents. This movie is getting released today and all eyes are on censored board what would be reaction as controversial song will be deleted or not. Movie is  directed by bollywood most versatile director Ketan Mehta.
The third installment of thriller franchise, Murder has an all-new cast. This time around, the film is a take on modern day relationships that are sometimes defined by power, fame, money and lust but mostly by love.
Directed by Vishesh Bhatt, the film tells of hot-shot photographer Vikram (Randeep) who is in a relationship with Nisha (Sara), a lounge hostess. They move in together and live in his palatial house on the outskirts of the city. The house, however, holds many secrets including the mysterious disappearance of Vikram's former girlfriend Roshni (Adti).
The three have varied takes on the idea of being in love. Aditi, who plays a professional interior designer in the film, puts love above everything else in real life. To me, it's a combination of trust and understanding. It is putting the other person before you. She says.
Randeep is a bit more pragmatic about being in love. "We as human beings are always evolving. The key is to be honest to one's own self, first." Love is an essential emotion, he says, but when it comes to fidelity, he believes in 'to each his own'. He adds.
Sara believes that a balance has to be struck between being in love and being practical to be able to survive. "Love is an amazing feeling and you become a better person when in love. But there is nothing like eternal love. If I get hurt in love, I will take no time when moving on. Also one shouldn't trust one's partner blindly. It's important to be smart about these things."
advertisement
Subscribe Newsletter
Recent Posts
Tags