Ranveer And Deepika Coming Together In "83"
Deepika Padukone join Ranveer Singh for upcoming project "83", well some of us not be aware of fact that she is all set to ease role of Indian Legendry cricketer Kapil Dev's wife Romi Bhatia.
Best thing about upcoming project is real couple is going to ease role of  on-screen couple in upcoming project "83". This is going to be first outing of both Deepika and Ranveer together after marriage, before they both shared screen space in Padmavat.
Upcoming project is going to showcase historical event in history of Indian cricket team that took place in 1983 when Indian won first cricket world cup.
According to sources recently "83" wrapped up their Dharamshala's first schedule and started shooting for second schedule in London. According to sources very soon Deepika will join "83" crew members in London.
"83" is will release next year on 10th April.
Related Posts
As we all know Simmba actor Ranveer is all set with biopic based on India Winning   Cricket World Cup in 83. In this flick actor is easing a role of legendry cricket captain Kapil Dev.
Recently actor expressed his excitement for being part of upcoming project "83" "We are sitting in Lords with all cricket legends, Cricket World Cup is in progress, and I am doing project on India's winning 83 World cricket cup. Meeting Sunil Gavaskar and Shane Warne was great experience.
Recently actor met with cricket legends Sunil Gavaskar, Shane Warne and Sachin Tendulkar, actor recently shared some selfies on social media, well it seems actor is leaving no stone unturned to get into skin of cricket.
Actor further said I had a dream of working on project based on cricket, and today it seems my dream has come true, I feeling luck that I got chance to work in "83" and learn from legendry cricket players.
Ranveer Singh is all set to collaborate with Yash Raj Films for upcoming project Jayeshbhai Jordaar. Before actor collaborated with YR films for his debut flick "Band Baaja Baraat".
Upcoming project is going to be directed by Divyan Thakkar a debutant filmmaker and produced by Maneesh Sharma under YR films banner.
Recently actor took social sharing platform Instagram for announcing his upcoming project actor wrote "Its a 'miracle script' feeling Thrilled to announce my next film – 'JAYESHBHAI JORDAAR"
Actor further disclosed without wasting any time he gave node to project as he got fascinated after reading script.
While interacting with media producer Maneesh Sharma said, its been decade I collaborated with Ranveer, i feeling excited to join with him after a decade with amazing script I hope viewers will enjoy it.
On work front actor is right know busy with upcoming sports drama  83 based on 1983 cricket World Cup in which Indian team defeated West Indies and clinch World Cup in this project actor is easing a role of Indian cricket Captain Kapil Dev. For giving perfection to his role actor is taking special training from Kapil Dev.
Well after going through above news his fans will be feeling excited to watch him in Jayeshbhai Jordar.

As we all Know Ranveer Singh is all set to ease role of Legendry Indian Cricket Captain Kapil Dev in upcoming biopic 83, based on Indian cricket team wining first World Cup defeating West Indies In Lords on 25th June 1983.
According to sources entire crew members of upcoming biopic 83 is taking training from Legendry Indian Cricket players Balwinder Sandhu, Yashpal Sharma and recently Kapil Dev joined both Balwinder Sandhu and Yashpal Sharma for giving training to Ranveer Singh and entire team of upcoming biopic, training is in progress in Dharmshala cricket stadium.
As we all know Ranveer is going to ease role of Legendry Indian Cricket captain Kapil Devi, taking into consideration that actor gives his hundred percent Legendry Indian Cricket Captain Kapil Dev joined actor to give him special training so that he can understand his body language and give full justice to his role.

Bollywood actor Ranveer Singh who recently impressed viewers and fans with his hidden talent of rapper with his recent project "Gully Boy", recently launched his personal music label titled "INCINK", for the same he collaborated with Bollywood filmmaker Navraz Eranee.
For his music label "INCINK" actor has signed most happening musicians Anushka Manchanda and Shikhar Manchanda. During the launch of music label actor said "I was always fascinated with underground music was, I working on it from past few years, and now it seems I have achieved my dreams. My main reason behind creating INCINK is two give platform to budding singers.
Well guys you might be thinking about title as what INCINK actual means, it means writing your own story.
Good thing about event was actor launched 20 years old budding rapper Kaam Bhaari who has sung first single "Zeher". Well Zeher is written by Kaam Bhaari himself.  Very soon will witness tracks of budding singers SlowCheeta and Spitfire.
It's for sure Ranveer Singh fiery entry in video will surely make his fans fall in love with his incredible style.
Omg Bollywood versatile actor Ranveer who is riding high due to his back to back three blockbuster projects, has decided to work on profit share basis with producers in future.
According to sources for upcoming historical biopic 83, Ranveer has signed profit share agreement, as he will not be taking any fees for the project, he will only share profit with producer.
Well we all know in upcoming project actor is going to play role of Cricket Legend Kapil Dev. Well it seems actor has become calculative, as he is well aware of fact that upcoming project is going to beat all box-office records due to viewers being crazy for cricket.
Well it seems considering fact that upcoming biopic 83 is going to be made on big budget, actor has decided not to put burden on filmmaker, so he has decided to go for profit share basis.
According to sources actor is taking special training from cricket specialist, so that he can justify role he is going to play.
Well from the very first day news of Ranveer Singh putting up with Deepika at her residence after marriage came into existence  has started creating speculation why he is staying at DP's residence.
According to actor has done so that actress don't feel displaced, for the same he decided to shift to her residence, as its her place and she feel comfortable, as being husband it becomes his duty to make her feel comfortable.
Some reports suggest Ranveer is staying at Deepika's resident as they are looking for new home.
Well this is call true husband who always look forward to give comfort to his wife.
Recently actors Simmba got released movie managed to become blockbuster hit. Right now actor is busy with his upcoming project Gully Boy in which he is easing role of rapper.
We wish actor Happy married life.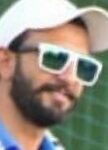 As we all know Bollywood versatile actor Ranveer Singh is going to ease role of Indian legendary cricketer Kapil Dec in upcoming biopic 83 based on Cricket World Cup won by Indian in 83.
According to sources as actor is going to ease role of legendary Indian cricket captain Kapil Dev, for the same actor will go for special training in Cricket by experts Kapil Dev, Madan Lal etc.
Recently actor came forward and confirmed his on going training by posting some clicks on social platform Instagram, one can witness actor practicing in net.
Best thing about upcoming project is that it will have only action and background score.
While interacting with media filmmaker Kabir Khan assured that upcoming sports biopic will contain real script no extra ingredients will be added , viewers will only get real feel  of 83 World Cup.
Biopic will go on floor very soon and it will release in 2020.
Simmba fame Ranveer Singh who is right now enjoying great success of his latest flick Simmba put stage on fire with his hot dance moves.
Simmba has managed to become blockbuster hit by crossing 200 crore mark in very short period and there are reports doing around the corner that in upcoming days movie is going to cross 300 mark.
Recently filmmaker Karan Johar hosted Simmba success party at his place.
According to sources during a success party of Simmba actor impressed guest with outstanding performance.
Number of photos and videos from success party got viral online, making fans crazy with outstanding dance performance, in one of vedio actor is seen putting stage on fire.
This is actors first flick which managed to cross 200 crore mark.
We congratulate Entire team of Simmba for great success of Simbba actor is right now busy with his upcoming project Gully Boy opposite Alia Bhatt.
Ranveer Kapoor starer action thriller Simmba manage to collect 75 crore in weekend.
According to sources Simmba managed to collect 20.72 crore on the opening day and Rs 23.33 crore on the second day. On Sunday movie managed to collect 31.06 crore taking total to Rs 75.11 crore.
According to sources trade analyst has predicted that very soon movie will manage to cross hundred crore mark.
Best thing about Simmba is that it's Sara Ali Khan's second flick, she recently received great applause for her outstanding performance in Kedarnath, and she is also receiving positive reviews from critics and viewers for her outstanding performance in Simmba.
Simmba is  remake of Telugu blockbuster hit Temper.
Simmba is directed by Rohit Shetty and produced by Bollywood versatile filmmaker Karan Johar.
While interacting with media maker of flick disclosed he is feeling happy with response movie  is getting, he further said it was possible due to hard work of entire Simmba team.

Well we all know Christmas is arriving and everyone is busy in shopping and decorating Christmas tree, however Bollywood actor Ranveer is going to have busy Christmas day.
As we all are aware of fact that actor is right now busy shooting for his upcoming project Shamshera opposite Vanni Kapoor, however taking into consideration that project have to be finished before schedule crew members of flick decided to work on Christmas day.
Upcoming project of Ranveer is going to be full of action, in this flick you will watch actor performing high end action under expert guidance.
According to sources crew members are looking forward to wrap up Shamshera in June 2019. So that they get one month time for promotion as movie is all set to release on 31st July 2019.
We wish entire team Happy Christmas and applause team for hard work and dedication.
advertisement
Subscribe Newsletter
Recent Posts
Tags