Ranveer In Simmba Trailer
Good news for Ranveer Singh fans who were eagerly waiting for the first teaser of most awaited project "Simmba". Yes it's going to be great news as recently maker of flick released first teaser.
In trailer you can witness actor in power-packed action which will make you stun, yes actor is playing a role of Sangram Bhalerao a police cop with a statement "Aalaa Re Aala Simmba Aalaa!"
Recently maker of flick shared one click during the launch of trailer in which you can witness Ranveer Singh, Sara Ali Khan and Rohit shetty along with entire team of Simmba.
So guys what you are waiting for just go online and check first trailer of Simmba and enjoy first glimpses of your favorite star Ranveer Singh.
According to sources in upcoming project Ajay Devgn is doing special appearance.
Movie is all set to release on 28 December 2018.
Related Posts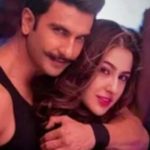 Well these days creating new version of old songs with remix touch has become new trend In Bollywood, this year we have watched number remix version of old songs.
Recently maker of Ranveer starer Simmba launched remix song which is latest version of Bollywood chartbuster song Aankh Maare', you will witness entire star cast along with lead stars Ranveer Singh and Sara Ali Khan doing dance moves.
Recently maker of flick released first trailer of flick which has managed to capture heart of viewers and now first track "Aankh Maare" is creating excitement among viewers.
Well it's going to be Sara's second project and she already have great fan following.
So guys what you are waiting for go on social tube YouTube and listen Aankh Maare"  and enjoy dance moves of your favorite star.
Movie is all set to release on December 28.
Well Ranveer and Deepika are now couple, they tied knot at Lake Como Italy yesterday. Well recently some of clicks from high security event got leaked apart from restriction of no mobile policy.
Well from very first day date of Ranveer Singh and Deepika's wedding got finalized, we came through number of reports in which actor disclosed that upcoming event is going to be private and secret affair, for the same he requested guests to not bring camera or mobile inside wedding venue, however some of pictures and video shots got viral making event no more secret affair.
In one of pictures that got viral from wedding venue you can witness Deepika in red saree and Ranveer in white and golden sherwani  coming out of venue after solemnizing  marriage in Kokani tradition.
According to sources today marriage will happen in Sikh tradition with Anand Karaj Ceremony.
.
Well Ranveer and Deepika is all set to tie knot on 14th and 15th November, it will be two day ceremony as they will tie knot in two traditions one in Konkani and another one is Sindhi tradition.
According to sources wedding ceremony will commence at Villa Del Balbianello, Lake Como in Italy. After returning back from Italy Ranveer Sigh and Deepika Padukone are going to host two different receptions in Mumbai and Bengluru.
Well before Ranveer Singh has disclosed that upcoming wedding is going to be private affair for the same we have only invited close friends, Bollywood celebrities and family members, and he also requested everyone not to bring mobile phone and camera inside the venue as they want to keep it private, and he himself will share clicks with his fans.
However both the stars kept their relationship under wrap, and they only opened up their relationship after great success of their historical project Padmavati.
As we all know Ranveer Singh is going to ease a role of Rapper in upcoming flick "Gully Boy".
Well Gully Boy is inspired from life story of two rappers Divine and Naezy.
According to sources for getting into skin of rapper actor took special training from Divine and Naezy. Though in number of reality shows we have witnessed Ranveer showcasing his rapping talent.
Recently actor performed in a live concert Gully Fest. In this feast he shared stage with Divine and Naezy. Actor was looking perfect rapper he was looking stylish in orange hoodie, black track pants and glasses.
He performed like real rapper viewers were witnessed hooting actors name. Some of his fans were shocked to his new avatar, overall actor did great performance.
According to sources from the very first day Ranveer met Divine and Naezy he is sharing great bond with them.
On work front actor is all set with his most anticipated project Simmba which is going to release on 28th December 2018.
Gully Boy is all set to release on 14th February 2019.
Well Ranveer and Alia starrer "Gully Boy" is yet to release, and both the stars has signed another project together, yes you heard right bollywood versatile filmmaker Karan Johar recently signed both stars for his upcoming untitled project.
Few days back Karan Johar officially announced that he is working on script which is going to be periodic drama and very soon he will reveal star cast.
Recently Karan came forward revealed star cast of said project which will portray story of two brothers playing opposite character.
According to sources KJ has signed Ranveer Singh, Alia Bhatt and Kareena, however he is still in search for actor who will play role of Ranveer's brother.
According to sources Karan is facing difficulty for finalizing another actor, as no actor is willing to play role of Ranveer's brother, as everyone wants to play lead role, well it seems KJ going to have tough time searching second hero.
According to sources Kareena is going to ease role of Ranveer Singh's sister, well it will be interesting concept to watch Kareena playing role of Ranveer Singh's sister.
Recently we have watched Kareena in Veer Di Wedding, she has done immaculate performance and for the same received great applause from audience.
Well if news is believed to be true than it's going to delight for Ranveer and Alia fans to watch two movies in a row.
As we all know Ranveer Singh and Sara Ali Khan is all set with Rohit and Karan's most awaited project Simmba. Recently Simmba team revealed first look from the sets of flick.
It's happening first time when Padmaavat actor Ranveeer is going to share screen with Sara Ali Khan.
According to sources shooting of Simmba went on floor at Ramoji Film City situated in Hyderabad. Filmmaker revealed first look of their project from Hyderabad.
Best thing about Simmba is Rohit Shetty and Karan Johar collaborating first time. Movie is going to be directed by Rohit Shetty and going to be produced by Karan.
Well however Kedarnath was Sara Ali Khan's debut movie due to some reason movie got stranded and she signed Simmba without intimating Kedarnath maker, due to which conflict between maker and Sara developed and maker has sent actress legal notice for asking compensation for doing breach of contract.
Well it's going to be delight for Sara's fans to watch her sharing screen space with Ranveer Singh.
Ranveer Singh has once again showcased, when it comes to work he never make any excuse, what so ever he is going through.
According to report recently actor got injured his left shoulder while playing football match, due to which actor was to step back from shooting of flick, but he didn't do that, he immediately went to dubbing studio for dubbing his upcoming project "Gully Boy".
According to sources actor was supported coming out of dubbing studio, he was supported wearing yellow T-shirt with jacket and black track pants, he was carrying arm rest.
According to sources due to shoulder injury Ranveer is not likely in to play and there is buzz doing around the corner that Hrithik will replace actor in opening match of upcoming IPL opening ceremony match.
In upcoming project "Gully Boy" actor is sharing screen with Alia Bhatt.
Some of us may not be aware of Ranveer Singhs project "83", which is going to be biopic based on Indian ace cricket Captain Kapil Dev, in who's captaincy India won 1983 World Cup.
Well we hope after going through this news cricket fans will be feeling delighted.
According to report upcoming project "83" is been directed by bollywood's versatile director Kabir Khan, for the same maker has signed Ranveer Singh to ease a character of Kapil Dev.
According to reports maker of flick has only finalized Ranveer Kapoor. Kabir is right now searching for other cast member who will play role of Indian players.
Recently maker of "83" came forward and disclosed releasing date of flick which is going to be 30th August.
After playing important role in Padmaavat, actor is once again ready to play important character in Kapil Dev's biopic.
Ranveer Singh receiving great applause for his outstanding performance in "Padmaavat" for playing villain role.
According to report "Padmaavat" had great opening day at the box-office by collecting 19 crore.
You can say its Ranveer's third flick which managed to get good opening, his previous flicks like Gunday earned 16.12 crore on the opening day and Goliyon Ki Rassleela Ram-Leela earned 16 crore on opening day.
While interacting with media actor disclosed I am feeling happy that viewers liked my role, I want to thanks my fans and viewers for appreciating my role in Padmaavat.
Actor further said I thanks critics for praising me, but i want to reveal truth that when I signed Padmaavat lots of my fans said playing villain role is not good for hero it can create hindrance in future.
Actor further disclosed "I like accepting challenges, as Khilji character was bit challenging, therefore I took challenge, and it paid me off, I thanks SLB for having faith in me, working constantly for two year on Padmaavat was quite fruitful and exciting. You can say I did gambling and i got paid off, well obvious playing villain role by hero is not easy.
We all are aware of the fact that movie went through number of controversy and protest due to its contents, but at last movie got released.
Few days back we came across news which revealed Anees Bazmee is looking forward to make sequel of super duper hit No Entry.
According to latest development movie title will be "No Entry Main Entry" in this flick you will witness Ranveer Singh and Arjun Kapoor in place of Salman and Anil.
As we all know Ranveer and Arjun shares great bonding on the other hand there off- screen comedy timing is super duper, well we think filmmaker has done good job by considering Ranveer and Arjun.
According to sources in upcoming sequel you will watch Ranveer easing character of Prem and Arjun will be playing character of Kishan as in previous part Prem was eased by Salman Khan and Kishan was eased by Anil Kapoor.
According to report after both the stars give their nod to project maker will start searching for other cast.
advertisement
Subscribe Newsletter
Recent Posts
Tags