Ritesh Starrer "Bank Chor" In Trouble
Ritesh and Vivek Oberoi's upcoming project Bank Chor is getting into trouble for his title which somehow sounds like a abusive language bhech****.
According to reports Central Board of Film Certification is getting harsh on movie title, therefore CBFC has issued notice to filmmaker to re-dub the words every time when actors absolute in flick.
According to reports to some extinct maker of flick has shown his cleverness using a title which sounds like a abuse. As they took into consideration that every time actor absolute "Bank Chor" audience will be unable to stop their laughter, therefore CBFC has made it clear that it will not certify the flick, until maker re-dube "Bank Chor" used in all dialogues, as maker of flick used title as a abusive language.
According to reports CBFS said "we are sorry to play spoilsport, because it was the need of day, changing title was compulsory as it sounds abusive, therefore we have asked maker to re-dub "Bank Chor " everywhere in the flick where it has been used.
Related Posts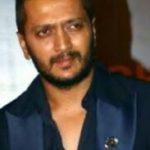 Son of late Maharashtra Chief Minister Vilasrao Deshmukh and Bollywood actor-producer and comedian actor Ritesh Deshmukh, recently upset followers of Maratha great warrior Chhatrapati Shivaji Maharaj. It all happened when actor posted his image in front of statue of Shivaji situated in Raigad Fort. However later actor realized his mistake and apologized follower for hurting their sentiments.
Well actor came forward and apologized for mistake he did he said I am great admirer and follower of Shivaji like other followers, I did nothing intentionally for hurting sentiments by clicking photos or sitting in front of Statue, anyhow if someone got hurt due to my act, I apologize.
We hope after actors apology Shivji's follower will forgive actor for his mistake.
On work front Ritesh is busy with his upcoming most awaited comedy project "Total Dhamal" which is going to release on 7th November 2018.
Bollywood actor Ritesh Deshmukh is all set to do dhamaal, yes you heard right maker of Dhamaal Mr. Indra Kumar has come forward and announced third installment of Dhamaal franchise titled "Total Dhamaal".
According to latest reports upcoming sequel will have Will have Ajay Devgn instead of Sanjay Dutt, and best thing about this sequel is you will get chance to watch Anil and Madhuri Dixit as new cast of flick.
On the other hand Ritesh is going to play lead role in Dhamaal.
While interacting with media Ritesh confirmed the news adding "Yes I am doing the flick."
According to sources upcoming installment is going to be full of laughter and gags, this the reason actor got ready to do this flick.
According to sources maker of flick has tried to add more laughter element, and movie will be only meant for fun and laughter.
advertisement
Subscribe Newsletter
Recent Posts
Tags