Saif In Unique Avatar

Well from past few days there were reports doing around the corner that Saif Ali is looking forward to ease unique avatar in Navdeep Singh's directorial venture "Laal Kaptaan", for that very day fans of actor were eagerly waiting for actors first look from his upcoming project "Laal Kaptaan".
Wail wait seems to be over as recently filmmaker revealed first look of Saif in which you can witness actor easing role of Nanga Sadhu, well its going to be interesting character which fans and viewers will like to watch.
While interacting with media Aanand L Rai disclosed that his upcoming project is going to be of new genera which will contain story of its own kind, I hope viewers will appreciate it.
According to sources as picture is going to be full of action, for the same actor has taken special training in sword fight by experts.
On work front Saif is right now busy with his upcoming project Jawaani Jaaneman and Tanaji : The Unsung Warrior.
Laal Kaptaan is all set to release on 6th September.
Related Posts

There is buzz doing around the corner that Dil Chahta Hai pairing is all set to reunite once again in upcoming Neeraj Pandey's project, well we are talking about Aamir and Saif reuniting once again.
According to buzz filmmaker is right now working on script and he is considering Aamir and Saif to play lead role in his upcoming project.
Buzz further suggest if everything goes according to plan viewers will witness Dil Chahta Hai paring once again on silver screen.
Well above news is believed to be buzz as no one has come forward and announced officially about upcoming project.
On work front both stars are busy with their prescribed projects Saif is right now busy with shot of his most awaited project Jawaani Jaaneman and Aamir is all set to start shot for his upcoming Hollywood remake of Forest Gump movie is titled Laal Singh Chaddha in this flick actor is going to reunite with 3 idiot co-star Kareena Kapoor.
Well if above news is believed to be true than its going to be delight for Saif and Aamir fans to see them together after decades.
Bollywood actor Saif Ali Khan is all set to produce his upcoming project "Jawaani Jaaneman" in which he is going to play lead role.
According to sources actor is going to collaborate with his old time friend Jay Shewakramani for producing "Jawaani Jaaneman" under his production banner Black Knight.
While interacting with media actor said "I am feeling glad that I am going to produce flick with my old time friend Jay Shewarkramani, my upcoming production is going to be family comedy which will give you slice of modern family life which to some instinct well give viewers real feel of family comedy".
Well few days' back we came across news that father daughter bounding will be witnessed in upcoming project as Saif Ali Khan is going to play on screen father of Sara Ali Khan. Well recently actor denied any such report by adding "I would have loved to have Sara in my upcoming project, but it's not happening as she is doing well in her field and I am in my field. Well I hope in future we might do flick together.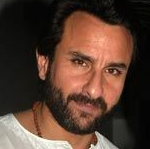 Well few months back we came across news that Imtiaz Ali is looking forward to make sequel of Saif Ali Khan starrer "Love Aaj Kal" and for the same he has approached actor to ease role of Kartik Aaryan's father.
Recently actor came forward and disclosed, yes I was approached by Imtiaz Ali for upcoming sequel, but till date I have not given node to sequel. Well I like playing different avatars, as it makes you versatile, well I was pleased with Imtiaz offer for "Love Aaj Kal" sequel, well I want to clear buzz of signing project, I was approached but I have not signed Love Aaj Kal" yet.
Actor further disclosed I am  feeling excited to watch my daughter Sara Ali Khan working with Imtiaz Ali Khan and Kartik Aaryan.
On work front Saif Ali Khan has number of project in his kitty like Sacred Games 2, Taanaji: The Unsung Warrior, Jawani Janeman, Bhooth Police and Hunter.
We wish actor good luck for his upcoming projects.
Bollywood actor Saif Ali Khan who few days back disclosed "That he too was victim of harassment during his struggling days", this statement he gave while talking about #MeToo movement.
Well we all know "MeToo movement has opened dark secret of Bollywood celebrities who have been victim of sexual harassment and name of those who have been accused for sexual harassment.
As we all Know Saif Ali Khan's daughter Sara Ali is making her Bollywood debut, taking into consideration of her daughters debut actor disclosed he believe no one can mess with his family member, well taking into consideration of our reputation i don't think anyone will try to mess with family.
While concluding his interaction with media actor said "Well time has come to provide protection to those ladies who have no one to protect them, for the same we have to make workplaces safe by providing security and organizing awareness workshops for them, than only this world will become better place for women.
#MeToo movement has become essential platform for woman who have been sexually assaulted and harassed by employer at work place, well from the very first day #MeToo movement came into force number of women including actress have come forward and disclosed name of Key members of Industry who have done misconduct with them.
Recently bollyood actor Saif Ali came forward and said he stand united with women who have come forward and shared stories of sexual harassment as he himself has gone through this pain.
Actor recently shared when he made his bollywood debut he also faced harassment, however it was not sexual assault, but I have been victim of harassment, he further said he was harassed during his acting career, not sexually, whenever I go back and think about harassment I feel angry. I have not talked about it publically because I am not important today, well I can feel pain of women who have been victim of sexual harassment. Well right now it becomes our duty to come forward and support #MeToo movement so that accused can be sent behind bars.
After going through above news fans of Saif Ali khan will appericate actor for coming forward and supporting #MeToo movement.

Trailer of most awaited project of Saif Ali Khan starrer Baazar is out. In trailer you will get synopsis of Gujarati Business magnate dealing in stock market Shakun Kathari character eased by Saif Ali Khan.
Best thing about trailer release that is it was launched at Bombay Stock Exchange reason behind releasing trailer at Bombay Stock Exchange is movie script which is entirely based on Stock Exchange.
In upcoming project Saif is sharing screen space with Chitrangda Singh, Radhika Apte and Rohan Mehra.
In upcoming project Rohan Mehra is making his bollywood debut he is son of Late Bollywood actor Vinod Mehra.
There is buzz doing around the corner that Bazaare is inspired from Hollywood blockbuster hit Wall Street or The Wolf of Wall Street.
Bazaare is directed by Nikkhil Advani. Movie is all set to release on 26th October 2018.
Well when we talk about risk taking star of Bollywood only one name comes in our mind is Saif Ali Khan, actor has done number of project, well most of his project did not manage it make it to blockbuster hit.
Well once again actor is all set to take risk with his upcoming project "Hunter" , in upcoming project you will witness actor in new avatar, as he is going to ease a role of Naga Sadhu.
According to sources for justifying role actor is leaving no stone unturned, for the same actor took special training in sword fighting and stunts from experts.
While interacting with media actor disclosed "My upcoming project "Hunter" is very closed to my heart as for the same I went through transformation, I have grown long hair and bread and learned sword fighting so that I can get into skin of Naga Sadhu.
Well actors first look somehow resembles to Hollywood super star Johnny Deep's  character that he eased in blockbuster flick Jack Sparrow, now question arises will he able to give tough competition to Johnny Deep's character.

Good news for Saif Ali Khan fans and Sara Ali Khan fans as father daughter duo is all set to share silver screen in upcoming untitled project of Nitin Kakkar.
Well watching real father(Said)  daughter(Sara) playing reel father daughter on screen will be great delight for family, friends, fans and viewers. So get ready to watch onscreen father daughter chemistry.
While interacting with media filmmaker Nittin Kakkar confirmed the news of Sara Ali khan and Saif Ali Khan sharing screen in his upcoming untitled project, well I think it's not right time to disclose about script and their role, but it's for sure they both have powerful role to play. I provided script to both and they have shown interest, and right now I am working on finalizing dates with them, as both the stars are going busy with their ongoing commitments.
As we all aware Bollywood is somehow inspired from Hollywood, we have watched number of Bollywood flicks which are remake of Hollywood flicks, according to sources Saif Ali Khan's upcoming flick Chef is also inspired from Jon Favreus flick which had same title released in 2014.
Upcoming flick Chef will showcase story of Chef Roshan Kalra( Saif Ali Khan) who is busy with his profession and he has no time for his family, however he relaise his mistake when one day his wife Radha (Padmapriya) release him his mistake adding "only by giving money no one can become good father" and thereafter he try to reconnect with his wife and kids.
In Chef child role is played by Svar Kamble. Movie is being produced by Bhushan Kumar and Krishan Kumar.
Well Saif this years has not managed to impress viewers, despite his outstanding performance in Rangoon, however bollywood anylist predict Chef is going to be hit as this flick has unique script.
Few days back we came across first poster of Saif Ali Khan's upcoming project Chef, and recently maker of flick released first trailer of flick. Going through trailer you will get hint about his character.
Saif Ali Khan's upcoming project is inspired from Hollywood blockbuster hit Chef.
Chef is going to showcase journey of man named Roshan Kalra (Saif Ali Khan) who is on a journey of finding happiness, movie showcase story of love, food and family, it will also showcase bounding between father and son.
Movie is being directed by Airlift director Raja Krishna Menon, and being produced by Bhushan Kumar, Krishan Kumar, Vikram
Other co-stars of flick are Svar Kamble, Padmapriya and Chandan Roy Sanyal.
In this flick you will watch Khan in new avatar, which he is playing first time in his acting career.
Movie is all set to release on 6th October.
advertisement
Subscribe Newsletter
Recent Posts
Tags