Shahid And Mira In Happy Mood

Bollywood versatile actor Shahid Kapoor recently shared image of special moment with his wife Mira who is all set to become parent of second baby.
Recently actor came forward and shared cheerful moment with his wife celebrating baby shower. For sharing cheerful moment actor took social media Instagram and shared image in which you can witness both Shahid and Mira cutting cake. Both the couples are looking adorable and cute.
According to source images shared by Shahid Kapoor are all captured during a party which was organized by family and friends, in party entire family was available.
Well we hope after going through latest image of couple, fans will be feeling excited and delighted.
Shahid is going through great time due to his brother Ishan Khattar making his debut with Dhadak, which is all set to release on 20th July. Best thing about Dhadak is new paring.
On work front actor has number of projects in hand, actor is also doing Magadheera Remake in which he sharing screen space with Pooja Hegde..
Related Posts

Wow Shahid Kapoor to make his debut into production, yes you heard right actor is all set to produce biopic based on life story of Legendry boxer Ngangom Dingko.
According to sources right now script of upcoming biopic is on progress, as soon as script get ready making of biopic will begun.
According to sources Shahid has purchased copyright of upcoming biopic, for the same he has signed bollywood filmmaker Raja Krishna Menon for direction.
Some of us may not be aware of Dingko Singh's achievement, well at the age of 19 Dingko made country proud by winning gold medal at 1998 Asian Games that took place in Bangkok. He was also honored with Padma Shri. However in 2017 he was diagnosed with bile duct cancer due to his strong WILL power he won cancer battle.
Right now Dingko is working as coach at SAI Speical Area Games Center situated in Khuma Lampak training junior boxer's .
However it's not yet disclosed will Shahid ease role of Dingko or he will sign anyone else to play role of Dingko Singh. However some reports suggest Shahid is going to ease role of Dingko Singh.
We congratulate actor for turning producer.
Well from past few days there were news doing around the corner that Padmavat fame Shahid Kapoor is being diagnosed with stage one stomach cancer.
However recently actor and his family came forward and denied any such development adding it's rumour nothing more than that.
Family members further disclosed "How these kind of rumors develop without any authantication, and how people start speculations without going through true facts.
On work front actor is right now busy with upcoming remake project of South Indian flick Arjun Reddy, remake version is titled " Kabir Singh" in this flick actor is going to share screen space with Shraddha Kapoor.
Well it seems rumors of actor diagnosed with cancer comes to halt after going through above news.
Movie is all set to release on June 21, 2019.
As we all know recently  Padmavati fame Shahid Kapoor and Shraddha Kapoor wrapped up there most awaited flick "Batti Gul Meter Chalu" and right now they are busy with their promotion campaign, however Shahid is avoiding some promotion events as he want to spend some time with his wife Mira and new born baby.
Both stars are visiting TV reality shows for the promotion of their flick. Recently both the stars were spotted on Mumbai airport heading toward New Delhi for promotion, the both were captured in camera by Shutterbugs. Both the stars were looking stunning in their outfit, both the stars were spotted wearing denim ,T-shirts and glares.
Well movie has become house hold of all the fans of Shahid Kapoor and Shraddha Kapoor from the very first day movie trailer got revealed, fans are eagerly waiting for the release of flick.
Recently Shraddha received great applause for her outstanding performance in "Stree" which got released last month.
On work front Shahid is working on his upcoming project "Arjun Reddy" which is based on Telugu flick with same title. On work front Shraddha will be seen next in "Sahoo" opposite Bahubali fame Prabhas.

Shahid Kapoor and Mira Rajput blessed with second kid; Mira Rajput gave birth to baby boy at Hinduja Hospital Mumbai yesterday. There first baby girl was born in 2016. News of Mira's pregnancy was confirmed by couple on social media earlier this year.
While interacting with media Shahid disclosed "He is going to take one month break from his busy schedule so that he can spend some time with his second kid, he further said when Misha was born I got only one week break which was not enough but this time I am going to have month break, my daughter is feeling excited about his brother, I thanks God for giving me beautiful wife and kids".
According to sources number of bollywood actors congratulated couple for their second baby.
According to sources Ishaan Khatter and Neelima Azeem was seen in Joyful mood outside Hinduja Hospital.
On work front Shahid is all set with his upcoming project "Batti Gul Meter Chalu", which is going to release 21st of this month.
We congratulate couple on birth of their second kid.
Few months back we came across news that Shahid Kapoor and Mira are looking for new house.
Well according to latest development actor has finalized and purchased duplex apartment in Worli Mumbai.
According to sources Shahid is now Neighbour of Big B and Akshay Kumar. According to report shortly Shahid and Mira will shift to Worli from Juhu where they are residing at present.
According to sources duplex is situated on 42 and 43rd floor, it cost around 56 crore, and actor has already paid registration fees and very soon he along with Mira will be shifting to new address Three Sixty West.
According to sources There Sixty West is posh and costly building in Worli area Mumbai.
On work front actor is right now busy with promotion of   his upcoming project Batti Gul Meter Chalu, which is all set to release on 31st August 2018.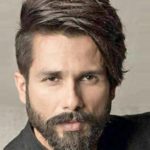 After receiving great applause from viewers and critics for outstanding performance in Padmaavat, Shahid Kapoor is all set with another project which is going to be remake.
According to sources Shahid is all set to play titular role in upcoming project which is going to be Hindi remake of Telugu blockbuster flick " Arjun Reddy" released in 2017.
Movie showcase story of a surgeon having anger syndrome's, who's life turns upside down after his girlfriend tie knot with another man and he get upset over it.
According to sources after going through script actor has signed project. Shooting of flick will commence very soon.
According to sources Murad Khetani and Ashwin Warde has purchased copyright from Telugu director and right now they are working on Hindi version.
On work front actor is right now with shooting of his most awaited project Batti Gul Meter Chalu.
Have you ever heard about award named Nothing To Hide, well it seems we  have not heard about this kind of award before, but it was surprising to know that in recent award function Nothing To Hide award was introduced.
Recently new award catergory was introduced in award function called "Nothing To Hide". It was shocking moment for viewers when Shahid and Kiriti was nominated for this award.
According to sources they received this award for being honest about their life struggle in professional and personal life.
According to sources after this award got highlighted online, both the actor went through troll as their fans started posting jokes on twitter.
On work front Shahid is looking forward for the release of his much awaited SLB's project "Padmavati" which has got delayed due to some controversy, before this movie was all set to release in December 2017.
Recently Padmavati actor Shahid Kapoor revealed first look of himself  from sets of Padmavati he is easing a role of Maha Rawal Ratan Singh, you can watch him standing with pride and having scar on his face.
First look is too impressive as one can watch Rajput King standing in pride with shine in his eyes, and you will watch Maha Rawal Ratan Singh standing in battle ground holding sword and stains.
Recently actor came forward and shared his poster on social platform tweeted with caption in Hindi. Adding, Maha Rawal Ratan Singh a sign of courage, power and esteem.
In Padmavati Shahid is playing a character of Deepika (Padmavatis) husband, and Ranbir easing a character of Alauddin Khilji.
Padmavati is much awaited project and it's dream project of SLB, and viewers are waiting eagerly to watch the same.
Movie will hit theater on 1st December.
Bollywood actor Shahid Kapoor praise Babita Phogat actor said she is great inspiration to me.
Recently Babita tweeted adding "Shahid Kapoor sir I went through new that you want to play Babita Phogat role in Dangle 2, your wish will get fulfill with Dangal 2.
After going through Babita's tweet actor tweeted "Haha that's to sweet of you Babita. You are such a an inspiration to me.
As we all are well aware of the fact that Aamir Khan starrer Dangal has given treat to Babita and Geeta Phogat by making flick on their life story.
Going through above news it seems Shahid Kapoor is very much impressed by Babita's character in Dangal, that he has expressed his desire of playing Babita Phogat in Dangal 2. However it's shocking how can a male actor portray female character, well we hope actor wants to play a wrestler role in Dangal 2.
Udta Punjab actor Shahid Kapoor and Mira welcome their first born, she gave birth to baby girl.
During a recent interaction with leading film Magazine, actor disclosed his affection with his wife, by adding i feel protected and safe when Mira is around me. I mean to say I feel protected in presence of Mira, as she always listen my problems very carefully and help me coping with them, we both share everything with each other. She give me suggestions which i always respect.
He further said if you have someone in your life who always listen and show interest in your talk and stand right with you, you always feel protective.
Actor took to the social platform Twitter and shared news of his first born baby girl adding " "She is here!".
Right now actor is busy with his upcoming project "Rangoon" in this flick he is going to share screen with Kangana and Saif, movie is all slated to release on 14th October.
advertisement
Subscribe Newsletter
Recent Posts
Tags