Shahid And Mira In Happy Mood

Bollywood versatile actor Shahid Kapoor recently shared image of special moment with his wife Mira who is all set to become parent of second baby.
Recently actor came forward and shared cheerful moment with his wife celebrating baby shower. For sharing cheerful moment actor took social media Instagram and shared image in which you can witness both Shahid and Mira cutting cake. Both the couples are looking adorable and cute.
According to source images shared by Shahid Kapoor are all captured during a party which was organized by family and friends, in party entire family was available.
Well we hope after going through latest image of couple, fans will be feeling excited and delighted.
Shahid is going through great time due to his brother Ishan Khattar making his debut with Dhadak, which is all set to release on 20th July. Best thing about Dhadak is new paring.
On work front actor has number of projects in hand, actor is also doing Magadheera Remake in which he sharing screen space with Pooja Hegde..
Related Posts
Few months back we came across news that Shahid Kapoor and Mira are looking for new house.
Well according to latest development actor has finalized and purchased duplex apartment in Worli Mumbai.
According to sources Shahid is now Neighbour of Big B and Akshay Kumar. According to report shortly Shahid and Mira will shift to Worli from Juhu where they are residing at present.
According to sources duplex is situated on 42 and 43rd floor, it cost around 56 crore, and actor has already paid registration fees and very soon he along with Mira will be shifting to new address Three Sixty West.
According to sources There Sixty West is posh and costly building in Worli area Mumbai.
On work front actor is right now busy with promotion of   his upcoming project Batti Gul Meter Chalu, which is all set to release on 31st August 2018.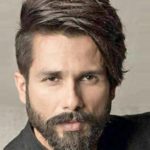 After receiving great applause from viewers and critics for outstanding performance in Padmaavat, Shahid Kapoor is all set with another project which is going to be remake.
According to sources Shahid is all set to play titular role in upcoming project which is going to be Hindi remake of Telugu blockbuster flick " Arjun Reddy" released in 2017.
Movie showcase story of a surgeon having anger syndrome's, who's life turns upside down after his girlfriend tie knot with another man and he get upset over it.
According to sources after going through script actor has signed project. Shooting of flick will commence very soon.
According to sources Murad Khetani and Ashwin Warde has purchased copyright from Telugu director and right now they are working on Hindi version.
On work front actor is right now with shooting of his most awaited project Batti Gul Meter Chalu.
Have you ever heard about award named Nothing To Hide, well it seems we  have not heard about this kind of award before, but it was surprising to know that in recent award function Nothing To Hide award was introduced.
Recently new award catergory was introduced in award function called "Nothing To Hide". It was shocking moment for viewers when Shahid and Kiriti was nominated for this award.
According to sources they received this award for being honest about their life struggle in professional and personal life.
According to sources after this award got highlighted online, both the actor went through troll as their fans started posting jokes on twitter.
On work front Shahid is looking forward for the release of his much awaited SLB's project "Padmavati" which has got delayed due to some controversy, before this movie was all set to release in December 2017.
Recently Padmavati actor Shahid Kapoor revealed first look of himself  from sets of Padmavati he is easing a role of Maha Rawal Ratan Singh, you can watch him standing with pride and having scar on his face.
First look is too impressive as one can watch Rajput King standing in pride with shine in his eyes, and you will watch Maha Rawal Ratan Singh standing in battle ground holding sword and stains.
Recently actor came forward and shared his poster on social platform tweeted with caption in Hindi. Adding, Maha Rawal Ratan Singh a sign of courage, power and esteem.
In Padmavati Shahid is playing a character of Deepika (Padmavatis) husband, and Ranbir easing a character of Alauddin Khilji.
Padmavati is much awaited project and it's dream project of SLB, and viewers are waiting eagerly to watch the same.
Movie will hit theater on 1st December.
Bollywood actor Shahid Kapoor praise Babita Phogat actor said she is great inspiration to me.
Recently Babita tweeted adding "Shahid Kapoor sir I went through new that you want to play Babita Phogat role in Dangle 2, your wish will get fulfill with Dangal 2.
After going through Babita's tweet actor tweeted "Haha that's to sweet of you Babita. You are such a an inspiration to me.
As we all are well aware of the fact that Aamir Khan starrer Dangal has given treat to Babita and Geeta Phogat by making flick on their life story.
Going through above news it seems Shahid Kapoor is very much impressed by Babita's character in Dangal, that he has expressed his desire of playing Babita Phogat in Dangal 2. However it's shocking how can a male actor portray female character, well we hope actor wants to play a wrestler role in Dangal 2.
Udta Punjab actor Shahid Kapoor and Mira welcome their first born, she gave birth to baby girl.
During a recent interaction with leading film Magazine, actor disclosed his affection with his wife, by adding i feel protected and safe when Mira is around me. I mean to say I feel protected in presence of Mira, as she always listen my problems very carefully and help me coping with them, we both share everything with each other. She give me suggestions which i always respect.
He further said if you have someone in your life who always listen and show interest in your talk and stand right with you, you always feel protective.
Actor took to the social platform Twitter and shared news of his first born baby girl adding " "She is here!".
Right now actor is busy with his upcoming project "Rangoon" in this flick he is going to share screen with Kangana and Saif, movie is all slated to release on 14th October.

Few days back there was news doing around the corner that Shahid might skip promotion of his upcoming flick "Udta Punjab" as he was looking forward to stay with her pregnant wife Mira Rajput. But maker said its all rubbish nothing is true in this statement.
According to latest development it came forward that Shahid did not went for recent screening of flick, though being free, according to reports maker of "Udta Punjab"made special arrangement for crew member and star cast for screening of flick on Monday night, however Shahid did not turned up as he was busy shooting for endorsement of product.
Rumor started mulling when Shahid completed brand endorsement shoot at around 9:30 pm and did not make to screening of "Udta Punjab", it was said that actor after wrapping shoot of endorsement immediately went to home to take care of her wife.
Well it's not clear why Shahid is avoiding promotion of "Udta Punjab".
Shahid Kapoor feels if he gets another chance to share screen with his ex-girlfriend, it will be delight for him.
As we all know Shahid and Kareena are sharing screen in "Udta Punjab", however they are not paired together and audience is missing their on-screen chemistry.
While interacting with media he was asked would he like if he get another chance in future to share screen with Kareena, he said "I have always said yes" same question has been asked from me number of times, and my answer is always same yes, if it happens again it will delight, and if it not happen, i have no regret.
While concluding his interaction with media actor said right now i am feeling excited about "Udta Punjab"and about impending arrival of me and my wife's baby. I am feeling really happy to play a part of Daddy, on the overall I am feeling happy that i will get new responsibility.
For giving full justice to character number of stars goes to extreme, Shahid did same, who don't drink or smoke, went through tough time in Udta Punjab, where he is playing character of star who get into drug addiction.
While interacting with media Shahid disclosed for playing character of drug addict, I went for coffee, as I don't drink and smoke, it was coffee that helped me to get into skin of character, for this I used to drink lots of cups of coffee before starting shoot.
According to sources Shahid used to drink about 8 to 9 cups of coffee to get into skin of drug addict character.
While concluding his interaction with media Shahid said I have not played this kind of scariest character in my entire life, it was first time when I played this kind of character.
In Udta Punjab Shahid is playing a character of Tommy Singh who get indulge in drug addiction.
Bollywood actor Shahid Kapoor gave a surprise treat to his fans by posting a picture from his upcoming project "Rangoon"showcasing his new avatar. Shahid is known for testing his looks, till date we have seen actor in many avatars, so this will add one more avatar to his career.
Actor posted his flick on Instagram page which showcase actors new avatar bearing chopped hair with beard, one can witness actor wearing shorts with a well build body structure.
Picture which Shahid posted on Instagram is captured behind the mirror which gives actors reflection. It seems actor is too excited for his looks in Rangoon that he could not stop himself from reveling his looks with his fans. Before also we have seen Shahid chopped hair look in Haider.
According to sources "Rangoon" is based on love story during World War II, in this flick he is sharing screen with Saif and Kangana, movie is being directed by Vishal Bhardwaj.
advertisement
Subscribe Newsletter
Recent Posts
Tags