Sharman In New Avatar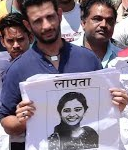 3 idiot fame Sharman Joshi time again surprised audience with his versatility, this time you will witness him yet another avatar in suspense thriller.
According to sources Sharman Joshi is all set to entertain viewers with his upcoming project "Kaashi :In Search Of Ganga. In upcoming flick actor is going to ease a role of person who perform last right.
According to sources for giving perfection to his character actor is leaving no stone unturned for the same actor did 15 days workshop with locals to understand body language and slang.
Kaashi : In Search Of Ganga is directed by bollywood versatile filmmaker Dheeraj Kumar.
While interacting with media during the trailer launch actor said " I am playing very challenging role in Kaashi : In Search of Ganga. I am feeling happy that I got chance to visit Kaashi due to this project, I have put all my efforts to justify character, I hope audience will appreciate my work.
Movie will showcase story of a brother who is in search of sister who goes missing in Kaashi.
In upcoming project actor is sharing screen with newcomer Aishwarya Devan.
Well project is slated to release on 26th October.
Related Posts
No related posts found!
advertisement
Subscribe Newsletter
Recent Posts
Tags