Shreyas Comes Up With App
Well these days creating fans app to connect with fans has become common trend in Bollywood industry, well latest entry into fan app is Bollywood actor turned producer Shreyas Talpade.
According to sources actor was working on app from past few months which will help him communicate and interact with fans regularly, well app will contain life style of actor like his hobbies, daily regime like workout, food habits etc.
According to sources actor is looking forward to introduce special feature in his upcoming app in which he will regularly conduct a contest in which every winner will get chance to meet actor personally.
Shreyas Talpade has number of time proved her versatility by playing different avatars on screen. Recently actor made her production venture.
Well after going through above news his fans will feel excited to use app and interact with actor.
Related Posts
Good news for Golmaal franchise fans, yes it's going to be good news as crew member of Golmaal franchise Shreyas Talpade revealed that Rohit Shetty has already started working on project.
While interacting with media Shreyas disclosed Rohit sir has already started working on script, well we have to wait for sometime till script get finished, I am feeling happy that entire team of Golmaal franchise will reunite soon.
Actor further disclosed Golmaal might go on floor next year as right now Rohit is busy with his most awaited project Sooryavanshi.
Well we recently watched actor on small screen on Sony Sab with his show "My Name Ijj Lakhan", actor has impressed small screen viewers with his tremendous timing.
While concluding his interaction with media actor disclosed wether you work for flicks or series it takes same efforts.
Well if news of making of Golmaal5 is true than its going to be delightful moment for Golmaal franchise fans.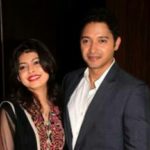 Marathi actor turned Bollywood star and filmmaker Shreyas Talpade and his wife has been blessed with baby girl.
Actor is feeling so excited after becoming a father of baby girl that he came forward and shared his joy adding " Me and my wife are feeling so happy that we are blessed with baby girl, actor further disclosed when they both were on vacation in Hong Kong his doctor called him and disclosed Surrogate has gone into labour, therefore he and his wife have to return back to Mumbai, and after doctors advise we immediately returned back.
According to report Sheryas got married fourteen years back, and they both were advised by doctor to go for surrogacy to have a baby, as giving birth at this age was bit risky for her wife.
Well we congratulate Sheryas and his wife for being blessed with a girl child.
Bollywood actor Shreyas is coming up with his Directorial debut Sunny Deol and Bobby Deol starrer "Poster Boys" which is remake of Marathi flick with same title.
In "Poster Boys" Sunny Deol, Bobby Deol and Shreyas Talpade is playing a lead character whose life get upside down after a big error.
Marathi version of poster boy is block buster hit of 2014, this movie was one of biggest openers of Marathi Cinema. In Marathi version lead role was played by Shreyas himself, actor received great applause for his comic timing. And now he is making his directorial debut with official Hindi version.
According to sources movie is full of comedy, it showcase how difficult it become for them after they get stuck in an awkward moment and it become more complicated when they find it difficult to explain to their families.
According to reports you will watch trio handling complicated circumstances, in this flick you will watch Sunny and Bobby in never before avatar.
advertisement
Subscribe Newsletter
Recent Posts
Tags