Soorma Trailer Revealed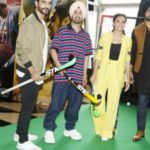 From the very first day news of making of upcoming project Soorma came in existence viewers are eagerly waiting to watch first glimpses of flick. It seems wait is over as recently maker of flick released first trailer of flick in Mumbai.
Special event was organized to salute India hockey legend Sandeep Singh. On this event along with Sandeep Singh crew members of flick Daljit Dosanjh, Taapsee Pannu, Angad Bedi, Shaad Ali, Chitrangda Singh was present.
During the event where Soorma trailer was released crew members of flick were seen posing while holding hockey stick showcasing there character with legend Sandeep Singh.
Upcoming Soorma is based on true life story of legendary Hockey player Sandeep, who made his come back after serious injury which almost has ruined Sandeep's carrer, but due to his strong will power and courage he stood up on his feet and returned back to field with dignity.
Soorma is going to release on 13th July.
Related Posts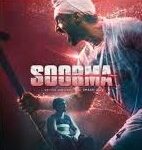 Releasing.     :  13th July
Genre            : Biopic
Producer  : Sony Pictures Networks Production, Deepak Singh Chitrangda Singh
Director.       : Shaad Ali
Star Cast    : Diljit Dosanjh, Tapsee Pannu, Angad Bedi.
Music   : Shankar Ehsaan Loy
Soorma is biopic based on Internationally acclaimed  hockey player Sandeep Singh, in this biopic Sandeep Singhs character is eased by Daljit Dosanjh. Biopic will showcase how Sandeep  got paralyzed due to bullet hit, due to which he was confined on wheelchair, but due to his Will power and hard work he again stood on his and played for nation and helped India win 2009 Sultan Azlan Shah Cup under his captaincy. And also helped India to qualify for the 2012 Olympics, he made Nation proud number of time, to watch how  Daljit managed to justify Sandeep biopic, watch biopic on 13th July at your nearest theater.
Well viewers get set to witness another inspirational biopic based on inspirational hero, yes we are talking about our national hero Sandeep Singh who is well known international hockey player of India.
Upcoming project "Soorma" will showcase case life story of Sandeep Singh a hockey legend. He is tagged as one of finest and dangerous drag-flickers of world. He has made India proud number of time with his outstanding performance.
Recently actress turned producer Chitrangda Singh was available in event where Sandeep's inspiring TedX MICA 's speech took place.
During his speech Sandeep disclosed as how he started playing hockey, and how his life turned upside down when he accidentally received gun shot while traveling in train to Delhi, after which doctor advised he will never walk again, however being a fighter by nature, he did not lost hope and got standup on his feet making everyone surprised and continued his hard work on the field.
After going through Video posted by maker of flick regarding Sandeep courage, Chitrangda retweeted the inspiring video and wrote, " Sometimes it's God .. sometimes it's also a lot of courage ! @Flicker_Singh.
Apart from giving inspiring speech on TedX MICA, he also went to Cambridge University and Warwick University in England to give special speech.
In upcoming biopic Daljit Dosanjh has portrayed role of Sandeep Singh opposite Taapsee Pannu. Biopic is being produced by Sony Pictures Networks Productions in collaboration with Chitrangda Singh, and Deepak Singh.
Soorma is all set to release on July 13th 2018.
advertisement
Subscribe Newsletter
Recent Posts
Tags