Sunny Deol In Bhaiyyaji Superhit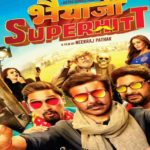 Good news for Sunny Deol fans, first look of his upcoming action comedy project "Bhaiyyaji Superhit is out.
According to sources in upcoming project Sunny will be seen portraying gangster look. His role is going to be power packed and full of comedy. Before we have watched actors comic timming in "Yamla Pagla Deewana" and "Poster Boys".
Well there are chances that upcoming project might have opening clash with Namaste England as both the movies are releasing on same date, well we hope clash might be averted by changing release date, as we have witnessed number of time flicks releasing date been shifted to avert clash.
Upcoming project is is been directed by writer director Neeraj Pathak. Movie is produced under banner "Daily Multimedia Ltd".
In upcoming project Sunny is sharing screen with Bollywood"s versatile star cast Arshad Warsi, Preity Zinta, Ameesha Patel, Mithun Chakraborty, Prakash Raj and Shreyas Talpade.
Movies is all set to release on 19th October.
Related Posts
Sunny Deol all set to launch his son, though his son received three movie offer from YRF films, but however sunny rejected offer due to ongoing feud between Sunny and YRF which started way back in 1993  when Sunny appeared in YRF movie Darr, in this movie he shared screen SRK.
According to sources feud between YRF started when Sunny was supposed to shot for the climax in Darr, however movie climax was changed  without his knowledge, from that very day actor decided not to work with YRF banner again.
However feud between Sunny Deol and YRF got calm when YRF bought copy right of Yamla Pagla Deewana 2 music. According to sources feud between YRF and Sunny is over, but actor don't want to take risk, therefore he has decided to launch Karan Deol himself.
According to sources right now Karan Deol is assisting his father in upcoming project "Ghayal Returns" sequel of "Ghayal".
Its first time when number of  bollywood stars are going to lend their voice for any Animated movie made on holy Scripture Mahabharata.  According to reports Sunny Deol is going to play role of Bheem in Mahabharat an animated movie by lending his voice.
According to reports Sunny Deol said he is looking forward that animated character he is going to play should have biceps as same as he have 21 Cm, so that animated character portray similar physic of him.
According to the producer of animated Mahabharat Jayanti Lal Gadha, all character of Mahabharat will be designed same as real character. This is the reason we have selected Bheem to have same physic as Sunny Deol have.
According to producer they have added Sunny Deol's feature and gesture to animated character of Bheem so that it can portray same as Sunny Deol.
Sunny Deol will be seen next in Singh Saab The Great this movie is going to be directed by Anil Sharma. In an interview Sunny said that character he is going to play in this movie is very much similar to that his father Dharmendra played in Satyakam way back in 1962 this movie was directed by Hrishikesh Mukherjee.
Further Sunny disclosed Singh Saab The Great is very much different to Satyakam.  He further said in this movie my character is powerful.
Anil Sharma disclosed Sunny Deol's  fans were very anxious to see him once again in action, I want to tell fans of Sunny Deol  that He is back with action again.
Before Anil Sharma has made block buster movies with Sunny Deol such as Gadar, The Hero and Apne.
Sunny Deol will again feature in his old saga sequel Ghayal from where he left in 1990. Sunny further said that he has almost finalized the story of Ghayal Returns and work on dialogues is going on, and I am working on the technicalities grounds and this movie will be on big screen in June 2014.
Sunny further said the Ghayal Character will continue from where it ended as the Ghayal Character was in jail and know it has 20 years passed. Therefore in Ghayal Return he will be out of jail and what is goint to  happen further will be the story of Ghayal Returns . And you will further see how the character deals with upcoming situations in his life. And  the story of this movie will start from where it ended  in 1990.
And this time Its Rahul Rawail who is going to direct the movie.
.
RadhikaRao and VinaySapru's "I Love New Year" film Sunny Deol and Kangana Ranaut blend romance with comedy and coming first time together.
The story, set over three days in New York, revolves around two strangers who meet on New Year's Eve and the chaos and drama that follows for the next two days. The chance encounter sparks off havoc not only in Sunny's and Kangana's lives, but also in the lives of their partners.
"It's a comedy of errors. Kangana and I share a good chemistry and that comes across on screen. She is very serious and dedicated to her work." The actor says the biggest challenge for him was the scene where he had to shoot in boxers. Says Sunny
"When I signed this film, scripts giving an actress scope to perform were hard to come by. My character is messy and keeps getting into confused situations. I found this interesting because personally, I am disciplined." Kangana said.
Producer Bhushan Kumar adds, "ILNY is a romantic film based on a comic turn of events. Vinay and Radhika have given a fresh touch to the genre." It is releases in April 26.
Usually, Eid has somehow become identical with Salman Khan at the box office. But this Eid (August 8), Salman could have some stiff competition. Sunny Deol's next 'Singh Sahab the Great' directed by Anil Sharma is all set to hit the screens on the same date.
Sunny feels Eid would be just the right date for the release. He is happy with the way the film has been shaping up. The drama and the action have brought so much confidence into the characters. Sources from the sets said.
"The film is based on a common man's life and Eid is one of those holidays when the aam aadmi is in a much happier space. Since the significance of this festival is also interpreted as a good time to bring people together in harmony and gratitude" Is he scared of tough competition on the festive date? The actor shoots back, "The cinema business has changed. Since there are so many cinema halls, two big films can release at the same time. I am sure no one wants to take over anyone's business." Says sunny deol.
advertisement
Subscribe Newsletter
Recent Posts
Tags