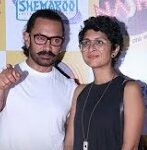 Recently Bollywoods Mr Perfectionist Aamir Khan completed 30 years in Bollywood with Qayamat Se Qayamat Tak.
Recently special screen of Aamir Khan's debut flick Qayamat Se Qayamat was organized to celebrate 30 years journey in Bollywood. Best thing about event was that number of taxi driver were invited to watch special screening.
According to sources during screening actor was found having fun and chatting with taxi drivers. Actor clicked selfies with them and also gave autographs.
Aamir Khan received great applause for for inviting taxi drivers in screening event and thanking them for making him favorite and great star.
Other special guests who attended screening were his wife Kiran Rao his son Junaid, his brother Mansoor Khan, Reena Dutta and all the crew members of Qayamat Se Qayamat Tak.
We congratulate Aamir for completing 30 years in Bollywood, we wish him good luck for future.
Mr. Perfectionist is all set to celebrate grand success of his blockbuster project Secret Superstar.
According to report Aamir Khan is looking forward to celebrate success of Secret Superstar with entire team on 21st February.
Actor is doing so as the crew member of Secret Superstar was asking actor from past few days to celebrate grand success of flick, thus keeping in mind demand of crew members actor is organizing a grand party on 21st February.
Movie has not only managed to impress Indian viewers, and it has also managed to impress  viewers globally.
As we know movie got released in China few months back from the very day its doing good business and it has manage to collect 745 crore in China creating a history.
Actor has again proved why he is called perfectionist.
Right now actor is busy with his most awaited project "Thug Of Hindustan".
Bollywood superstar Aamir Khan come forward and talks about recent incident of sexual harassment that took place in Hollywood.
Actor said people have to change their mindset regarding gender issues. He further said "I think sexual harassment is very sad incident to happen to anyone, irrespective to what gender you are. Sexual harassment is just not on, "actor added during conversation regarding Harvey Weinstein case.
Actor further talking about Harvey case said sexual harassment not only happen in cinematic world but it happens in other areas of work too.
However it's true that public is free to be romantic whomever they like, however one cannot force any individual getting physical its wrong practice, people should respect each other.
Well we have watched Aamir working on female empowerment, we have watched actor creating projects like Dangal and Secret Superstar, both the projects were focused on women empowerment.
Aamir Khan's latest production "Secret Superstar has reached 40 crore mark within one week.
However movie in between received low growth but during weekend it managed to get high growth at the box office.
Apart from India viewers movie has managed to impress foreign viewers and earned $ 3.9 million in one week.
Secret superstar was low budget flick and has managed to recover cost and has managed to become great hit at the box office.
Once again Aamir has proved that when it comes to direction and acting he is number one, no one can beat him, he is all rounder who can go to any depth for justifying his role.
In this flick he played a never before avatar proving his versatility.
Zaria Wasim who played lead role has received great applause from viewers and critics for his outstanding performance, she has justified her character.
Good news for  Aamir fans who are waiting for the release of first song of his never before avatar in his upcoming project Secret Superstar.
Yes you heard right now new song from flick "Sexy Baliye" is out and it has become talk of the town due to new avatar of actor and lyrics.
Before five songs from this flick are out and its going to be sixth track and that too of Aamri Khan with versatile avatar.
In Secret Superstar Aamir is easing character of Shakti Kumar who is a music composer.
"Sexy Baliye" is sung by non other than Mika Singh and is being composed by Amit Trivedi.
This movie will showcase how a teenage girl achieve a dream of becoming singer as how she fulfill her dreams by hiding her identity.
So guys what you are waiting go online and watch latest song of Aamir khan.
advertisement
Subscribe Newsletter
Recent Posts
Tags