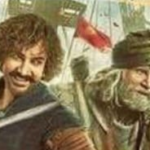 Well we are all ready to witness Aamir Khan and Amitabh Bachchan starrer Big Budget Bollywood project "Thugs Of Hindostan" which is all set to release in theater during this festive season on 8th November.
According to sources number of trade analyst came forward and predicted about opening of most anticipated and most awaited project "Thugs Of Hindostan" according analysts movie is going to have great opening across in India and it will cross 160 crore mark in weekend. According to sources advance booking of flick is 100 percent almost every theater is showing unavailability of tickets.
According to sources upcoming project is going to release across 5000 screen in India.
According to experts there are chances that "Thugs Of Hindostan" might break record of Salman starrer Sultan which is highest grossing flick of year earning 160 crore in weekend.
Well from past few months we were going through number of reports stating Aamir is going to ease a role of astronaut in upcoming project "Salute" based on life story of India's first astronaut Rakesh Sharma.
Well according to latest development filmmaker of flick has changed movie title "Salute" to "Saare Jahan Se Achcha". And reports also suggest Aamir has dropped idea and recommend SRK for the project.
Reports suggest Aamir has recommended SRK's name to director and himself quit from project.
According to sources Aamir Khan disclosed however script was great but I have dropped idea of doing, however I believed SRK would do justice to project therefore called Shah Rukh Khan and asked him to meet filmmaker and go through script, well he went through script and showed interest.
According to sources after going through script actor gave node to project.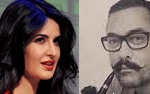 Recently "Thug Of Hindostan" actress Katrina Kaif shared remarkable picture of Aamir Khan on social platform twitter, it's a black and white picture in which you can witness actor holding smoking pipe looking like a Boss.
Well as soon as Kat posted actors vintage look on Instagram, immediately number of comments started flowing on screen, praising actor's vintage avatar. Picture that Katrina posted on Instagram was captioned "Thugs Life".
It's for sure after going through vintage click of Aamir Khan everyone will fall in love with actor.
In upcoming project Katrina is sharing screen space with Aamir Khan, Amitabh Bachchan and Dangal fame Fatima Shaikh.
Upcoming project is inspired from popular English novel Confessions Of Thugs written by Philip Meadows Taylor.
Recently actress played a role of savior for Salman Khan's most anticipated mega project "Bharat".
On work front Katrina is going through very busy schedule these days  as she is working back to back for "Thug Of Hindostan", "Bharat" and "Zero".
Bollywood Mr. Perfectionist Aamir Khan plays a role of real time  hero, by saving life of sound engineer Shajith Koyeri who has worked with actor in Dangal.
According to sources during an event bollywood sound engineer Shajith Koyeri suffered massive stroke, and he was straight away shifted to hospital, however he did not received any medication as no doctor was available in MRI room.
According to sources later family of Shajith contacted Aamir Khan and told him entire incident, after getting call actor immediately reached hospital, and he immediately shifted Koyeri to Kokilaben Dhirubhai Ambani Hospital.
According to sources after shifting Koyeri to Kokilaben Dhirubhai Ambani Hospital actor immediately called hospital owner and asked him to treat it as emergency case.
According to sources Koyeri was immediately shifted to ICU, where doctor examined him and gave him medication, according to sources till 3 A.M his condition was stable.
Well actor has proved he is perfectionist no matter if its work or helping someone.

Recently number of bollywood celebrities like Aamir Khan, Alia, Karan johar etc. came forward and welcomed Supreme Court Of India for allowing homosexuality and for eliminating Section 377.
Yesterday whole nation came forward and praised Chief Justice Of India for passing landmark Judgment giving relief to LGBTQI community.
Well we all know this issue was raised by Aamir Khan during his chat show "Satyameva Jayate", recently actor came forward and thanked Supreme Court Of India's Chief Justice Dipak Misra for passing landmark judgment giving great relief to  LGBTQI community.
Bollywood filmmaker Karan Johar took social platform Instagram wrote "Its going to be Historical Judgment !! I am feeling proud today! For abolishing Section 377, right to equality win, its great relief for our country.
Alia Bhatt came forward and wrote "Love Is Love, Such a momentous historical day, !!!Thank you Thank you!!#Section377#PrideIndia
Well at last right to equality wins.
advertisement
Subscribe Newsletter
Recent Posts
Tags