Alia Bhatt has managed to impress bollywood with her outstanding performance, this is the reason almost every bollywood filmmaker has wish-list of making flick with her.
Few days back there was news doing around the corner that Alia has become selective in term of selecting flicks as she turned down Sujoy Ghosh's offer.
According to sources Sujoy Ghosh was little upset when his Kahanni 2 did not manage to do well at the box-office, he was looking forward to make a block buster hit for this he was considering Alia Bhatt as she has given number of back to back hits, her latest hit was Badrinath Ki Dhilhania. However she showed her interest but after going through script she said no to Sujoy Ghosh.
However filmmaker has different tale to tell, he said he never met Alia regarding his project, it was all rumour, I don't understands how these kind of rumours dwell.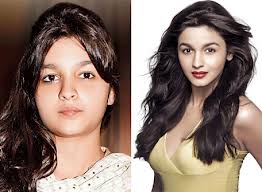 Student of the Year fame Alia Bhatt has become darling of Bollywood, she received great success in her very first movie Student of the Year, her acting received huge applause from critics and viewers, recently she launched her clothing line.
But did you know during her teen years she was too chubby, to some it may seem difficult to believe as they have seen her in perfect curves. But the fact is that before making debut in bollywood she use about 68 Kgs.
While interacting with media Ali disclosed her journey of reducing weigh and becoming slim and trim with perfect curves. She disclosed during her childhood days she started dreaming of becoming actress, she just wanted to act when she was just four years old, when she was in my 19's her dreams turned into reality when bollywood most versatile director Karan Johar approached her to play lead role in Student of the Year. Dream coming true was not easy as there was big hurdle blocking my way of acting and that was my chubby looks.
Alia further said when she went for her first audition she was bit heavier, on the other hand Karan Johar made it clear if I want to become part of his movie, I if have to shed about 20 Kgs in six months, which was bit challenging task for me. She further adds instead of running away I accepted the challenge of shedding weight.
She further said I decided that first I will shed weight then I will meet Karan Johar and accept role, as this will redeem her self-respect, therefore I straightway went on diet  plan and regular exercise this was the reason I was able to shed 16 Kgs in just three months, after getting perfect figure I grabbed role in Karan Johar's Student of the Year.
Highway fame Alia Bhatt launched her clothing line on Tuesday collaborating with leading online shopping brand. According to reports Alia Bhatt was looking forward from past few months to endorse her clothing line, and she achieved her goal of endorsing her clothing line on Tuesday. During the launch of clothing line she was seen wearing an LBD from her own clothing line.
During the event of launching her clothing line she wore pair of black front zip booties she completed her looks wearing stacked up bangles along with bracelets in one arm, which made her look stunning.
As we all know when she made her debut in bollywood from that very day she has become style icon for today's youth, her mantra of dressing is too look comfortable wearing casual dress. She is usually seen wearing denims, but when she participates in social events she like wearing short and cute dress, just like LBD which she wore during the launch of her clothing line.
We wish Alia Good Luck for her latest venture of clothing line.
Student of the year fame Alia Bhatt is always in limelight for her acting and controversy, it seems she enjoy being in limelight, once again she is in limelight but this time it's for real.
According to reports Alia received leg injury on sets of Humpy Sharma Ki Dulhania. According to sources she got leg injury while performing song sequence for his upcoming movie Humpty Sharma Ki Dulhania.
According to reports actress is to serious about her carrier apart of being  injured and in great pain she did not stopped, she completed the sequence of song, after completing song she straightway went to hospital, where MRI scan was performed. After going through MRI scan doctor confirmed that she has suffered a calf ligament tear. Therefore doctor has advised her to take bed rest for at least 10 days.
His bravery shows that she is very dedicated towards it's profession, this is the reason she has received great fame at early stage of her acting career.
It happens few times when any bollywood star appreciate movie of another star, one example is Alia Bhatt though she is newcomer in bollywood but she did not stop appreciating cityLights star cast.
According to reports Alia Bhatt felt astonished after watching special screening of CityLights. While interacting with media she added after watching CityLights she was astonished and moved with tears. She further added Rajkummar is outstanding actor to watch, this is the reason he is a National Award winner; on the other hand newcomer "Patralekha" did good justice with her role, though she is new but she has good hold on her acting. She further added in her entire life she has not seen this kind of acting.
According to reports Alia was found praising Rajkummar and Patralkeha for their outstanding performance.
Citylights is based on life of a trader who comes from Rajasthan  to settle in Mumbai with his wife and daughter for better life. This movie portrays struggle of ordinary man. Movie is all set to release on 30th May.
advertisement
Subscribe Newsletter
Recent Posts
Tags