Bollywood versatile actor turned producer Arjun Rampal is all set to work in feature films, for the same actor has shortlisted three project of different genres which is going to be surprising come back.
According to sources out of three project one will be produced by actor, which is going to be horror project.
According to sources while interacting with media actor disclosed "I am looking forward to work on three projects, shooting will commence very shortly. Actor further said right now I am going through script once I finalize script and everything get sorted I will come forward and officially announce about my upcoming projects.
Well if news is believed to be true than its going to be delight for his fans to watch his come back with bang.
We wish Arjun Rampal good luck for his upcoming project.
Bollywood versatile actor Arjun Rampal who is known for fitness have stuck himself in big trouble.
According to latest development actor stuck himself in legal trouble for same he can also go to prison.
According to sources it all happened when Arjun Rampal failed to return loan he took from YT Entertainment Limited in pretixet of returning loan back within 90 days with 12% interest, however he failed to do so.
According to sources from a company actor took Loan is working money lender company by lending money to filmmaker's.
According to sources company has filled case against actor under Negotiable Instruments Act when post dated cheque issued by Rampal got dishonored.
Well going through latest development it seems actor has stuck himself in big trouble for which he can get imprisonment.
We hope everything get sorted out soon and actor get some relief.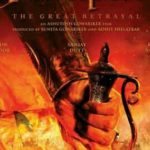 Good news for viewers who are looking for to watch most anticipated project "Panipat". Yes it's going to be good news as move went on floor this Friday.
According to sources shooting of upcoming project "Panipat" begun.
News of Panipat going on floor was confirmed by movie leads Arjun Kapoor and Kriti Sanoon, for confirming news both the stars took social platform form twitter adding "New Chapter Begun". Actor further tweeted He is feeling happy that he is working with his dream filmmaker Ashutosh Gowariker, what a great filmmaker he is, thanks Ashutosh sir having faith in me and giving me chance to be part of historical project.
Kirti also took social platform twitter and tweeted "Our #Panipat journey begins today. Super excited for Panipat journey.
Other co-stars of this project are Sanjay Dutt and Madhuri Dixit.
Upcoming project is all set to release on 6th December 2019.
Once again rumored love birds Arjun and Malika again caught in camera by paparazzi, well news of their relationship has become hot cake, were ever they go they are caught in camera by paparazzi, and number of time they both have been questioned by media regarding their relationship, however number of time they have denied such reports.
Well recently both Arjun and Malaika was spotted together at Amrita Arora's house spending leisure time. Few days back they both were spotted together in Italy
Well there are reports doing around the corner that Arjun and Malika are searching for a house in Lokhandwala area Mumbai.
Recently they both joined Karan Johar on sets of Koffee with Karan, where Karan asked about future planning, well Malika said, she don't like discussing about her personal life, she further disclosed she is a open book everyone knows what going around, therefore there is no need to disclose anything, I enjoy every bit of life.
Well going through above news it seems both Arjun and Malika are in no mood of disclosing their relationship.
When it comes to acting almost every Bollywood star go beyond his or her limit to justify character, number of time we have witnessed Bollywood stars going for makeover in different ways, well this time its Arjun Kapoor who is going for makeover, yes you heard right actor is all set to get bald for justifying his role.
According to sources Arjun Kapoor is all set to ease a role of Sadashiv Rao Bhau in Ashutosh Gowariker's upcoming project "Panipat", for this actors requires to get bald to justify character.
Well getting bald for any actor is not easy as it can affect his upcoming projects, but taking into consideration to justify his role actor is taking big risk.
According to sources actor is looking forward to shave his head, so that he can get into skin of his role and justify character he  is offered to play.
Upcoming project is based on third battle of Panipat which took place in 18th century.
advertisement
Subscribe Newsletter
Recent Posts
Tags