Bollywood filmmaker, singer turned actor Farhan Akhtar came out as a surprise package with his first look from his upcoming project "TOOFAN", recently actor came forward and shared first look of his most awaited avatar from his upcoming project "TOOFAN".
Well actor is all set to ease role of Boxer avatar in upcoming project¸ well in recently released look you can witness actor in boxer avatar, his first look is receiving great applause from his fans, soon after actors first look go viral online, his fan following is feeling excited to watch actors new avatar, they are unable to stop themselves from appreciating actor.
Well when it comes to acting actor always gives his hundred percent with full dedication towards its work.
It's happening second time when actor is doing sports project, before he did sports biopic based on Indian athlete Milkha Singh.
According to sources for upcoming project actor went through tough training and strict diet, to get into shape of boxer.
Movie is all set release on 2nd October next year.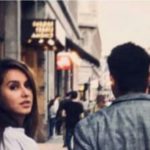 Well from past few months we went through number of news that Farhan Akhtar is in relationships with Shibani Dandekar, however actor and Shibani are denying such  kind of reports from past few months.
Well recently Farhan Akhtar took social platform instagram to officially announce his ongoing relationship with Shibani Dandekar putting all speculation to rest. While confirming relationship actor shared one click with caption "As long as I have you, As long as you are, I'll never be lost. Shine on beautiful star, @shibanidandekar love you loads. Click that actor shared you onecan witness them holding hands walking around.
Well going through above news it seems speculation comes to end.
Well it's going to be delight for Farhan Akhtar fans who were eagerly waiting for actor to confirm his relationship with Shibani.
Farhan Akhtars was anticipated and delayed project "The Fakir of Venice" finally get a releasing date which is going to be 18th January 2019.
In upcoming project Farhan is collaborating with  Annu Kapoor.
While interacting with media filmmaker Anand Surapur disclosed reason behind delay he said "We were sorting issues with production house on the other hand we were looking forward for good music, due to A.R Rahman having tight schedule we postponed project. And know everything is on track and we are set to release flick next year.
Upcoming project will showcase story of human nature which usually change according to situations he face everyday. In this flick you will watch story of two individuals who travel to Venice for earning money quickly.
According to sources upcoming project will release globally.
So guys get ready to witness your favorite stars in new avatar with new theme.

Recently first single of Bollywood all-rounder Farhan Akhtar titled "Jaane Ye Kyun Kiya" got released on social media "YouTube", song has managed to receive 15 Million views.
Song has managed to get 15 Million views in very short period making song super duper hit.
Farhan recently returned back to India conducting live Music tour with Shankar-Ehsaan-Loy.
News of song crossing 15 million views was confirmed by actor on social platform Instagram.
According to sources shooting of "Jaane Ye Kyun Kiya" took place in Iceland.
Though actor has lent voice to number of songs in Bollywood flicks, but "Jaane Ye Kyun Kiya" is his first single number which he has sung for music album.
Some of us may not be aware of fact that actor recently sung song for Telugu flick "Bharat Ane Nenu" titled "I Don't Know".
So guys what you are waiting for join Youtube and enjoy first single of your favorite actor-singer Farhan Akhtar.
Omg Farhan and Shibani in mood of disclosing their relationship officially, well from past few months we have gone through number of news regarding their ongoing relationship, however actor always denied any such news, well now it seems Shibani Dandekar and Farhan Akhtar have decided to make their relationship officially.
Their relationship became official when recently Shibani posted some clicks on social media, in one of her click you can witness her walking down the street holding hand, making people guessing who his this mystry man, well if we look click from back it resembles to Farhan Akhtar.
Well before number of time Farhan Akhar has been questioned about his relationship with Shibani, and every time actor denied adding we are not in relationship, she is just good friend of mine.
Well it's for sure after going through latest clicks posted by Shibani on social media, will surely create excitement among fans of Farhan Akhatar.
According to sources all the clicks that Shibani has posted on social media are clicked while both were enjoying holidays
From the very first day actor broke his 16 years old marriage with Adhuna, he is been in news for dating number of bollywood actress.
advertisement
Subscribe Newsletter
Recent Posts
Tags